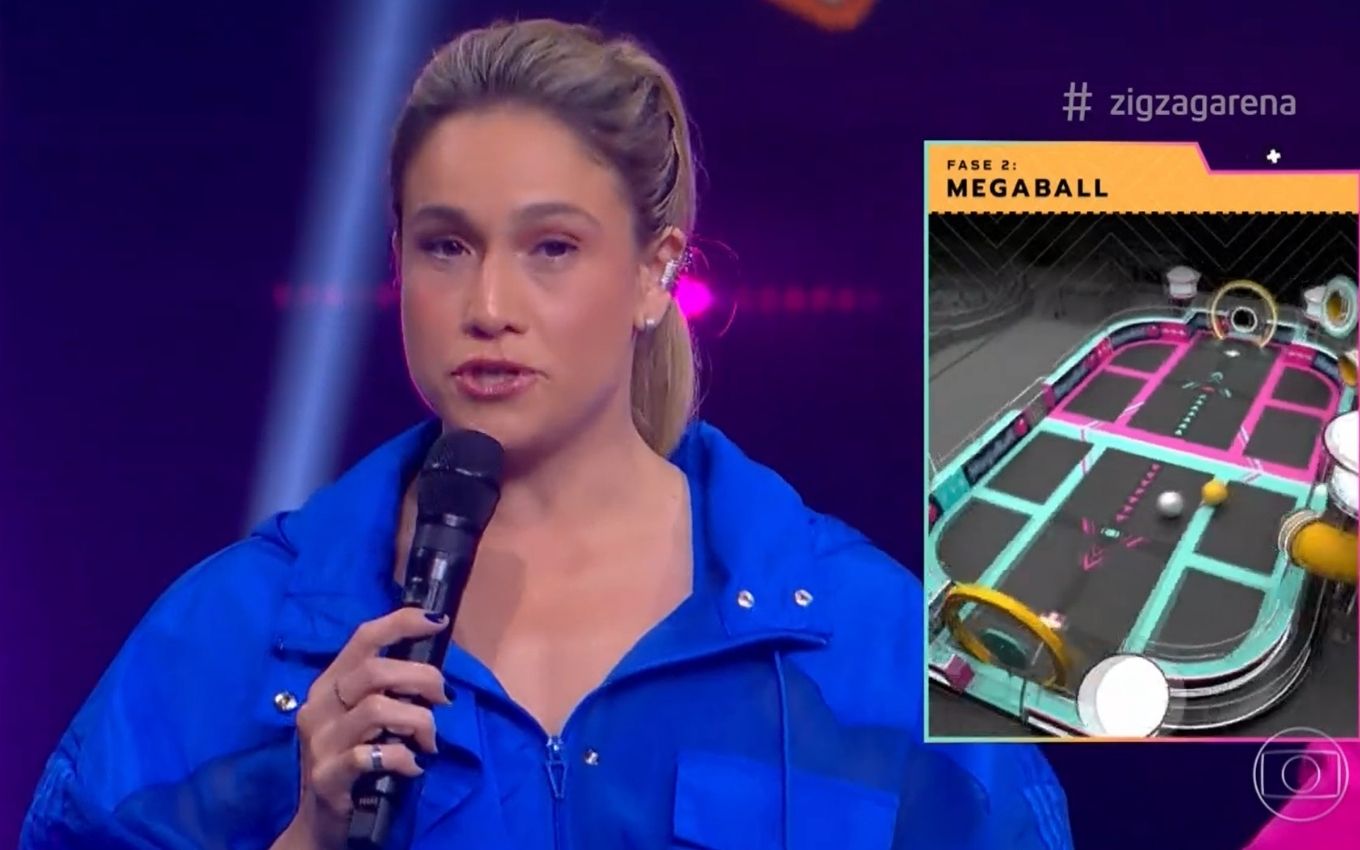 Zig Zag Arena's debut on Globo this Sunday (3) had a curious coincidence: the program presented by Fernanda Gentil was launched on the weekend when the South Korean series Round 6 occupies the position of most watched attraction on Netflix dnBrasil. Despite the proposals being totally different, the productions were compared on the web.
"After Round 6, if Zig Zag Arena doesn't shoot every member of the team that loses it won't be fun," joked Twitter user William Ramos. "I'm watching Round 6 here: when do people start to die?" asked a profile with Julia's name using an image of Zig Zag.
"Zig Zag Arena is basically Round 6. A lot of people playing children's games to make money. The Globe really wasted no time, it's just missing someone with a mask of The Masked Singer and being Luciano Huck", joked the page Sophia on the network Social.
Zig Zag's proposal is to remember the most popular childhood games in Brazil, such as tag. In addition to Fernanda Gentil, the cast includes Everaldo Marques, Hortência and Marco Luque.
The direction is by Raoni Carneiro, a professional known for performing musical shows and commanding Só Toca Top (2018). In all, there will be 18 episodes in this first phase. The end of the season is set for January 30, 2022. See comparisons with Round 6 below:
zigzag arena is basically round 6 (squid game)

a lot of people playing children's games to make money for Globo really didn't waste time, all that's left is to show up someone with the mask of the masked singer and be the luciano hulk #ZigZagArenapic.twitter.com/MsbzBZAfrO

— sophia ❄️✍️: must have been the wind (@snowflakecurse) October 3, 2021
creed the #ZigZagArena looks like a phase of round 6 pic.twitter.com/GuV9hn0B55

— 𝗰𝗹𝗮𝘆 • 💉1/2 (@chandlxrmb) October 3, 2021
After Round 6, if the #ZigZagArena not shooting every member of the team that loses will not be fun ..@everaldomarquespic.twitter.com/A2Efx6GKQO

— Willian Ramos (@williantech) October 3, 2021
watching round 6 here what time do people start to die?? #ZigZagArenapic.twitter.com/YqsyvOPunZ

— julia peanutbutter (@coronelwhatsapp) October 3, 2021
O #ZigZagArena is a mix of Fall Guys and Round 6 pic.twitter.com/g0ZWUzl5K0

— Fernanda🌊 (@eifelopes) October 3, 2021
Not even with the vibe of "Round 6", this gourmet version of Passa ou Ressa, which has a lot of mess, a lot of people, a gigantic scenery and zero entertainment, will take off. Shot in the foot, Globe. #ZigZagArena

— Aurelio Cassimiro #ForaBozo 🌵🌵 (@ArrobaAurelio) October 3, 2021
In the opening week of Round 6, globe launching the #ZigZagArenapic.twitter.com/x2gk9GkWFL

— ᴍɪʟʟᴀ (@dontouchmywig) October 3, 2021
How is Round 6 on Netflix?
Round 6 is a series that has become a global phenomenon on Netflix. In the plot, people desperately in need of money receive a mysterious invitation to participate in an even more enigmatic competition. The 456 guests who accept are drugged and taken to a secret place. When they wake up, they receive a warning:
"All of you in this room are living on the edge, with debts you can't pay. If you don't want to play, let us know now," says a man in a black mask in front of a group of hooded men. "The winners of the six games will receive good money. The player who refuses to play will be eliminated [com a morte]"explains the mysterious.
The prize at stake is 45.6 billion won, equivalent to approximately R$200 million. "Each contest is a traditional children's game in Korea, and losers pay the price of failure with their lives," the synopsis states.
.