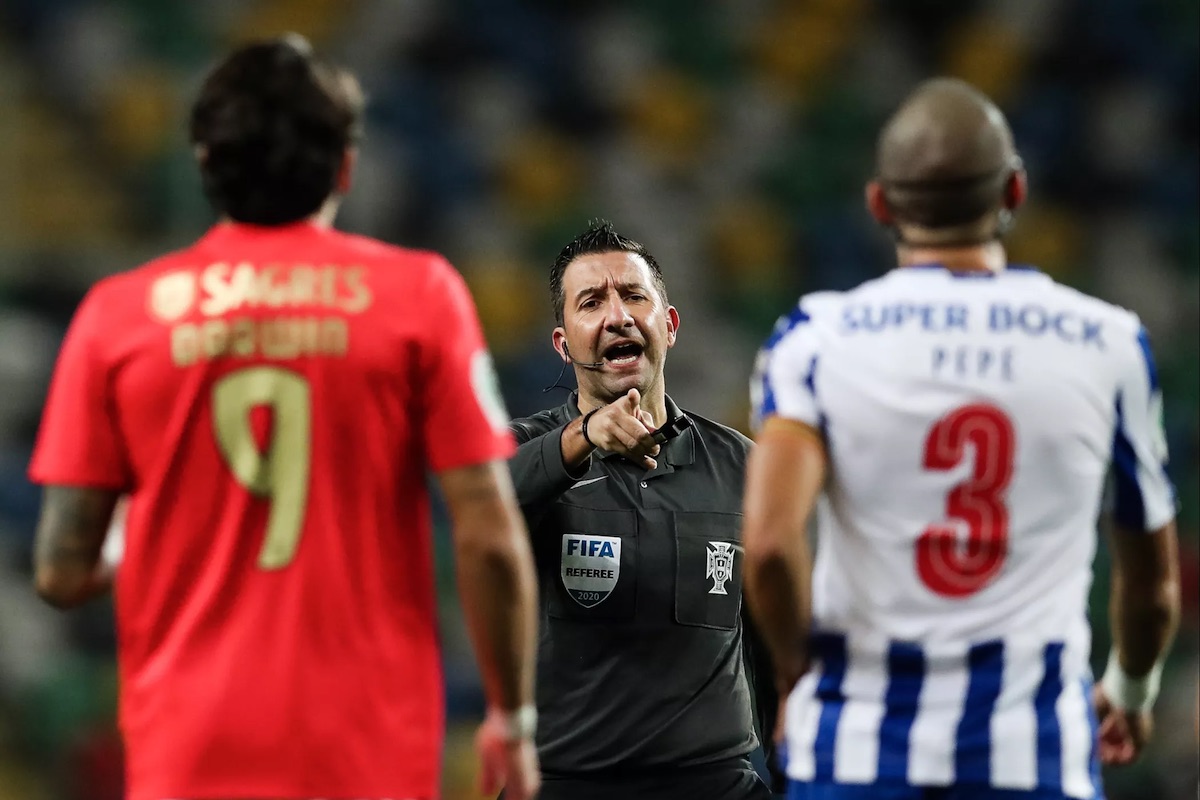 This season, on average, the playing time in the Portuguese first division is only 49.26 minutes. The referees are scapegoats for this record.
The rules of football say that a game has 90 minutes, plus a few discounts. Ironically, in Portugal, this is not quite true. The average time the ball has been rolling in the 21 Liga NOS games that have already been played this season is 49.26 minutes, according to data from InStat collected by Expresso.
Since each part has 45 minutes, it can almost be said that, in Portuguese football, one of them is not played. Still at the most recent FC Porto-Sporting CP, Sérgio Conceição lamented: "Every 15 seconds the game stopped". Still, this was the only game between two of the 'big three' that surpassed this season's average playing time minutes.
If we look at FC Porto-SL Benfica on matchday 14, only 44.64 minutes were played: not a whole part. "It is something cultural and there are a number of situations in which Portuguese football has to improve," said the Porto coach before the most recent Classic.
Data from the European Football Observatory (CIES), released in November 2019, show that Liga NOS had an average game time of 51.9%. Among 35 championships analyzed, the Portuguese League was ahead of only three: the Greek Super League (50.9%), the Spanish Second Division (50.4%) and the Czech League (50.2%).
The blame for this registration is normally attributed to referees. This season, the average number of fouls per match in Liga NOS is 32.34 – a figure well above the 22.13 fouls in the Premier League, for example.
However, in declarations to Expresso, the ex-referee Duarte Gomes, considers that "it is too reductive and even frivolous place the responsibility only on the usual suspects ". In fact, Duarte Gomes points out that there are "more defensive arbitrations", due to the fear of making mistakes and the consequent scrutiny in sports programs.
Look at the example of Artur Soares Dias, one of the less foul whistles in Portugal – although he touches 30 per game -, who only scored 11 in the recent Manchester City-Borussia Mönchengladbach for the Champions League. It depends on the game and not on the referee.
Fábio Martins, Al-Shabab player from Saudi Arabia, who stood out in Portugal with Sporting de Braga and Famalicão, distributes responsibility to "players that fall "at the slightest touch and" try to clear faults with some ease ".
In turn, Duarte Gomes considers that "The posture of some is terrible, with constant simulations, hands in the face for touching the belly and a huge propensity for protest, for conflict, for drama ".

ZAP //