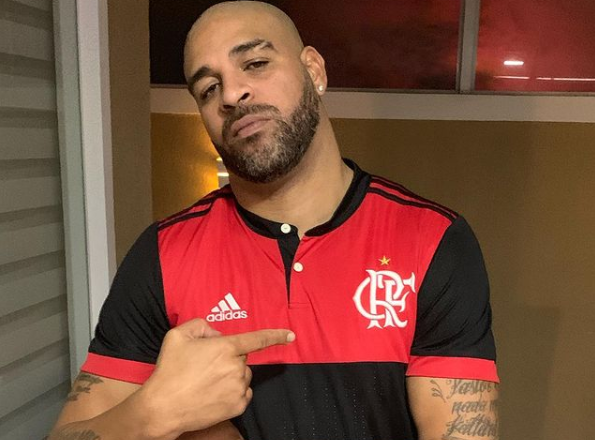 The Emperor opened his heart and told his story, recalling the difficulty in becoming a professional player, going through the glory years in Italian football and in the Brazilian team and revealing the real reason for leaving Europe and the world of the ball in such a way precocious
Reproduction / Instagram / @ adrianoimperador
Adriano posing with Flamengo shirt

Adrianoidol of Inter Milan e do Flamengo, opened his heart and made an emotional report to "The Player's Tribune", in a text published this Tuesday, 11. The Emperor, as it became known in times of Italy, told his trajectory, recalling the difficulty in becoming a professional player leaving a favela in the Rio de Janeiro, going through the glory years in Italian football and the Brazilian national team and revealing the real reason for leaving Europe and the world of the ball early. Treated as a "wasted talent" by many, the former striker explained that he lost the will to act professionally after his father's death and explained that returning to the simple life in the capital of Rio de Janeiro did his life good.
Revealed in the youth teams of Flamengo, Adriano said that he was close to being dismissed by the club at the age of 15, during a qualifying. However, he continued his training at Rubro-Negro, gained space in the professional roster and was quickly negotiated with Inter Milan, where he became the "Emperor". At the same time, the striker collected calls for selection soon and saw his career take a huge leap in a matter of time. In the text, the former athlete admits that this period was one of the best of his life, but reveals that everything has changed in a matter of days. Shortly after winning the 2004 Copa America, where he was a hero when he scored in the "lights out" in the final against Argentina, he received the news of his father's death. "Nine days later. I was back in Europe with Inter. I got a call from home. They told me that my father had died. Heart attack. I really didn't want to talk about it, but I'll tell you that, after that day, my love for football was never the same. He loved football, so I loved football. That simple. It was my destiny. When I played football, I played for my family. When I scored, I scored for my family. So, when my father died, football was never the same ", he recalled.
"I was on the other side of the ocean in Italy, away from my family, and I couldn't handle it all. I was so depressed, man. I started drinking a lot. I really didn't want to train. It had nothing to do with Inter. I just wanted to go home. To be honest with you, although I have scored many goals in Serie A over the years, and although the fans really love me, my joy is gone. It was my father, you know? I couldn't just push a button and feel like myself again, "continued Adriano, who left Inter Milan in 2008, returned to Brazil and signed a six-month loan contract with São Paulo. In the following year, he closed with Flamengo, where he was Brazilian champion. In 2011, the center forward had a discreet passage through Corinthians, where he was also crowned with an achievement of the national. "Not all injuries are physical, do you understand? When did I rupture the Achilles tendon in 2011? Man, I knew that it was all over for me, physically. You can have surgery, rehabilitate and try to continue, but it will never be the same again. My explosion is gone. My balance is gone. Shit, I still lame. I still have a hole in my ankle. It was the same when my father died. But the scar was inside me. 'Dude, what happened to Adriano?' It's very simple. I have a hole in my ankle and another in my soul, "explained Adriano.
"Yes, maybe I gave up on millions. But how much is your peace of mind worth? How much would you pay to get your essence back? The press sometimes does not understand that we are human beings. It was too much pressure to be The Emperor. I came out of nowhere. I was a boy who just wanted to go play football and enjoy with friends. And I know it's not something that you hear from a lot of players today, because everything is very serious and there is a lot of money involved. But I'm just being honest. I never stopped being that kid from the favela. The press said that I had 'disappeared'. They said that I had gone back to the favela and was doing drugs, and a bunch of other drugs. They posted pictures of me saying that I was surrounded by criminals and that my story was a tragedy. When I hear something like that, just laughing, because they have no idea what happens in my life. They don't know how it can hurt a person. At the time, I was devastated by my father's death. I wanted to feel myself again. I was not drugged. This never. Was I drinking? Yes sure. Shit, yes, I was. Health! But if you want to test it – I swear to God – you won't find any drugs in my blood. The day I use drugs is the day my mom and grandma are going to die. Alcoholic beverage? Ah, this will really work, a lot, because I like to drink a danone ", he continued.
"'Ah, Adriano leaves millions …' I don't want to know. The important thing is that you know how to be happy, man. It doesn't matter about money."@ A10imperator talked about his return to Brazilian football. pic.twitter.com/7cVfhLujhA

— The Players' Tribune Brasil (@TPT_Brasil) May 11, 2021
Off the pitch since 2016, when he had a quick stint at Miami United, in the United States, Adriano ends the text saying that he did not disappear in the favelas of Rio de Janeiro, but that he returned home where he is welcomed. Throughout his career, he won 18 titles, among them the Italian's third championship with Inter Milan, the Copa America and the Confederations Cup with the Brazilian team two editions of the Brasileirão. "I have always been very proud to be the Emperor. But without Adriano, the Emperor sucks! "Adriano doesn't wear a crown. Adriano is the boy from the favela who was touched by God. Now you understand? You see? Adriano did not disappear in the favelas. He just came home. "