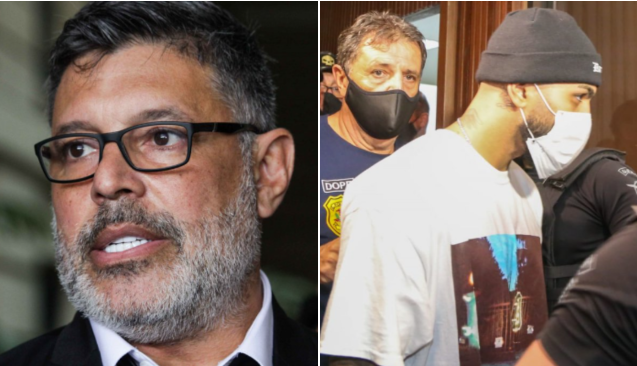 The federal deputy (PSDB-SP) gave more details about the approach to the player at a clandestine party, in March of this year, in the south of São Paulo.
Photo montage/Reproduction/Ananda Migliano/Estadão Content
Federal Deputy Alexandre Frota gave details of the approach to Gabigol in a clandestine casino

Alexandre Frota (PSDB-SP) told this Tuesday, 20, that the attacker Gabriel Barbosa, from Flamengo, when caught in a crowd at a clandestine casino, in the city of São Paulo, tried to give a "card" to the agents who were closing the place – the episode happened in March of this year. In an interview with "Yahoo!", the federal deputy, who became a symbol in the fight against clandestine parties in São Paulo, revealed how he approached the player, who was at the site with more than 150 people, including the singer MC Gui. "Gabigol, for example, said to our faces, "Oh, you are in the way here at night, I'm going to call the mayor". I said 'you don't need to call him, he's here by my side. Gabigol, Ricardo Nunes, Ricardo Nunes, Gabigol'", he recalled, mentioning the case of March 14th. "He thought it was Bruno Covas, but it was Ricardo Nunes", he added.
Fleet said that the "portfolio" became common during approaches. "Just to avoid those people who use 'you don't know who you're talking to'. There are those people who say 'I'm a friend of Doria, a friend of the mayor, the judge's son'. It doesn't matter to us, it doesn't matter. The other day there was a guy who introduced himself as Jorge Doria, because he wanted to pass himself off as the governor's cousin. It was the first one that was placed on the wall, sideways. The other day a guy came out and said, 'Oh, Frota, I'm Carlos Alberto de Nóbrega's nephew'. I said: 'Everyone has an uncle, by chance yours is famous. Do you want me to call him? I'm his friend, I'll call him now. I'm sure he doesn't know you're here'", said the deputy.