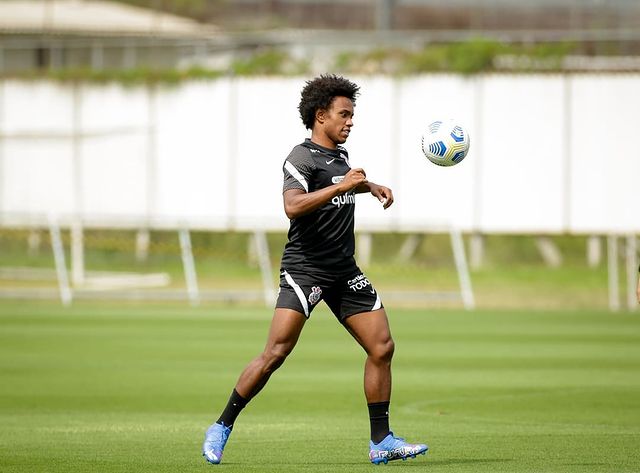 Athlete arrived from England on September 1st and, according to the agency, failed to comply with sanitary rules by not isolating
Reproduction/ Instagram @willianborges88
Willian has been training normally since his arrival in Brazil, on September 1st.

After the confusion in the match between Brazil and Argentina, last Sunday, for the South American qualifiers for the 2022 World Cup, the Anvisa issued a note this Saturday afternoon, 11, determining that the striker Willian, do Corinthians, must comply with a 14-day quarantine and will not be able to play in the game against the Atlético-GO, scheduled for this Sunday. The player was in England, where he played for Chelsea, and arrived in Brazil on September 1st. According to the agency's document, Willian was informed upon landing at the airport that he needed to remain in isolation for two weeks, even signing a document, but he did not comply and continued his training period. CBF and Corinthians were notified by Anvisa and, if the attacker is scheduled for the match, he may face civil, administrative and criminal liability. "Anvisa considers the situation as a serious health risk and expects action by the local health authorities, so that they adopt the necessary inspection measures, determining the immediate quarantine of the player", says the agency. Corinthians has not yet positioned itself.
Andreas Pereira, from Flamengo, did not complete quarantine
Also in the note, Anvisa said it will take the necessary measures against the player Andreas Pereira, do Flamengo, who arrived from the United Kingdom on August 20th and played for the Rio team on the 28th, against Santos, without having completed his 14 days of quarantine. The agency said that he also signed the 'commitment to comply with sanitary measures' document set out in Ordinance 655/21. Anvisa stated that it will adopt measures to punish the athlete and 'others involved in the organization of the match, without prejudice to the assessment of civil, administrative and criminal liability of those involved'.