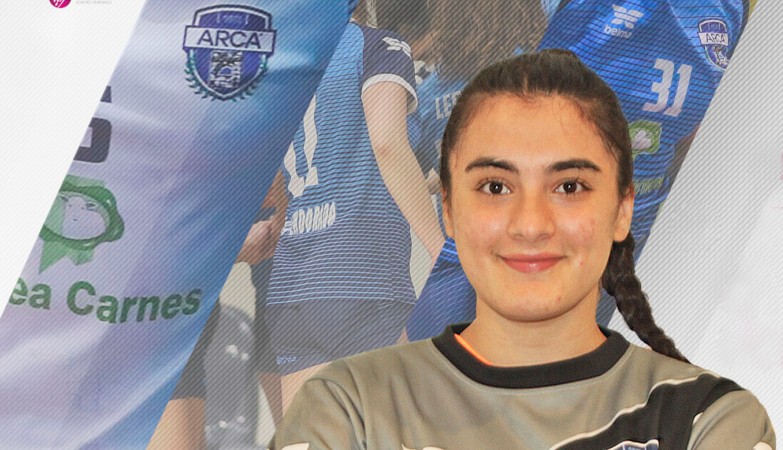 Surprising season in Alpendorada, in a team that went from last place to a European competition. Rita Guimarães stood out at age 15.
March 2020: the first phase of the women's national handball championship ends and the Alpendorada Recreational and Cultural Association (ARCA) is in last place. In 22 games, they won once, drawn four and lost in the other 17 games. The time ended there because of the coronavirus. In the following season, 2020/21, ARCA was at the doors of the podium, finishing the championship in the fourth place, and arrived at cup final from Portugal. as the Benfica (runner-up) gave up playing in Europe, Alpendorada's team will be in the next Taça EHF.
What has changed in a few months? "O chip was changed"answers the coach Alexandre Monteiro: "Only as time went by, at this time, we began to believe that we could climb one more step. The team was younger, with young girls but with a lot of potential", he described in an interview with ZAP.
Four of the usual starters left Alpendorada in 2020. In other words, theoretically there would be an even greater drop in results. ARCA hired "one or another player" but the bet was on training – and it gave good results. "We were in the last place and suddenly… It was unthinkable, surreal, to think about this a year ago".
This successful journey was due to "a lot of work and will, to the players who believed in themselves and who had a lot of ambition", according to the coach.
Between success and ambition, there was a first in the history of the club in Marco: Leonor Fernandes was called up for the national team. Never had an ARCA player been called up for senior women's national team engagements. "This sent a clear message to the other athletes: with work, with dedication, with focus and with a set of things that don't just depend on her, things can happen", commented Alexandre.
Leonor will no longer be in Alpendorada next season: she will reinforce the Alvarium. Will not be Leonor, will not be Angela Pessoa (reinforcement of Madeira SAD) and will not be Mariana Costa (Benfica) – the last two grew in the ARCA. The coach feels a mixture of pride and sadness at the departure of these athletes, who will reinforce the only teams that stayed ahead of ARCA in the classification: "I am proud because they go to teams that have better conditions, but sad because we had a chance to solidify our team on a higher level; but we will have to go back to work, look for solutions".
Is it realistic to think about maintaining this level in the new season? "It will depend on the market. We want to keep fighting for the top places, but at this point I don't know", said the coach, who also announced the loss of players from the formation, who were at the club "for many years" but who, for professional reasons, and now that finished college, will abandon handball – in this young squad, more than half of the players are 20 years old or less.
Rita, 15 years old, goalkeeper
In the midst of youth stood out Rita Guimaraes, which in December of last year "jumped" into goal. The goalkeeper, trained at the club, became owner of the Alpendorada team… at 15 years old.
What is special about Rita? "There is a unseen natural talent. She had an income at the level of the best, it wasn't just being in the first division. Rita, being well, reaches the level of effectiveness of the goalkeepers of our national team and some foreigners. It has a lot of potential".
Rita has the particularity of, whether she makes a great save or makes a huge failure, to remain calm: "And it's not maturity, it's her personality. The game, whether complicated or not, she's often in her world, it seems like she's not even in competition".
"Now he has to keep his feet on the ground and he has to keep working, without letting things go to his head. Is it over there is fantastic with regard to her humility. You should keep it", advised the coach.
Alexandre Monteiro explained that Rita Guimarães had already been identified as a potential talent in previous years, in training: "Afterwards I worked hard with the direction to justify the presence of a 15-year-old girl in the senior squad, who a year ago he was playing in a regional championship for beginners and, a year later, he is in a final of the Portuguese Cup for seniors. It was a sure bet".
Precisely in the final of the Portuguese Cup, in June, which ARCA lost to Madeira SAD, Rita failed and Alexandre explained why: "She felt a lot of pressure. The day before, she was voted best in the game, in the semi-finals (against SIM Porto Salvo), and suddenly a number of people appeared wanting to talk to her. For a girl who is not used to this exhibition…".
"The final was one of their worst games. she was fight against herself, with a high level of anxiety. And shed some tears. If it had been on a normal day, in the final, ARCA would have won the Cup of Portugal. But it's unfair to say this: she was the one who put us in the final, the day before", he reinforced.
Rita Guimarães herself – who however turned 16 at the end of June – in an interview with ZAP said that she appeared very early in the world of handball because, when she was a child, she started training and liked it.
A year ago, he didn't expect to play in the first team, where he made his debut "very nervous", confessed the goalkeeper: "At first it was a bit complicated. I didn't speak, basically. But then my teammates started to mess with me more, they welcomed me very well and, by the end of the season, I was getting along very well with them".
A secondary school student, Rita passes by the attention at school: "I'm still the same Rita I was a year ago. Among classmates, some don't even know that I play handball".
After the season ended, Rita Guimarães was called up for the final phase of the European Under-17. "I hope to learn a lot," said the young athlete, who will shortly travel to Montenegro, the host country for the European Championship, between August 5th and 15th.

Nuno Teixeira, ZAP //