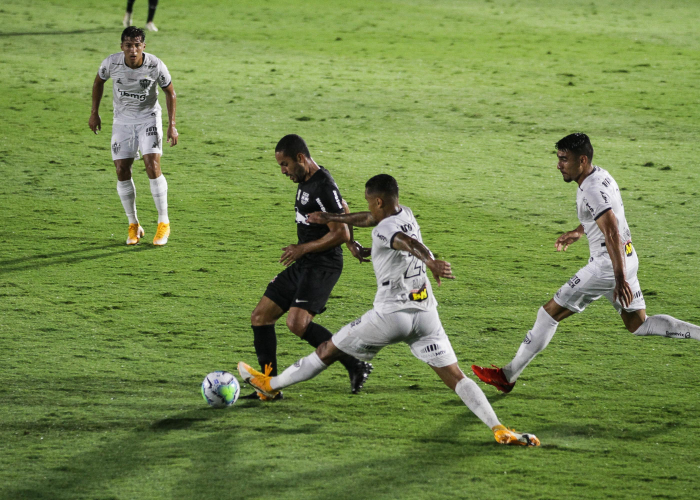 On Monday night, 11, the Nabi Abi Chedid Stadium, in Bragança Paulista, received the premiere of Atlético Mineiro in 2021. As the Rooster had the clash of the last round against the Santos postponed to January 27, the duel with Bragantino for the 29th round was the first of the team of the year. And the big goal of the miners was to win again to further hinder the top of the classification. The team went on the field with 49 points in 3rd position. Having added 35 points, the Bragantino is the 13th.
Anyone looking only at the numbers and positions of the teams on the leaderboard could imagine that it would be an easy game for Atlético. On the pitch, it was quite different. Bragantino attacked less, but was more effective and scored with Ricardo Ryller. But Atlético, who had more of the ball, tried harder, only they couldn't show much strength. Real chances were just two. Before the first minute, striker Vargas had already kicked the post and almost opened the scoring for Galo Mineiro. In the next move, defensive midfielder Allan shot from a distance and forced goalkeeper Cleiton to work.
In return for the second half, Atlético Mineiro returned to the pace of Argentine coach Jorge Sampaoli. He soon left for the suffocation and was rewarded at nine. Striker Savarino took advantage of the good move of the duo Keno and Arana on the left to tie a cart. With the 1 to 1 on the scoreboard, the Rooster continued tightening in search of the turn. He even went so far as to score the goal of the paulistas, but the clear chance did not come. What came was Bragantino's second. Left-back Edimar beat defenders from Minas Gerais and put the hosts in front again.
With the team from the countryside of São Paulo ahead on the scoreboard, the game was very similar to that of the first half. The Rooster pushing, but having a hard time threatening. And Bragantino was waiting for a counterattack. And when it looked like the scoreboard was going to be the same, the referee, with the help of VAR, scored a penalty on a Ramires entry in Guilherme Arana. Hyoran hit on 54 minutes, drew and closed the scoring. Galo is in 3rd place with 50, three from vice-leader Inter and six from leader São Paulo. Bragantino is in 13th place with 35 points. Atlético Mineiro will play again on Sunday, 17, against Atlético Goianiense in Mineirão. On the same day, Bragantino goes to Fortaleza to face Ceará in Castelão.
* With information from Agência Brasil