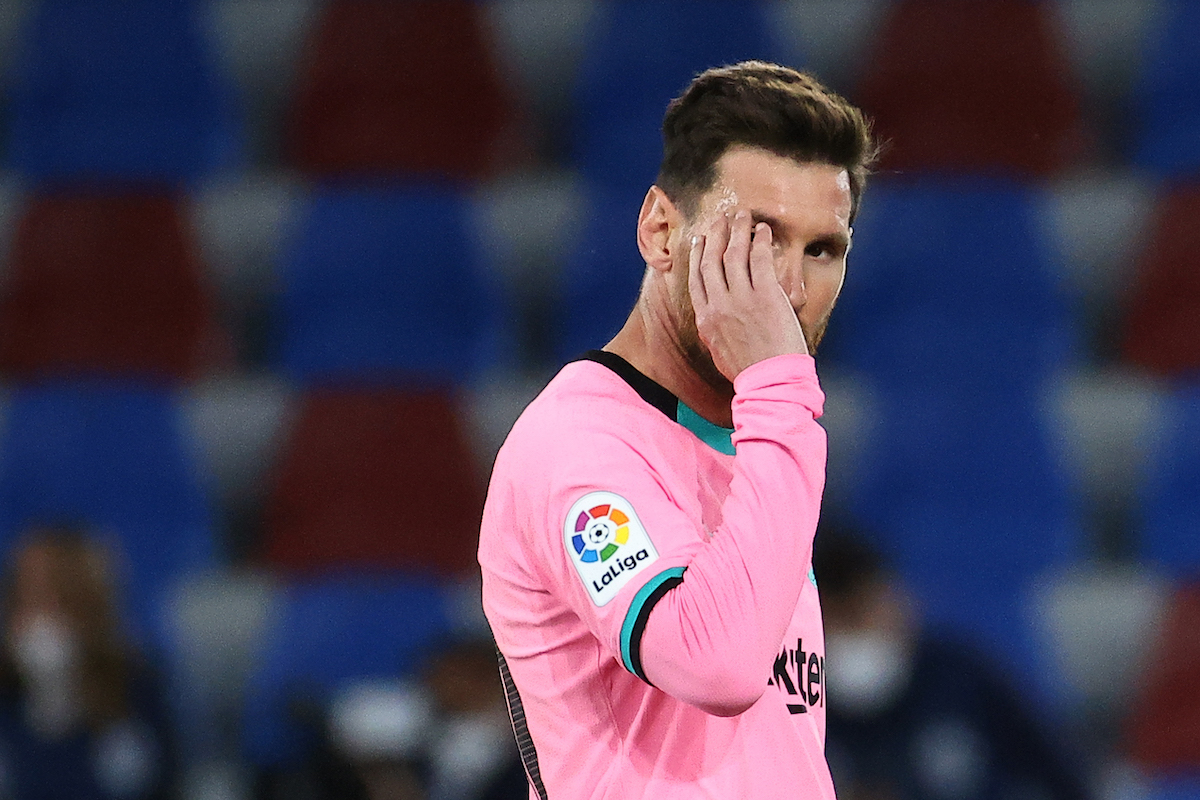 FC Barcelona today took a giant step back in the race for the Spanish football title, drawing 3-3 at Levante, after winning 2-0 and 3-2, in matchday 36.
Three days after having failed to win at Atlético de Madrid (0-0), the group of former Benfica coach Ronald Koeman stumbled again, losing the opportunity to jump, to the condition, to the second place of the race.
The Catalans, who no longer depended on themselves, are now practically removed from the title, adding 76 points, one more than Real Madrid, third, and one less than the mattresses, two sets that have not yet played in the round.
In Valencia, FC Barcelona led the first half, which ended up winning 2-0, with a Lionel Messi's 'great goal', his 29th in the competition, in the 26th minute, and a goal from Pedri, who only had to touch, after a move between Dembélé and the Argentine, the 34th.
At the start of the second half, the Catalans had two good occasions to reach the third, but they failed and, at a glance, the Levante reached the tie, with a header from Gonzalo Melero (57 minutes) and a beautiful kick from Morales (59).
'Barça' did not take long to react and, on 64 minutes, put themselves back in front of the marker, through the Frenchman Ousmane Dembélé, who appeared isolated in the area on the right and beat goalkeeper Aitor Fernández with a shot from the foot right.
In advantage, FC Barcelona retreated, Ronald Koeman took out Griezmann and Dembéle and he must have regretted, therefore, a continuous act, on 83 minutes, the Levante level again, with a deviation from Sergio León, after Toño got the better of Dest.
In the final part, already more in despair, the Catalan team still tried to score a fourth goal that would keep the title dream, but had no clear opportunity to achieve it and still caught some scares, with the hosts threatening the room.
In the other games of the day, the highlight was Alavés, who moved away from the places of descent, by beating the even more sunk Elche 2-0, with a Joselu goal, at 40 minutes, and another one from Luis Rioja, at 54 .
For their part, Osasuna beat Cádiz 3-2 at home, with an encore from Croatian Ante Budimir, and surpassed their opponent in the classification.
After the first three games of round 36, Osasuna is 11th, with 44 points, Cádiz remains in 12th, with 43, Levante is in 13th, with 40, Alavés is 15th, with 35, and Elche 19th and penultimate, with 30.