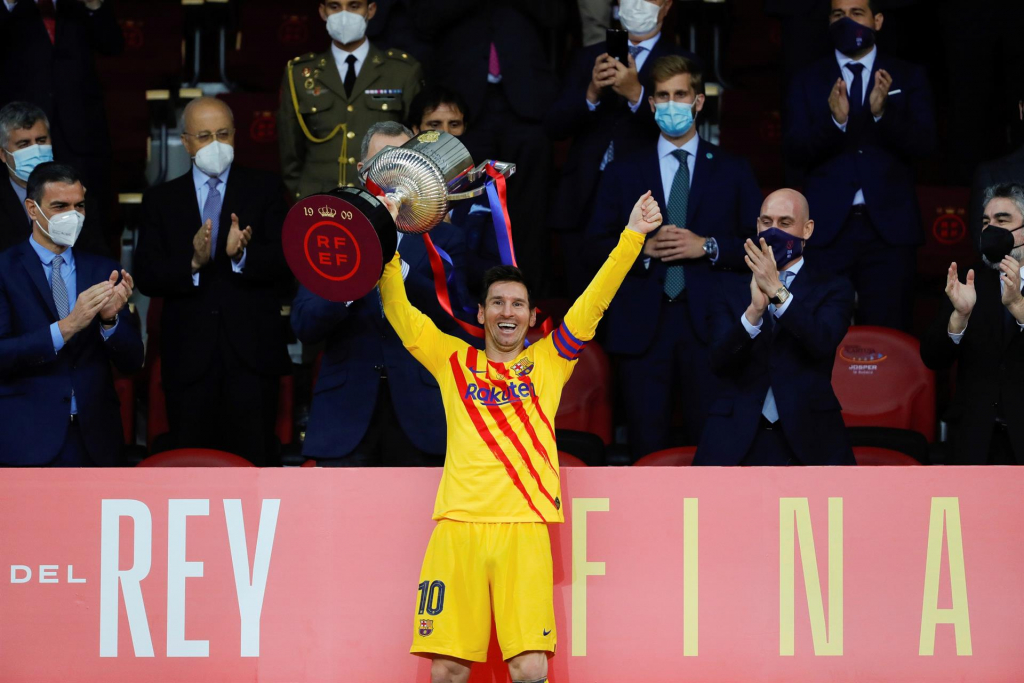 The Argentine star won the title for the first time as captain and was responsible for two of the four goals scored against Athletic Bilbao
EFE/EPA/Spanish Royal Soccer Federation HANDOUT
"It is very special for me to be able to lift that cup," Messi said at a news conference at the end of the match

Lionel Messi conquered the first and possibly the last title as captain of the Barcelona this Saturday, 17. The ace was responsible for two goals scored against the Athletic Bilbao in Seville. The scoreboard closed at 4 to 0 with two other balls in the net for Griezmann and De Jong. Eliminated in the round of 16 of the Champions League and only the third placed in the Spanish Championship, Barcelona bet on King's Cup as your biggest shot at the title of the season. However, the victory could be a farewell for Messi in the team, since the Argentine has a contract only until the end of the season and has not yet defined his future. "It is very special to be the captain of this club, and it is very special for me to be able to lift that cup," he said in an interview at the end of the match.
Just four minutes into the first half, De Jong received a pass from Messi and hit the post. It looked like the announcement of a massacre, if Athletic had not held up well in defense. Gradually, the team even took a risk in the attack, without greater danger to the defense of Barça over the 90 minutes. The duel was even in the final minutes of the first half, but everything changed in the second. Super offensive, Barcelona started again imposing pressure. At 2, Dest crossed a low cross from the right and Griezmann wasted a big chance by commanding the goalkeeper's feet.
Then the Catalans needed just eight minutes to completely change the picture of the confrontation. At 14, Messi fired De Jong and left the low cross for Griezmann to complete for the nets. Three minutes later, De Jong went from "waiter" to finisher and took the second one, with his head, after Alba's pass. Another five minutes, and the Dutch midfielder again gave decisive assistance, this time to Messi, who did damage in the rival area by dominating on the left, containing three markers and hitting low in the corner. The fourth goal was also scored by the Argentine. At 26, Alba went to the bottom line, crossed back and Messi arrived hitting low and counting on the help of the goalkeeper, who slipped on the ball and did not avoid the goal. Before the final whistle, Griezmann still sent to the nets, after a pass from Messi, but the referee consulted the VAR to cancel the goal by offside.