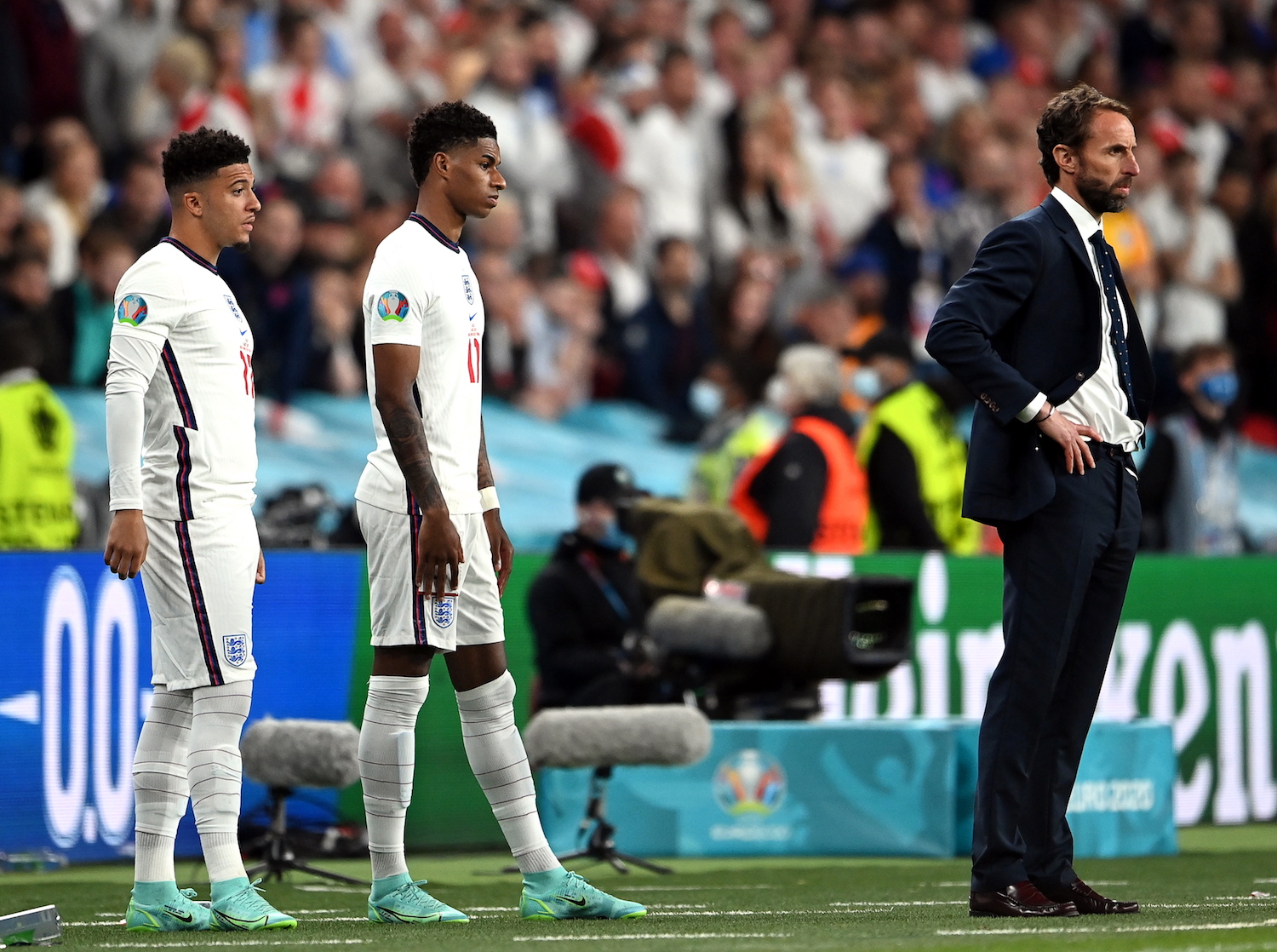 After missing penalties in the final against Italy, Marcus Rashford, Jadon Sancho and Bukayo Saka were targets of racist insults on social media. Gareth Southgate has already claimed responsibility for the defeat.

These were the decisive penalties in the final, but Marcus Rashford, Jadon Sancho and Bukayo Saka (23, 21 and 19 years old, respectively) failed to convert them and take the Euro 2020 cup to England. After the game ended, the three players' social networks were flooded with monkey emojis and racist insults.
on one release shared on Twitter, the English Football Federation has already reacted to the case: "The FA strongly condemns all forms of discrimination and is terrified of racism online which has been targeted to some of our players on social media".
The entity that regulates English football also says that "no one behind such behavior is welcome". "We will do everything to support affected players while we defend firmer punishments for all those responsible", he concludes.
The official account of the English team on Twitter too expressed support to the players: "We are disgusted that some of our team members – who gave their all for the jersey this summer – have been subjected to discriminatory abuse online after today's game [domingo]. We are on the side of our players".
Boris Johnson has also condemned the incidents, stressing that the team "deserves to be praised as heroes". "Those responsible for these disgusting attacks they should be ashamed of themselves," says the British prime minister.
The British metropolitan police have also promised investigate the case. "We are aware of the number of offensive and racist comments directed at players on social media after the Euro 2020 final. totally unacceptable, it will not be tolerated and will be investigated", write no Twitter.
Meanwhile, the English coach took responsibility for the defeat, after being criticized for choosing young players with little playing time to take the decisive penalties.
"I was the one who decided who would take penalties, according to what they did in training. Nobody is alone. We win together and when we can't win too We are together. Now, when it comes to penalties, the decision was mine and that will fall on my shoulders. It was my decision to give him (Saka) that penalty. It wasn't him or Marcus or Jadon," said Gareth Southgate.

This is not the first time that Marcus Rashford has been a victim of racism after an unfavorable result, having been attacked after Manchester United's penalty shootout defeat in the Europa League final against Villareal. The player even filed a complaint with the police, it can be read in the The Guardian.
Jadon Sancho had also already taken a public stand on racism during last summer's Black Lives Matter protests. The player wore a t-shirt with the message "Justice for George Floyd" after scoring for Borussia Dortmund against Paderborn. "We must not be afraid to speak for what is right, we must unite and fight together for justice. Together we are stronger!" he wrote on Instagram.
The attacks come after the English team was one of the biggest promoters of the movement calling on footballers to kneel against racism. The gesture was controversial, with the players being booed by the English cheering squad several times and accused of mix politics with football.
Conservative deputy Lee Anderson even went so far as to boycott the competition because of the team's protest. "I'm annoyed because I'm not going to see the final, of course I am, but I took a stand and it would be a hypocrite to back off. I'm a big fan of England, I won't watch the game but I'll support the team", he said, stressing that he doesn't like "this kneeling thing".
Anderson's boycott was the target of online mockery, with the Labor Party creating a petition asking him not to watch England games.
"Muttered Tory MP Lee Anderson is not supporting England's heroes like us because he doesn't like their simple act of anti-racism. As Anderson was born in 1967, we think he may have been the bad omen all this time", reads the petition, which refers to the 1966 World Cup, the only trophy won by England.
After many incidents all over Europe, including the case of Marega in Portugal, who was the target of insults in a game between Porto and Vitória de Guimarães, this is yet another case that puts the problem of racism in football culture. It remains to be seen whether stronger measures will be taken this time to combat the problem.

AP, ZAP //