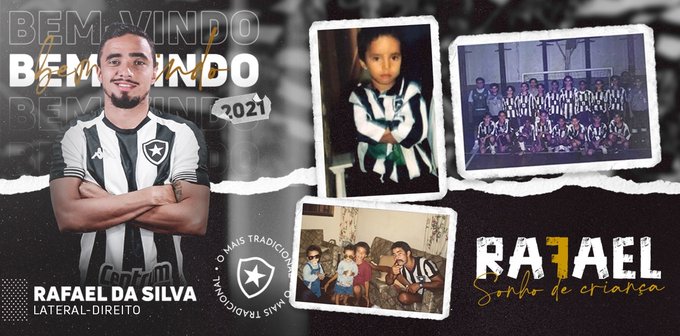 Despite having been revealed in the youth categories of Fluminense, the right-back never hid his support for Glorioso
Disclosure/Botafogo
Rafael da Silva is the new reinforcement of Botafogo

O Botafogo made the hiring of the right-back official Rafael, on the afternoon of Wednesday, 8. Despite having been revealed by Fluminense, the winger never hid his support for Glorioso. Therefore, the club treated the ad as a "child's dream". "It is with great satisfaction that we fulfill this childhood dream, bringing to our community not only a passionate Botafogo native, but a very high level athlete. Rafael, welcome to Botafogo", highlighted the president Durcesio Mello, when presenting the athlete with tickets for Manchester United, Lyon e Istanbul Basaksehir.
Rafael left Brazil at just 18 years old to wear the colors of the Red Devils, where he played from 2008 to 2015. Having played for the Brazilian national team, he showed to be emotional and fulfilling yet another objective in his career. "The biggest dream of all was missing. It's a child's dream that I fulfill when I wear the shirt of the club of my heart", said Rafael, who arrives with the mission to replace the Glorioso in the Serie A of Brasileirão. Currently, the Rio team occupies the fourth position in the 2nd division of the national, within the access group.
Botafogo CEO Jorge Braga stated that the club did not go crazy to repatriate the 31-year-old player, who significantly reduced his salaries and refused other offers to play for the team. "With responsibility and innovation it is possible to make large projects possible. Rafael will be an important means of reconnecting the fan to the club, especially in activating the Jersey 7 fan member program. We are all working hard on transforming our club. The best place for Botafogo residents to be today is by accessing the site Camisa7.botafogo.com.br and joining the program", commented the CEO.