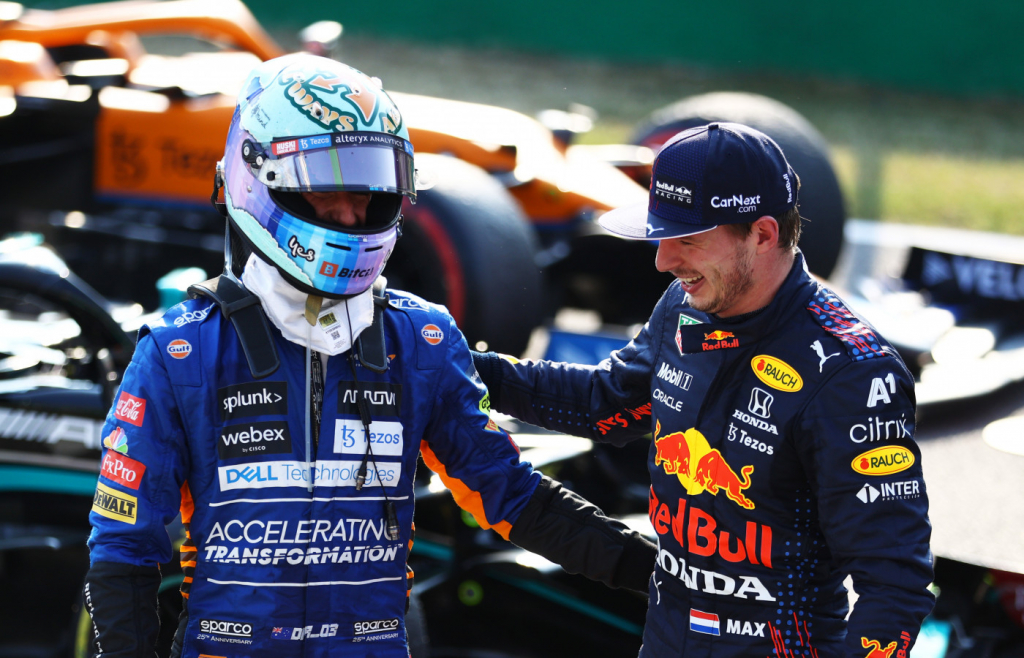 Finn will start in last position for having swapped engine components; Hamilton will be the fourth
Play/ Twitter @F1
Ricciardo and Verstappen celebrate the end of the Sprint Race

Luck seems to be on the side of Max Verstappen on Formula 1. The leader of the World Drivers' Championship was behind the Mercedes cars in the Italian GP Sprint Race, this Saturday, 11, but surpassed Lewis Hamilton, who started badly, and even behind the winner Valtteri Bottas, will be pole position with his Red Bull this Sunday, 12, because of the punishment of the Finn for changing engine components – he will have to start at the end of the field. Verstappen further extended his lead at the Drivers' World Championship to five points by taking two for second, while Hamilton, in fifth, was zero. The Dutchman climbed to 226.5 from 221.5 of the Mercedes opponent. It is the 11th pole of the Red Bull driver, who will try to open up an advantage over the Mercedes on a circuit in which the England-based team was singled out as the big favorite and had been dominating training so far this weekend.
Teams could only use one type of tire in the quick race of 100 kilometers or 18 laps. Italian 100-metre Olympic champion Lamnot Marcell Jacobs was a special guest at the race and simulated the start before the drivers left for the tire warm-up lap. In the last five races at Monza, Hamilton had three poles, in seasons 2016, 17 and 20. He would have to beat teammate Bottas in the fast race to start first on Sunday. With a double in front, Mercedes' order was to be careful at the start. Bottas started very well while Hamilton lost four places, dropping to sixth. Verstappen moved up to second, with the McLarens on his heels. On the first lap, Pierre Gasly hit hard with his AlphaTauri, causing a yellow flag.
The restart would come with Verstappen promising to attack Bottas and Hamilton needing to recover with two McLaren cars in front of him. The Englishman couldn't keep up with his rivals. And the Dutchman was satisfied in second because of the Finnish punishment. With no fights for the top positions, the Sprint Race ended as a re-start for the top positions. Bottas secured three points, only from dropping to last on the grid, with two for Verstappen and one for Daniel Ricciardo, back in the front row after a long time. Since 2012, McLaren has not had two cars among the first on a grid. Hamilton will have Norris and Ricciardo between him and Verstappen this Sunday and will need to bounce back if he doesn't want to be left behind in title defense.
Check out the Italian GP starting grid
1º) Max Verstappen (HOL/Red Bull)
2º) Daniel Ricciardo (AUS / McLaren)
3rd) Lando Norris (GBR / McLaren)
4º) Lewis Hamilton (GBR/Mercedes)
5º) Charles Leclerc (MON / Ferrari)
6th) Carlos Sainz (ESP / Ferrari)
7º) Antonio Giovinazzi (ITA / Alfa Romeo)
8th) Sergio Perez (MEX / Red Bull)
9º) Lance Stroll (CAN/Aston Martin)
10º) Fernando Alonso (ESP/Alpine)
11º) Sebastian Vettel (ALE / Aston Martin)
12°) Esteban Ocon (FRA/Alpine)
13º) Nicholas Latifi (CAN/Williams)
14º) George Russell (GBR/Williams)
15º) Yuki Tsunoda (JAP/AlphaTauri)
16º) Nikita Mazepin (RUS/Haas)
17º) Robert Kubica (POL/Alfa Romeo)
18º) Mick Schumacher (ALE / Haas)
19º) Pierre Gasly (FRA / AlphaTauri)
20 °) Valtteri Bottas (FIN / Mercedes) *
*Punished for changing engine components
**With information from Estadão Content