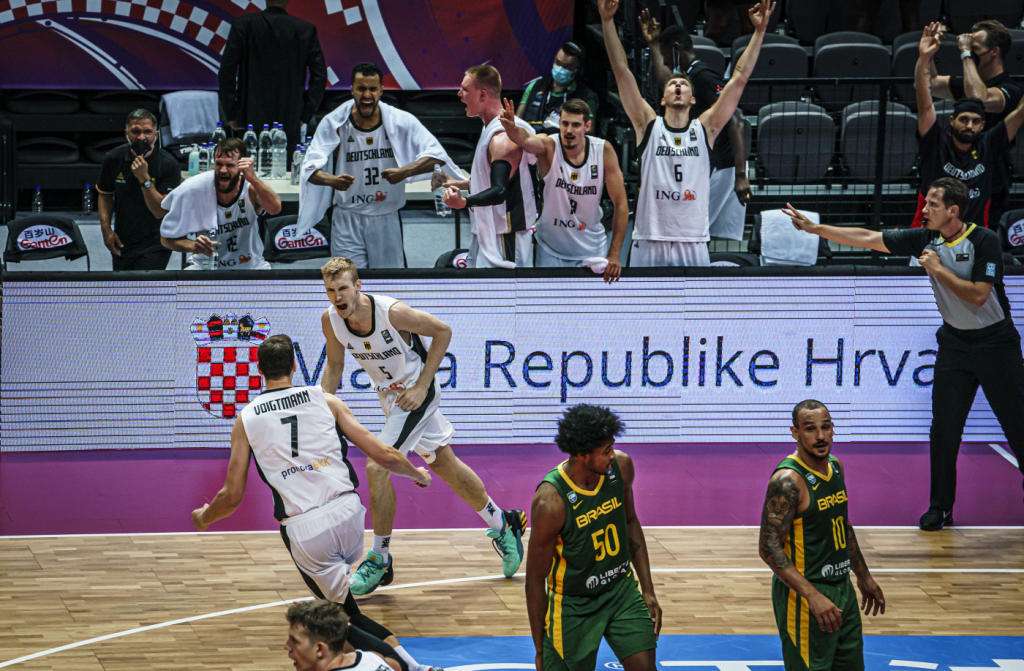 Moritz Wagner, who left the bench in the second quarter, was the most important player for the Germans, turning the tables and keeping the Germans ahead until the end
Reproduction/Twitter/@FIBA
Moritz Wagner celebrates point made in Germany vs Brazil in Pre-Olympic basketball

A Brazilian men's basketball team will not dispute the Tokyo Olympic Games. In an exciting and balanced match, held this Sunday afternoon, 4, Brazil was defeated by Germany from 75 to 64, in the decision of the Split Pre-Olympic, in Croatia, running out of place for the Tokyo Olympics, which starts on July 23rd. Moritz Wagner, who left the bench in the second quarter, was the most important player for the Germans, turning the tables and keeping the Germans ahead until the second final.
Despite leaving behind, taking a 6 to 0 right away and showing difficulties in the attack, the team coached by the coach Aleksandar Petrovic they looked for an immediate reaction, with good baskets from Hettsheimeir and Alex, finishing ahead with a 17 to 14. In the second quarter, however, Brazil again made mistakes up front, wasting three shots and committing many faults in marking. In addition, the team began to suffer with Wagner, who came off the bench and scored a positive streak of shots from three, putting Germany ahead at the end of the first half, with a 36-34.
The third quarter followed the same tone as the rest of the match, with the Brazilian team showing a strong defensive system, but sinning with the ball in hand. In addition, over time, Brazilian players started to make many fouls, giving Germany some free throws. Anderson Varejão, who entered the game well, started to stand out. Thus, the Germans finished the stage six points ahead. Tense, Brazil continued to fight in the last and last quarter, but it was excessively wrong in the attack, wasting up to four attacks in a row. To make matters worse, Alex, jersey 10 of the team, made the fifth foul, saying goodbye to the game early. In the end, the selection even struggled, but saw the disadvantage widen in the final minutes.