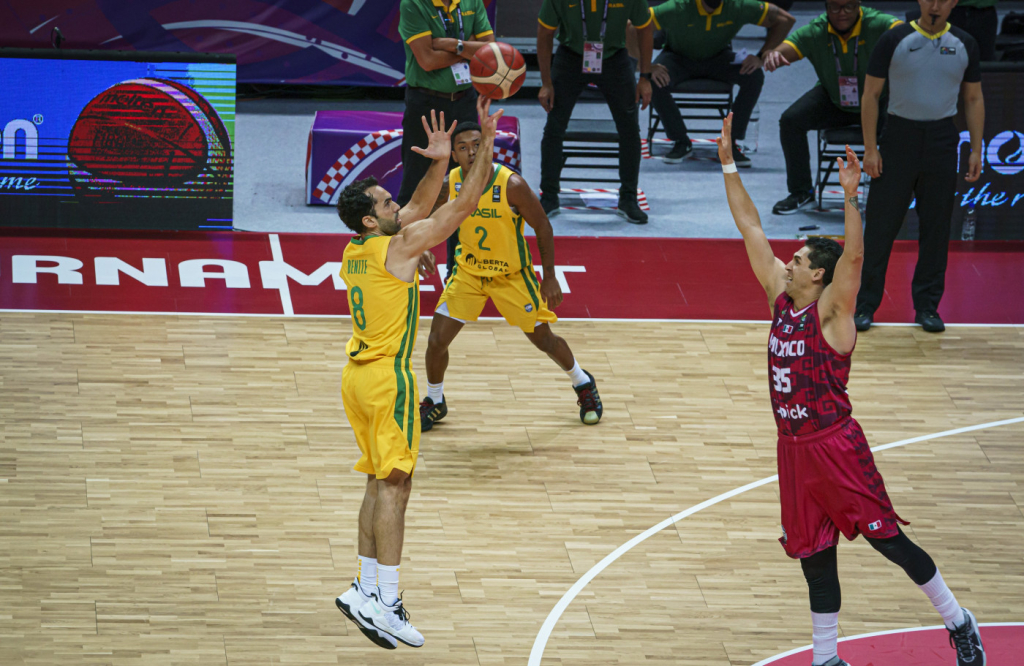 The definition of the classification for the Olympics will be at 2:30 pm (GMT) this Sunday, against Germany, who dispatched Croatia
Reproduction/Twitter/@FIBA
Men's basketball team beat Mexico in Pre-Olympic semifinal

A Brazilian basketball team is very close to the vacancy for the Tokyo Olympic Games. With impeccable presentation, he ran over Mexico in the semifinal of the Split Pre-Olympic, in Croatia. Commanded by Vitor Benite and accurate in the balls of three, scored 102 to 74. The definition of classification for the Olympics will be at 2:30 pm (GMT) this Sunday, against Germany, who dispatched Croatia. Benite left the bench to be the scorer of the match, with 22 points. In a perfect match from the three-line, it was an impressive 18 balls right from the perimeter. Brazil needs an act to avoid a second absence at the Olympics. Only in 1976, in Montreal, Canada, the team did not guarantee itself in the Games.
Brazil started the game by making silly mistakes. But after time requested by the technician Alexander the Greatthe entry of Benite, adjusted and, with strong defense and speed in attack, closed the first quarter with an advantage of 24 to 18. Unlike the first 10 minutes of the game, the selection "woke up" in the second period and was soon opening 13 points of advantage. Comfortable in the match, the Brazilians showed their entire repertoire. With less than 18 minutes played, there were already six balls out of three hits. The selection, however, gave a blank and failed in three consecutive attacks, allowing the Mexican reaction. Petrovic was forced to stop the match again to calm the spirits. Point guard Benite, with 16 points in 11 minutes on the court, was out of step. While his hand remained calibrated, the companions alternated highs and lows.
With an impressive shot from the middle of the court by Alex, Brazil, which could go to rest with an advantage of only five points, opened 53 to 42. The interval break did very well for the selection, which returned devastating. With great rebounds from Bruno Caboclo, stumbling from Alex and the balls of three falling one after the other, the Brazilian team reached 28 points. Benite was perfect. In his best period in the match, a beautiful 27-15 and 80-57 for Brazil. Even running the group in the last period, the Brazilian income did not drop. With the reserves on court, the selection never had its victory threatened. Closed the undisputed victory by 102 to 74.
*With information from Estadão Content