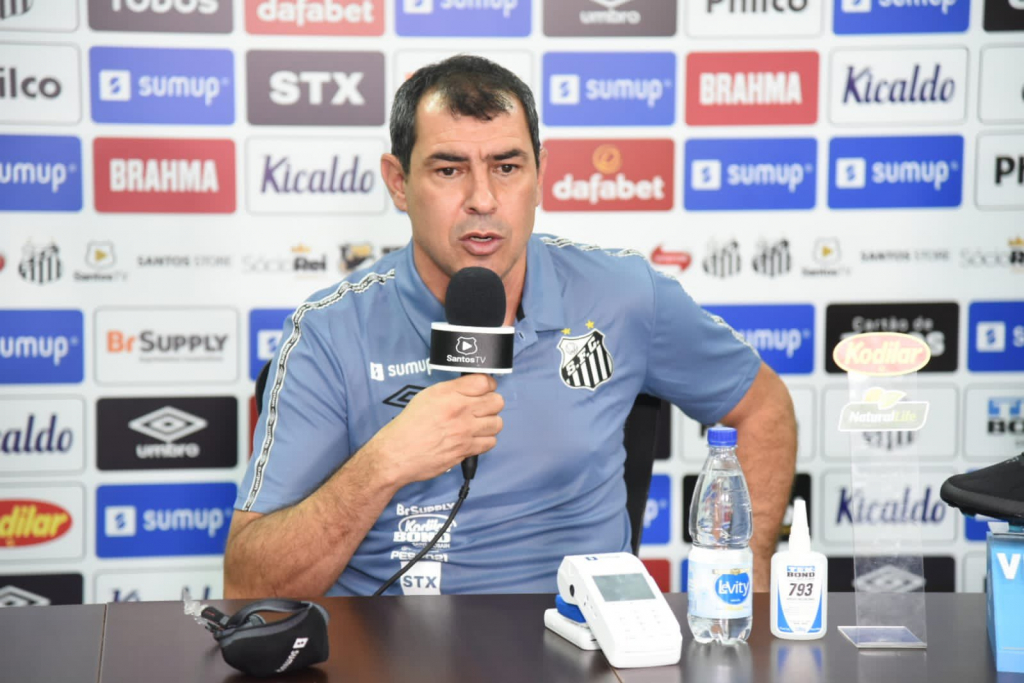 The coach has his debut scheduled for next Saturday, 11th, at Vila Belmiro, against Bahia, for the Brazilian Championship
Reproduction/Santos FC
Fábio Carille during a presentation at Santos

Fabio Carille was presented this Thursday, 9th as the new coach of the Santos, at CT Rei Pelé, in Baixada Santista. beside the president Andres Rueda, the coach praised the quality of Alvinegro Praiano's squad and avoided talking about more reinforcements. "The best thing is to enter the CT on a daily basis and see if you need any position. But it's a well-balanced group. We have players coming, players recovering, I believe they have a very strong team. Now it's about organizing and, going forward, if necessary, respecting Santos' situation, we'll go back. But it's too early to talk about it," said the 47-year-old coach, who arrives after leaving Al Ittihad Jedda, in Saudi Arabia.
"I don't really like projections, I really like the next game. We have to work here to think out loud, think about moving up in the rankings, in Libertadores, but I'm not a projection. Every game is a decision, our next decision is Bahia. Bringing a lot of information and projects to the group is not a good thing, I like to work game by game", added Carille, who will have his second national experience as a coach at Santos. The first was his two spells at Corinthians, where he won the 2017 Brasileirão and the third at Paulistão.
Carille will debut next Saturday, 11, at Vila Belmiro, against Bahia, by Brasileirão. The coach, known for his defensive style, says he will look to build an organized team. "I worked for eight years as an assistant. When I had the opportunity at Corinthians, I just continued what worked. The numbers show different, at certain times, like in 2018. At Ittihad we managed to do a pretty cool job. At Santos I have already looked for a lot of information, as it is happening in the field, in the CT, to arrive with a lot of peace. I arrive with a lot of peace, believing in doing a great job with everyone. So the way to play, I already have an idea, the day to day will show. There's nothing better than the day-to-day to get to know the characteristics of this cast", he said. "You can expect a well-organized team. Change very little because it's too little for Saturday's game, then a decision, but little by little bring what I think about the characteristics that I get to know on a daily basis. My job and that of my committee is to make the gear work in the best possible way", he added.