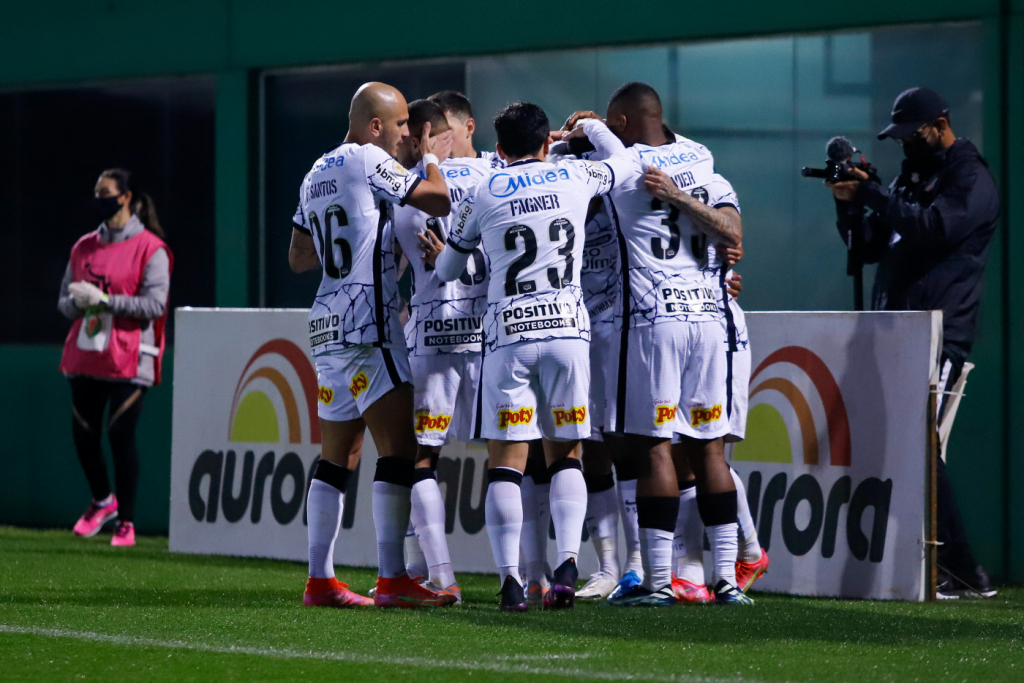 The bill gives clubs that host matches the rights to negotiate the broadcast of the match.
PHOTOGRAPHY AGENCY/AGIF – PHOTOGRAPHY AGENCY/ESTADÃO CONTENT
Corinthians players embrace during victory against Chapecoense'

A Chamber of Deputies approved on the afternoon of Wednesday, 14, the bill 2336/2021, also known as "Mandator's Law", which changes the marketing of broadcasting rights for football matches. The PL gives the home clubs the rights to negotiate the broadcast of the match. According to current law, this right belongs to the two teams that compete in the championship, the home and the visiting teams. In all, 432 deputies were in favor of the project, and 17 were against it. Now, the text goes for consideration in the Senate. In case of new approval, the PL will be sanctioned by the president Jair Bolsonaro (no party).
The approval of the law will allow the host club to negotiate directly with the communication vehicle that makes the best proposal. "Nowadays, on open TV, we have only one broadcaster that holds the rights until 2023 for series B and until 2024 for series A. But on closed channels and streaming platforms, this is no longer an absolute truth, because it is already there are football teams that have already sold their rights to these services", explained deputy Júlio César (Republicanos/DF), rapporteur of the project, in an interview with the "Jornal da Manhã" program, do Pan Youth Group, last Sunday, 11. "I want to make it clear that what you agreed to before the law came into force must be fulfilled. So all teams that are in series A and have a contract, must comply until 2024. But those teams, for example, that are in series B and that will move up to series A, then they will have the possibility to choose the broadcaster. Basically what changes is that they will no longer need to negotiate collectively", he added. The subject had already been dealt with by Provisional Measure 984/20, which expired without having been voted on. The changes will take place in the Pelé Law, which provides for the division of image rights between the homeowner and the opponent. Deputies now need to analyze the highlights presented by the parties to the substitute for the rapporteur, deputy Julio Cesar Ribeiro. Among other points, the rapporteur's text maintains the current rule of the law on broadcasting advertising that the original bill only changed for football clubs.