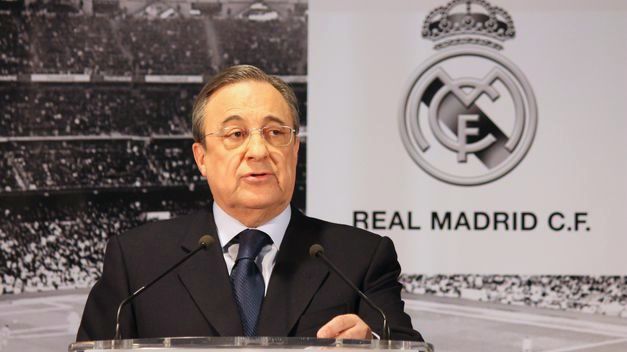 A Spanish newspaper released several audios with statements by Florentino Pérez, noting that they show the "authentic face" of the president of Real Madrid. These are controversial opinions, with criticism ranging from Cristiano Ronaldo to Mourinho, passing through Casillas, and with insinuations of embezzlement against Pinto da Costa and Jorge Mendes.
"Florentino Pérez as I've never heard him before". This is how the newspaper El Confidencial reveals audios of conversations by the president of Real Madrid, stressing that it publishes them through its "undoubted informational interest".
Among these audios, it is possible to hear a conversation from August 29, 2007, where Florentino Pérez speaks of a alleged scheme to embezzle money of transfers, involving the names of chick from the coast, president of FC Porto, and of Jorge Mendes, Cristiano Ronaldo's manager, among other stars.
About the transfer of central defender Pepe from the dragons to Real Madrid, in 2007, Florentino begins by noticing that he knows the president of Porto. "The 30 kilos left here and went there, it's true, and now we have to see where the bank exits," he says.
"Do this with Jorge Mendes, that is, the president's representative who is the one who deceives everyone. It was all weird with him. And then Mendes and Mendes so-and-so would appear, and then he would charge Mendes, of course. He would pay Mendes because it's him, because, let's say, the alibi of the president of Porto is Mendes, no?", also points out Florentino in the same conversation.
"Mendes and the president of Porto took the money from the Russian [Abrahmovich], with Mourinho, with the [Ricardo] Carvalho, with the [Paulo] Ferreira, they take their money and that money, what happens, is that they take it to Switzerland", he also emphasizes regarding the various deals between FC Porto and Chelsea, in 2004.
"If it is necessary to irritate someone from the ointment, someone has to give us a clue about this Swiss account"concludes Florentino.
Mourinho and Ronaldo are "naughty" and have a "terrible ego"
In another audio on October 15, 2012, Florentino criticizes Ronaldo and Mourinho.
"This guy is a patient", "not normal", points to the current Juventus player, referring to "all silly stuff that makes".
"Mendes doesn't order anything about him, just as Mendes doesn't order anything about Mourinho, nothing about anything", he points out. "They are guys with a terrible ego, naughty both, the coach and him, and then they don't see reality like you do because they can earn a lot more money", he criticizes.
"There are two abnormals because we are talking about a lot of money, the theme of image rights", he also points out.
"Furthermore, with that face they have, with that so defiant way it goes bad to everyone", he adds.
Cristiano Ronaldo left Real Madrid on July 10, 2018 after speculation that his relationship with Florentino Pérez was uneasy.
Mourinho left the Madrid club in 2013 after reaching an agreement for the termination. His contract lasted until 2016.
At that time, Florentino publicly assumed that Mourinho had "a very high demand" with the players and that, "on some occasions, crossed the line".
Fábio Coentrão "is an idiot"
El Confidencial also reveals an audio from October 15, 2012, where Florentino Pérez talks about Fábio Coentrão, noting that "has no head" and who is "an idiot".
"Right now you shit playing for Madrid", he notes, stressing that he was affected by the pressure and that "it is a little abnormal because he drives without a license".
Coentrão spent seven years with Real Madrid, from 2011 to 2018. However, from 2015 to 2016 he was loaned to Monaco and from 2017 to 2018 he played for Sporting, also on loan.
Casillas is like a "puppy"
In an April 2, 2008 audio, the target is Iker Casillas with Florentino noting that "it's too short" and that it is noticed that he is "absent" when he has a problem with his partner. "It's like a little boy", a "puppy", a "rag doll".
The Real Madrid president also considers that if he tried harder, the then Real Madrid goalkeeper would be "number one" because he has "spectacular conditions", despite his "a few centimeters left".
In another audio on September 11, 2006, Florentino even laments that it's "a scary thing" that everyone likes Casillas.
But, in football, "Casillas has neither stature nor sees well", stresses, stressing that he had to "go to the optician" and criticizing his performance in corners and long-distance shots.
Iker Casillas left Real Madrid in 2015, joining FC Porto, after having spent his entire career at the Spanish club. In 2020, the goalkeeper returned to the Santiago Bernabéu to be an advisor to Florentino Pérez after he retired from the pitch after suffering a myocardial infarction, in 2019, in Porto.

Susana Valente, ZAP //