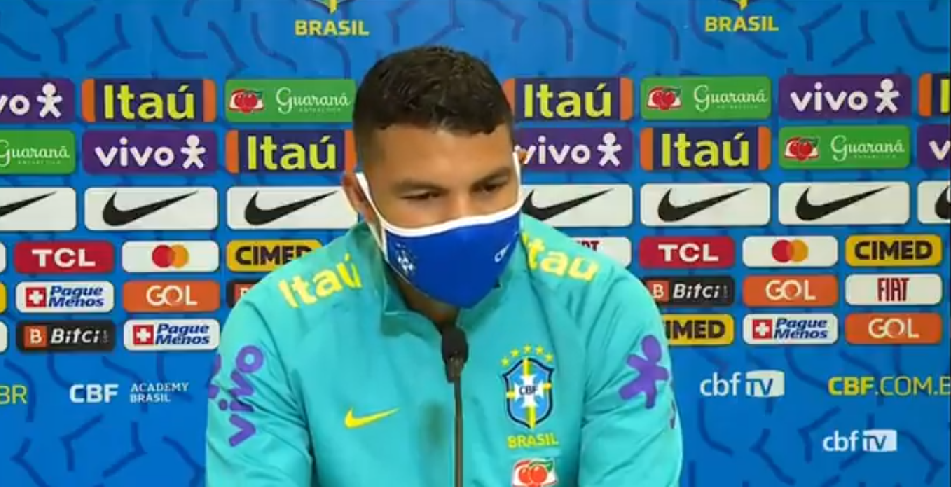 After coach Tite was fined for criticism of the organization of the competition and Neymar's ironies about the quality of the pitches, the defender took an opposite stance.
Playback / CBF TV
Thiago Silva gave a press conference before Brazil x Chile

After technician Tite was fined for the Conmebol for the criticisms of the organization of the America Cup and of the Neymar's ironies to the quality of lawns, the defender Thiago Silva it took an opposite stance and avoided confrontation with the South American Football Confederation. The Chelsea defender even highlighted the entity's effort to provide a good infrastructure. On Friday 2, Brazil will face Chile for the quarterfinals of the tournament in the Nilton Santos Stadium (Engenhão), in Rio de Janeiro.
"Regarding the organization, Conmebol did everything so that it could provide good stadiums, good fields, but it was decided (at the last minute), it was kind of impossible for that to happen. I have no doubts that they made maximum effort, but the conditions are there. Everyone knows how the fields are, but we have nothing more to say about this situation. We are super prepared", said the defender, this Wednesday. "(The term) Stepping on eggshells is strong, but we have to respect hierarchy, what was done to carry out the Copa America, with 10 days of preparation… This made the logistics of each team very difficult. We want to play a great game regardless of the pitch. The field will be bad for both of them", said one of the three Brazilian captains, alongside Casemiro and Marquinhos.
Thiago was also asked about the bad phase of the Chilean team, which won only one game in the tournament, against Bolivia, and occupies the seventh place in the Qualifiers for the 2022 World Cup. Grupo A. "It is a very quality team. No wonder they won two Copa Americas in a row (2105 and 2016). This group knows how to play this type of game, regardless of the moment they are going through. That doesn't mean much. Against the national team, everyone wants to win. Very difficult match, complicated to play. The most important thing is that we are prepared to face them and we will try to neutralize them to win", he declared.
🗣️: "I hope he can be on the field, we like to face great athletes, references"

Alexis Sanchez may be the novelty in Chile 's attack against #Brazilian Team, in the quarter finals of CONMEBOL @CopaAmerica. @tsilva3 talked about it. Check out! pic.twitter.com/c0pe9kb3X8

— CBF Football (@CBF_Futebol) June 30, 2021
*With information from Estadão Content