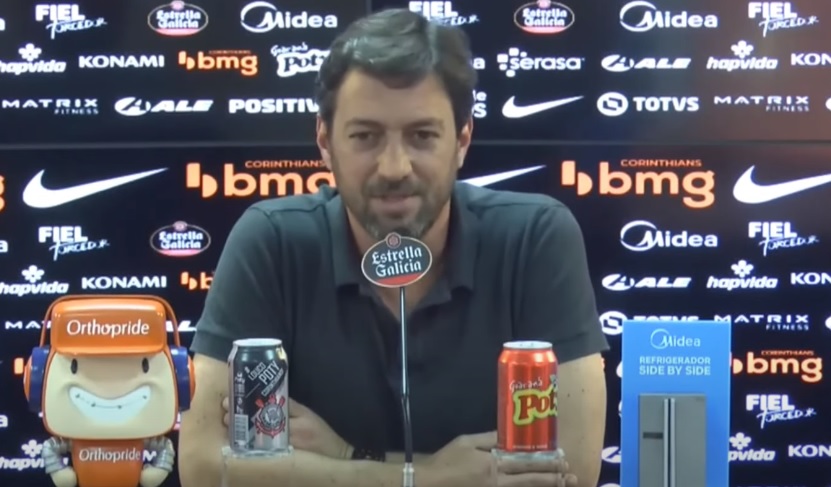 Alvinegro's financial director, Wesley Melo revealed the goal is to reduce expenses by 20%, including football, by the end of 2021
TV Corinthians / Reproduction
Duílio Monteiro Alves is the president of Corinthians

THE Corinthians made official on the morning of this Friday, 19, the hiring of the company Falconi, renowned in the field of management consulting. The agreement signed between the parties is valid for one year, but there is an expectation of a renewal for two more seasons, that is, until the end of the president's term of office. Duílio Monteiro Alves. In a press conference, the financial director of Alvinegro, Wesley Melo, revealed that the current debt is R $ 900 million, not counting the Neo Chemistry Arena. Therefore, the goal is to reduce spending by 20%, including football, by the end of 2021.
"The debt today is around R $ 900 million without Neo Química Arena. Spending is already being reduced by about 20%. (The department of) Finance should not beep in football, but if you see the interviews of Duílio and Professor Vagner Mancini, they are already saying about our limited capacity to make investments in football at this time. We have been using base athletes. Now, it may be that you have the opportunity for a player to come at a cost that we can afford. It may be that we hire, that Mancini indicates one or two specific hires, then we will do a financial analysis to conclude whether the hiring is effective or not ", said Wesley.
The financial director spoke about Falconi's role in reducing expenses and stated that, despite the delicate moment, Corinthians will have a competitive team. "Falconi is being hired to help us not only find inefficiencies and reduce costs, but to channel investments in the right place. You can't cut all investment in football and perform poorly. In December, we imagined in which position Corinthians would be in the Brasileirão. If it was eighth, we would have an award. We came in 12th, with a difference of R $ 5 million. There is no point in not investing in football, we must have a competitive team ", declared Wesley. "But we are not going to take a step bigger than the leg. We are using the base players, they are corresponding. Corinthians will always compete, this means leveraging revenue, in awards, visibility, marketing potential. We have a limited investment capacity, but football itself is seen as an investment, not a cost ", he added.