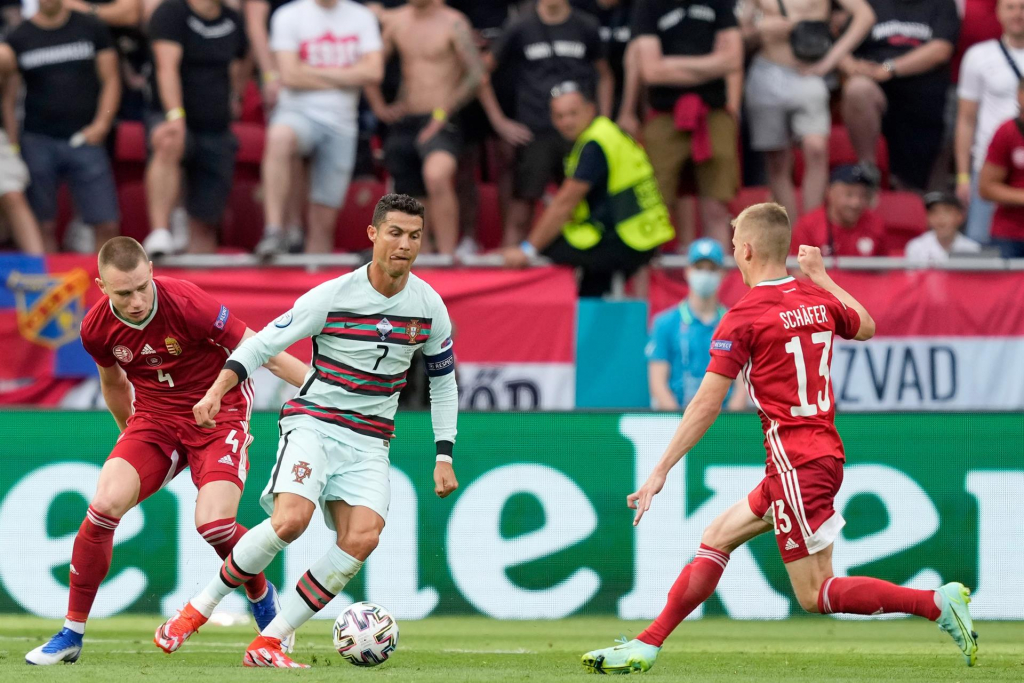 With the goals, the Juventus forward is isolated as the top scorer in the history of the Euro Cup, reaching 11 and leaving behind the French Michel Platini, with 9
EFE/EPA/HUGO DELGADO
Cristiano Ronaldo scored twice in Portugal's European Cup victory against Hungary

A Portuguese selection I encounter difficulties, but won the Hungary 3-0, this Tuesday, 15, at Puskás Arena, in Budapest, in a match valid for the opening round of the Eurocup. In the final minutes of the confrontation, Raphael warrior e Cristiano Ronaldo (twice) scored for Portugal, which starts ahead in Group F, considered the "death" in this edition of the tournament. This is because the powerful France e Germany, who face each other at 4 pm (GMT), are also fighting for two direct spots in the bracket – it is worth remembering that 4 of the third placed teams also advance to the knockout. With the goals, the attacker Juventus isolated as the top scorer in the history of the competition, reaching 11 and leaving the French behind Michel platini, with 9.
The term "attack against defense" can well define what happened in the first half at the stadium located in the Hungarian capital, which was packed supporting the home team. Favorite, Portugal took the reins of the match, having more possession and showing a lot of aggression. So much so that Diogo Jota made goalkeeper Gulácsi work right in the opening minutes. Exchanging passes and moving, the Portuguese team had another chance with the Liverpool striker, who stopped again at the archer. The best chance, however, was at the feet of Cristiano Ronaldo, who wasted an unbelievable opportunity in the face of goal by completing a cross out.
On the return from the break, the duel was more balanced. Pepe, it's true, scared him by heading into the corner, demanding a beautiful intervention from Gulácsi, in the right corner. Hungary, however, started to make some escapes, with Sallai shooting from outside the area, sending it into the hands of Rui Patrício. Schon, who had just entered, even hit the net, clearing Pepe and hitting the corner, but the referee was offside, ratified by the VAR. Dissatisfied with the result, Fernando Santos, coach of the Portuguese team, changed the team, putting Renato Sanches, Rafa Silva and André Silva in the clash. The change worked and, in a short time, Rafa Silva crossed to Raphael Guerrero, who had a deflection on the defender's foot to open the scoring, in the 40th minute. Soon after, Rafa Silva himself was pulled into the area. In the kick, Cristiano Ronaldo did not waste, putting in the corner and isolating himself as the top scorer in the history of the Euro Cup with 10 goals, leaving Frenchman Michel Platini behind with 9. In stoppage time, the Juventus ace also received Rafa Silva in the assistance to do the third.