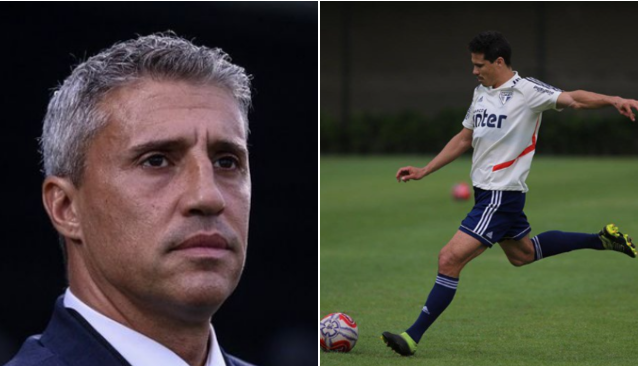 Even with the high number of embezzlements in Tricolor, the midfielder is not even being listed for the matches, behind Igor Liziero, Rodrigo Nestor, Talles Costa and other youngsters from the youth categories
Photo montage/Reproduction/São Paulo FC/Rubens Chiri/Instagram/Crespo
Crespo lost his way when asked about Hernanes' situation in São Paulo

Multi-champion by Sao Paulo, Hernanes has an uncertain future at the Morumbi club. Even with the high number of embezzlements in Tricolor, the midfielder is not even being related to the matches, behind Igor Liziero, Rodrigo Nestor, Talles Costa and other youngsters from the youth categories. In a press conference granted after the 1-1 draw against Racing, for the first round of the round of 16 of the Copa Libertadores da America, the coach Hernan Crespo threw off the veteran's situation. "It's a private and private situation that I prefer not to talk about. Maybe the management or Hernanes, I believe I shouldn't speak at this moment", he said.
In conversation with the press, Crespo also acknowledged the difficulty of São Paulo in the Libertadores – the team must win in Buenos Aires, next week, or count on a draw by 2 or more goals to advance to the quarter-finals. The coach, even so, said he believed in the classification. "The situation is critical in 360 degrees, nobody said otherwise, it was easy. It's very difficult, but a lot. But we believe in work, in us, and let's think about the next game to try to get out of the difficult situation and win a place in the quarterfinals without thinking about negative aspects", commented the captain, who also spoke about the high number of injured players and the state physical of Martín Benítez.
"Martin is going through a difficult time physically. So let's pay close attention to this point", commented Crespo. "We can't train, we play every three days. It's impossible. We work all year long, no vacations, no days off. We don't have time to rest. (Facing) always important, borderline situations. It's like that, it won't change. It's a fact, everyone knows. We try to do our best", added the coach, who will lead the São Paulo team in the match against Fortaleza, next Saturday, at Morumbi, for the Brazilian Championship.