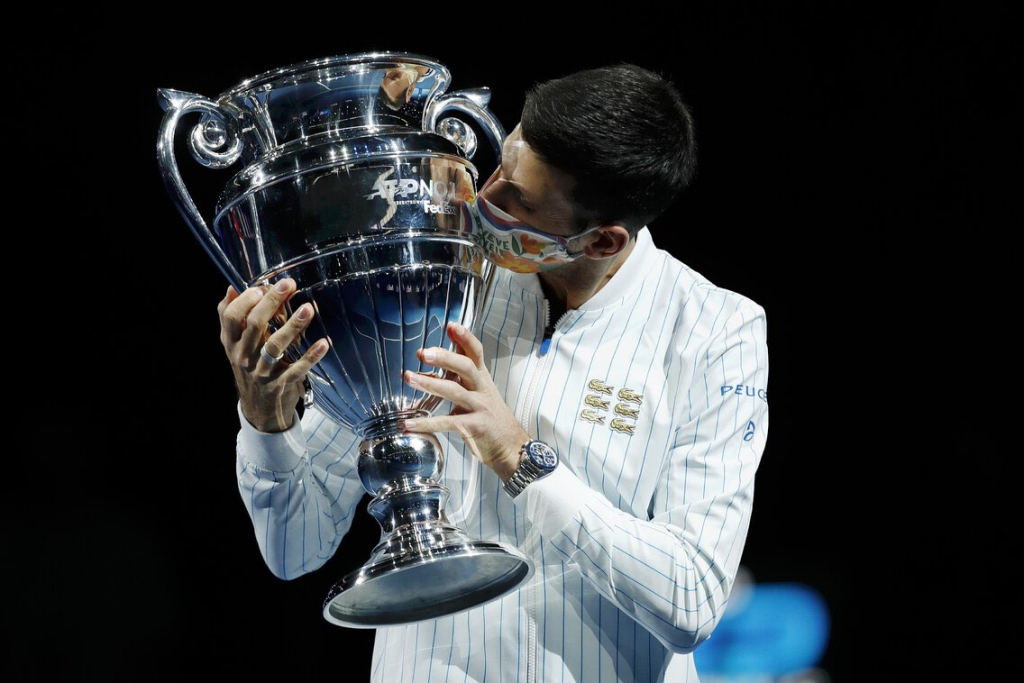 The Serbian took the lead for the last time on February 3, 2020 and has since continued commanding the ATP list
Playback / Twitter / Novak Djokovic
Novak Djokovic is the biggest number 1 in history

The Serbian Novak Djokovic made history again this Monday, 8. The 33-year-old tennis player became the world's No. 1 player in the 48-year history of the ATP. He reached his 311.st week in first place, leaving the Swiss behind Roger Federer with his 310, and now the one who has led the men's professional circuit is isolated. Australian Open champion for the ninth time in his career last month, Djokovic has 18 Grand Slam titles and holds a record 36 tournament trophies in the Masters 1000 series. He reached the top spot in the ATP ranking for the first time on July 4, 2011 and has since remained at the top in five different passages. "It really thrills me to walk the path of legends and giants of this sport. Knowing that I won my place among them by following my childhood dream is a beautiful confirmation that when you do things out of love and passion, everything is possible ", said the Serb in an interview for the official website of ATP.
Djokovic took the lead for the last time on February 3, 2020 and has since continued commanding the ATP list. During this period, it did not add up to the weeks between March 23 and August 23, when the ranking was frozen due to the interruption of the professional circuit caused by the pandemic of the new coronavirus. After Djokovic and Federer, the third place in the top leaders of the ATP ranking is the American Pete Sampras, with 286 weeks. The Top 5 is completed by the Czech-born American Ivan Lendl (270) and the American Jimmy Connors (268). Spaniard Rafael Nadal is 209 weeks old and is in sixth position. With 43 weeks as number 1 in the world – in three passes (eight weeks between December 4, 2000 and January 28, 2001, 13 weeks between February 26, 2001 and April 1, 2001 and 30 weeks between 23 April 2001 and November 18, 2001) -, the Brazilian Gustavo Kuerten is in 13th place in this list.
Without playing in the past week, Djokovic maintains a comfortable advantage for Nadal, the runner-up. The Serbian has 12,030 points, against 9,850 for the Spaniard. Russian Daniil Medvedev, in third, adds up to 9,735 and could take second place if he won the ATP 500 in Rotterdam, the Netherlands. But it fell right at the premiere. In the Top 10, only the Greek Stefanos Tsitsipas won a position and is now in fifth place. He overtook Federer, the sixth, who will return to play this week after spending more than a year away from competition and having two operations on his right knee. From this Wednesday, the Swiss will compete in the ATP 250 in Doha, Qatar.
Check out the ATP ranking:
1st – Novak Djokovic (SER) – 12,030 points
2nd – Rafael Nadal (ESP) – 9,850
3.º – Daniil Medvedev (RUS) – 9.735
4.º – Dominic Thiem (AUT) – 9.125
5.º – Stefanos Tsitsipas (GRE) – 6,660
6.º – Roger Federer (SUI) – 6.630
7.º – Alexander Zverev (ALE) – 5.615
8.º – Andrey Rublev (RUS) – 5.019
9.º – Diego Schwartzman (ARG) – 3.640
10.º – Matteo Berrettini (ITA) – 3.480
11.º – Denis Shapovalov (CAN) – 2.910
12.º – Gaël Monfils (FRA) – 2.860
13.º – Roberto Bautista Agut (ESP) – 2,770
14.º – David Goffin (BEL) – 2.760
15.º – Milos Raonic (CAN) – 2.630
16th – Pablo Carreño Busta (ESP) – 2,585
17.º – Grigor Dimitrov (BUL) – 2,575
18.º – Fabio Fognini (ITA) – 2.535
19.º – Félix Auger-Aliassime (CAN) – 2.516
20.º – Stan Wawrinka (SUI) – 2,365
74th – Thiago Monteiro (BRA) – 954
124.º – Thiago Wild (BRA) – 605
203º – João Menezes (BRA) – 353