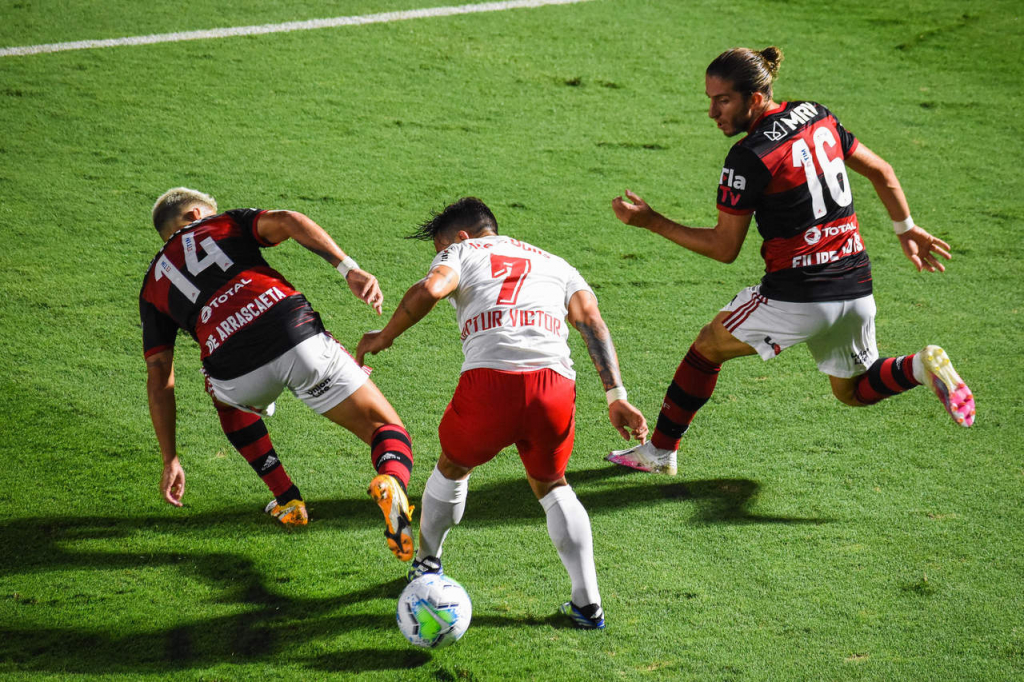 The team from Rio was superior to the host in most of the match, but relaxed in the second half and scored a goal by Ytalo
RAFAEL MOREIRA FOTOARENA ESTADÃO CONTENT
Flamengo is 67 points, just one below the international leader, and Bragantino with 48

Playing away from home, the Flamengo was superior to Red Bull Bragantino during most of this Sunday's game, 7. He dominated the first half, opened the scoring and created chances to expand, recalling even some of his best moments of 2019. In the final stage, however, he hesitated and ended up suffering the draw, despite after having had some good opportunities wasted against the Cleiton goalkeeper, who was the main highlight of the match. The score 1 to 1 made Flamengo miss the chance to lead the Brazilian championship: the team from Rio got 67 points, just one below the international leader. Bragantino has 48 points and is 9th in the table, fighting for a spot in the Liberators cup.
Balanced in all sectors, Flamengo imposed its style of strong movement from beginning to end and involved the hosts, with their high scoring and acceleration in the attack. Bragantino, also in good time, imposed resistance and even took danger in the attack, demanding a good defense from Hugo at 13, for example. Claudinho, one of the highlights of the Brasileirão, took danger at 24 and also made the Flamengo goalkeeper work. The visitors, however, showed technical superiority and took advantage of the details, as in the case of individual performances by Gerson, Arrascaeta and Gabriel. At 34, Bragantino hesitated to score and the referee saw, with the help of the VAR, a foul on Gustavo Henrique, who had his shirt visibly pulled inside the area. In the penalty kick, Gabriel sent to the nets, at 34.
The second half started more agitated and open, with chances for both sides. So in control of the match, Flamengo relaxed and Bragantino did not hide. The draw came at 17, in Isla's fault, who moments before had suffered a bad cut on his face. After a long throw, the defender avoided head butting Helinho received at the bottom line to cross back. Ytalo he filled his foot almost with the penalty spot and drew. Uncomfortable with the host's goal, Flamengo went on the attack and started to waste successive chances. At 22, Arrascaeta and Bruno Henrique each tried once within the area, to no avail. Cleiton shone, as also happened at 29, after Gabriel's submission. In the final minutes, both teams created opportunities to decide the game, but failed to submit and also struggled to overcome the rival defense.
* With information from Estadão Content