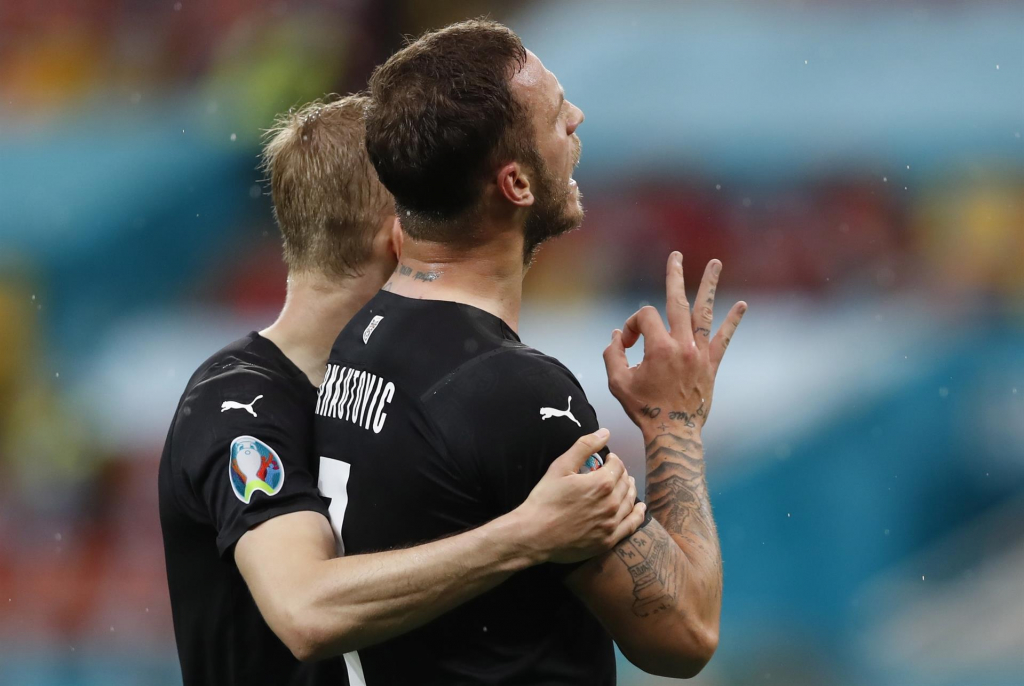 Austrian striker Marko Arnautovic reportedly made nationalist statements and even made a racist gesture in his team's victory
EFE/EPA/Robert Ghement
Arnautovic made racist gesture during Austria vs. Northern Macedonia

A Uefa issued a statement on Tuesday, 15, stating that it will investigate an accusation of racism against the player Marko Arnautovic, from the selection of Austria. The striker would have made nationalist statements and even made a racist gesture in his team's victory against Northern Macedonia, last Sunday, 13th, in the opening round of the Eurocup. The analysis of the case takes place after the Federation of Northern Macedonia points out a supposed "nationalist explosion" by the athlete when celebrating the third goal of the Austrians in a 3-1 triumph – the striker celebrated the goal showing great anger and shouting at full-back Gjanni Alioski , from the opposing team.
"An inspector from the Ethics and Disciplinary Committee has been appointed to conduct an investigation into the incident involving player Marko Arnautovic in the Austrian and Northern Macedonia match for the Euro Cup on June 13th," said Uefa, in a statement. "We are always against nationalism, discrimination and all kinds of insults or outbursts that are not part of the spirit of football and the values ​​of which we are all a part," noted the Federation of Northern Macedonia. "We will always take a stand and defend the interests and dignity of the Macedonian national team players wherever they play."
Through social networks, Arnautovic classified his action as an act made in a "hot" moment, but denied any kind of racism. "I said some more heated words yesterday (Sunday), which is why I would like to apologize, especially to my friends in Northern Macedonia and Albania. I would like to say something and make it very clear: I am not a racist. I have friends in all countries and I defend diversity Anyone who knows me knows that", he declared.