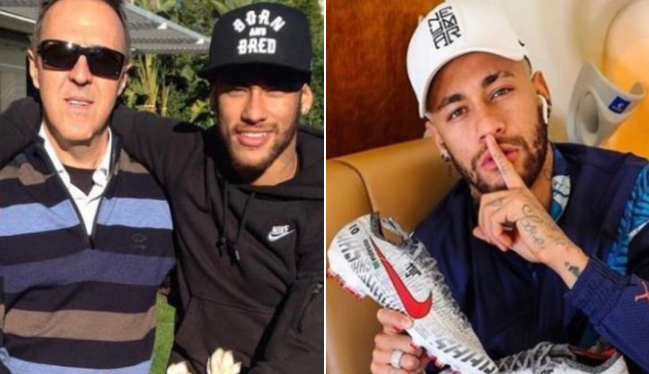 Wagner Ribeiro stated that the American company created the case because it would like to undo the agreement with the Brazilian, but did not have the financial conditions to break the contract.
Reproduction / Instagram / @ ribeirowagner
Wagner Ribeiro came out in defense of Neymar after new allegations of sexual abuse involving the player surfaced

The striker Neymar saw his name linked to yet another controversy last Thursday night, 27, when the "Wall Street Journal" published that the reason why Nike ended the multimillion dollar contract with the player in 2020 was a report by a company employee, who claimed to have been sexually harassed by the ace. According to the article in the North American newspaper, the Brazilian would not have collaborated with the investigation of the case, which would have happened in 2016, but which had an "inconclusive" result. Today, through his Instagram account, the former businessman of the athlete of the Paris Saint Germain, Wagner Ribeiro, went out in defense of the star and attacked the tennis giant. "Nike didn't want Neymar anymore. Nike didn't have the money to break the contract. Nike asks a girl to invent Neymar's sexual harassment. After 5 years Nike completes the strategy and tells the story", claimed the agent, who posted a photo next to the number 10 shirt of PSG and the Brazilian team.
Then, Wagner Ribeiro spoke again on the topic, stating that the case is nothing more than a Nike strategy to justify the end of the agreement with the Brazilian star. "Thinking here… To lose Neymar to Puma is to lose revenue, and deliver this revenue to the competitor. Nike shareholder must want to understand why they lost, because this impacts the bottom line. Pouring this story with the talk of 'inappropriate conduct' is a way for company executives to cover up their lack of ability when they lose Neymar, justifying it in a way that the shareholder cannot dismiss the executive for the shit he did ", he supposed the businessman, who also manages several other important players on the national scene.
According to documents obtained by the WSJ, the employee reported to friends in 2016 that Neymar tried to force her to have oral sex in her hotel room while in the city of Nova York, where she helped coordinate events and logistics for him and his entourage. The complaint reached Nike in 2018 to the company's head of human resources and general counsel. In contact with the newspaper, the player's staff denied the charges. "Neymar Jr. will defend himself vigorously against these unfounded attacks if any complaints are made, which has not happened so far." Sought by Young pan, the athlete's team said they will not add anything else to their statement. From the moment of the employee's complaint, Nike decided to remove the athlete from the company's marketing actions. Shortly after breaking with the American company, Neymar closed with the Puma.