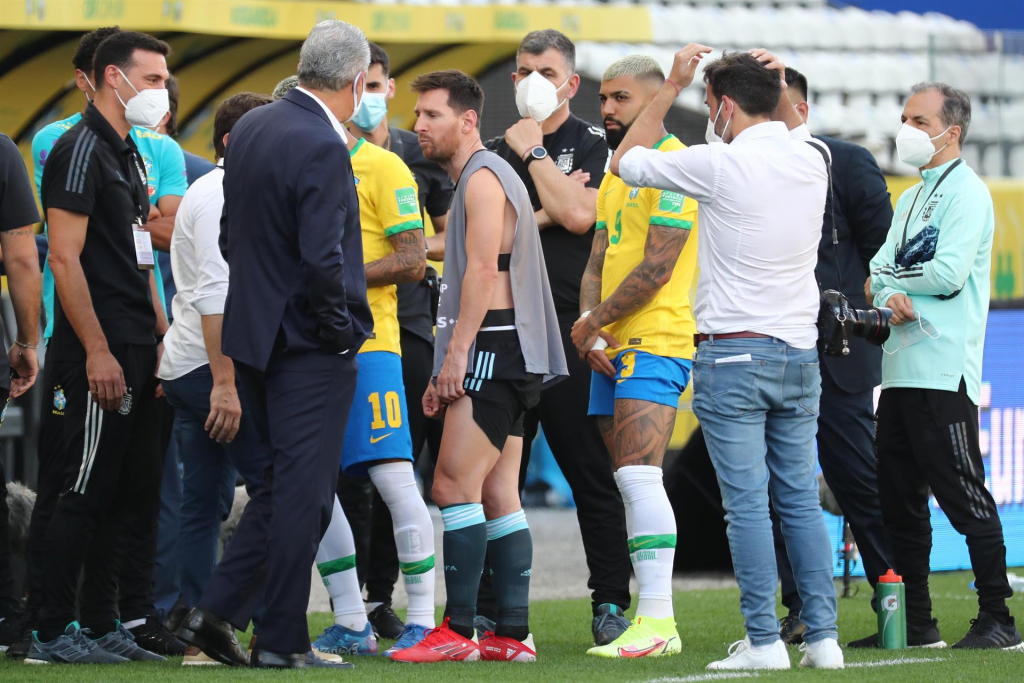 According to the organization, the two teams will have to provide more information about what happened last Sunday afternoon, 5
EFE/Sebastiao Moreira
Brazil x Argentina was suspended by the referee after interference by Anvisa and PF

A Fifa issued a statement in the afternoon of Tuesday, 7 informing that, after analyzing the first reports of the match between Brazil e Argentina, opened disciplinary proceedings against the Brazilian Football Confederation (CBF) it's at Argentine Football Association (AFA). According to the organization, the two teams will have to provide more information about what happened last Sunday afternoon, 5th, at Neo Química Arena, in São Paulo, in a game that was supposed to take place in the 2022 World Cup South American Qualifiers .
"After analyzing the official reports of the match between Brazil and Argentina in the World Cup qualifiers, FIFA can confirm that a disciplinary process has been opened involving the two member associations," FIFA reported. "The two teams were asked to provide more information about the facts that led to the suspension of the match, which will be collected and then thoroughly analyzed by the FIFA Disciplinary Committee. Updates will follow in due time", completed the top entity of world football.
The match between Brazil and Argentina was interrupted six minutes into the game after ANVISA agents entered the field to remove the four Argentine players who entered the country illegally. According to the agency, the Interministerial Ordinance No. 655 of 2021, states that "foreign travelers who have passed through the United Kingdom, South Africa, Northern Ireland and India in the last 14 days must comply with a ten-day quarantine". Emiliano Martínez, Buendía, Lo Celso and Romero play in English football and, therefore, could not be in the stadium located in the city of São Paulo. The CBF, through a note issued on Monday, stated that the AFA was informed about the sanitary protocol on three occasions. In the statement, the Brazilian Confederation also claims to have acted to comply with the rule.
– FIFA Media (@fifamedia) September 7, 2021