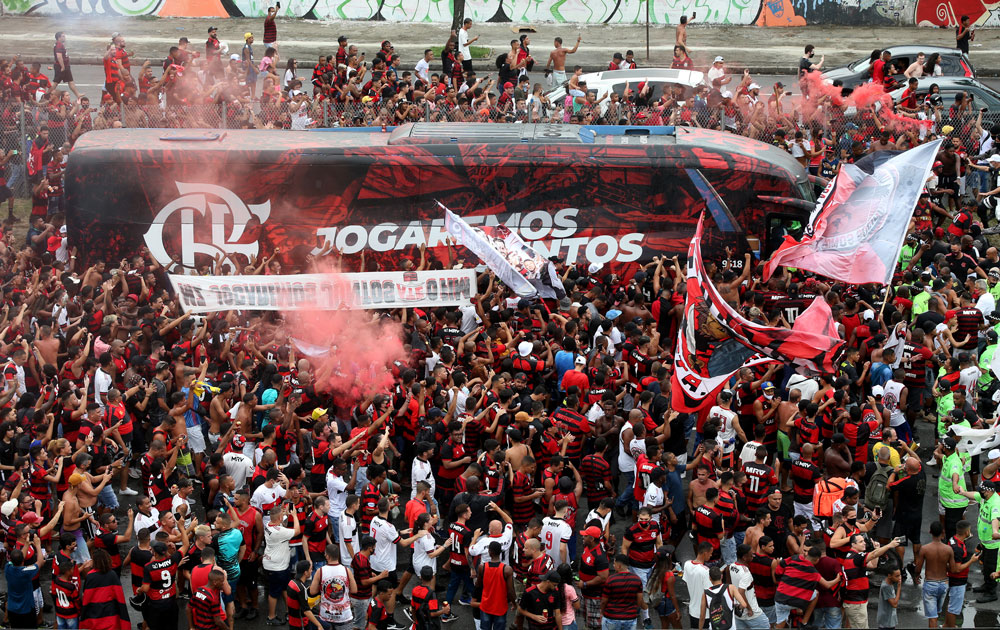 Game between the red and black and International can decide the Brazilian Championship; The situation was controlled by the Military Police of Rio de Janeiro, which used tear gas and bombs to disperse the crowd.
WILTON JUNIOR / ESTADÃO CONTTE – 21/02/2021
The game between Internacional and Flamengo can decide the result of the Brazilian Championship

Supporters of Flamengo caused agglomeration in front of the Maracanã stadium, in the Rio de Janeiro, this Sunday afternoon, 21. The game between the red-black e International happening this Sunday can decide the Brazilian championship. Even with a round to the end of the Brasileirão, if the team led by Abel Braga winning the carioca team, Internacional will take the trophy to Rio Grande do Sul. This is because the team from Rio Grande do Sul is in the lead of the championship with 69 points. If you win, the team will score 72 points. Even if Flamengo wins the last game, the team, which is now one point behind the rival, will be behind with 71 points. If the carioca wins, however, the result remains open and Flamengo has chances of winning the Brasileirão for the second consecutive year. Therefore, today's game is decisive for the future of both teams.
The Military Police of the State of Rio de Janeiro had to intervene because of the turmoil caused by the red-black fans. The PM contained the crowd with tear gas and bombs and affirmed that the situation at the moment is "controlled". With smoke, fires and flags, the cariocas welcomed the team bus. The agglomeration caused goes against the recommendations of the World Health Organization (WHO). In images circulating on social networks, it is possible to see that the vast majority of people do not wear a protective mask against the coronavirus.
Flamengo fans create turmoil and agglomeration in front of Maracanã and are restrained by military police. The situation at the site is already under control. pic.twitter.com/EMVDmgHL5Z

– @pmerj (@PMERJ) February 21, 2021
In the arms of the crowd. 🖤❤️
Let's Flamengo !!! pic.twitter.com/zGwO2yv3dM

— ؘBrunoᶜʳᶠ¹⁸⁹⁵ (@buuhcrf) February 21, 2021
Maracanã pumping!

We will be champions!#covid19 pic.twitter.com/xvlwbqXov5

– Rio de Nojeira (@RiodeNojeira) February 21, 2021
Flamengo fans in weight at Maracanã. @LeiSecaRJ @OperacoesRio @Flamengo @ColunadoFla @maracana @GMRio pic.twitter.com/ub5WnkhMWs

– RJ Information (@Informacoes_RJ) February 21, 2021