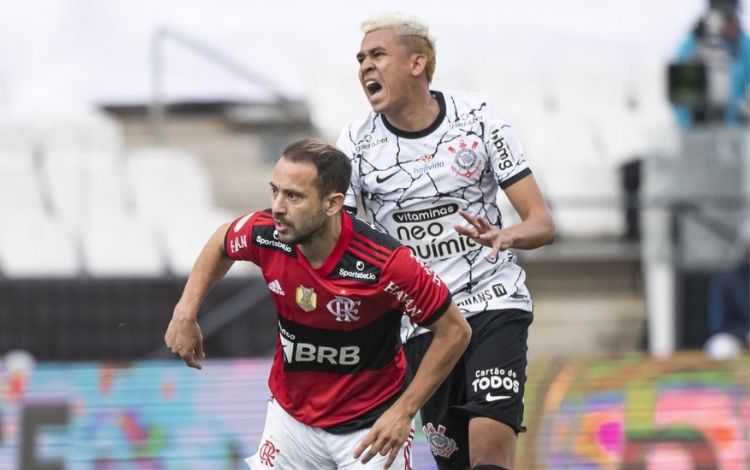 Team from Rio dominated the first half and, with the victory, reduced the distance from leader Palmeiras
Reproduction/Twitter/Flamengo_en/01.08.2021
Flamengo beat Corinthians at the Neo Química Arena

O Corinthians suffered with the Flamengo in the first half and lost 3-1 this Sunday, 1, at Neo Química Arena, for the 14th round of the brazilian. the team of Sylvinho watched the opponent play and now occupies the 11th place, with 17 points. The goals of the Rio team were scored by Everton Ribeiro, Gustavo Henrique e Bruno Henrique. With the victory, Flamengo reduced the distance from leader Palmeiras to 8 points – being the current 5th place, with 24. Vitinho, at the end of the game, decreased to Corinthians. The result is also a demonstration of how the meeting between the clubs has been in recent times. There are seven wins for Flamengo and a draw in the last seven matches. Eliminated from all other competitions, Corinthians has the week free to work and returns to the field next Sunday, 8, when they will have the derby against Santos, in Vila Belmiro. Flamengo has the return game against ABC on Thursday, 5, away from home, for the round of 16 of the Copa do Brasil. For Brasileirão, he will receive the Internacional, on Sunday, at Maracanã.
Corinthians had the presence of Renato Augusto e Giuliano in the arena. The two new reinforcements must have been frightened by the size of the trouble ahead. Despite playing at home, the São Paulo team was dominated. Flamengo started scoring under pressure. Cantillo left playing wrong, Willian Arão stole and gave to Everton Ribeiro to send a bomb in the corner and end his fast – since January he has not scored for the club. Sylvinho's team looked scared on the field. I couldn't score, attack, touch the ball, nothing. Flamengo did not do more because they abused the chances of losing goals. Despite the mistakes, Flamengo made two more in the first 45 minutes. Gustavo Henrique enlarged it head on in Gil's fault, which left him free. At 43, it was Bruno Henrique's turn to take advantage of the nap of the defense and head free: 3-0.
Flamengo slowed down in the second half. Bruno Henrique even scored the fourth, but the ball hit his hand first and was disallowed. Corinthians continued watching. The red-black team continued to control the game and could have done more. At 43, in one of the rare chances of a goal, Vitinho hit from outside the area, the ball deflected on defender Léo Pereira and deceived Flamengo's goalkeeper. The goal gave some spirit to the team from Alvinegro, who started to take more chances from outside the area. In additions, Mateus Vital also hit the post.
*With information from Estadão Content.