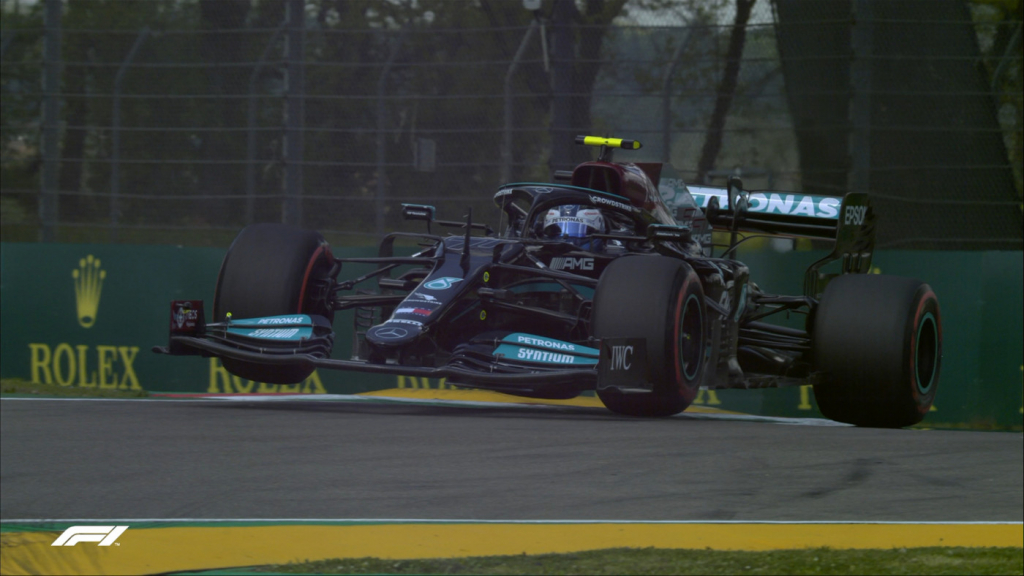 The Finn was 0s010 faster than the seven-time world champion, who made his best mark (1min15s561) with soft tires
Reproduction / Formula 1
Valtteri Bottas drives the Mercedes car during free practice for the Emilia-Romagna GP

A Mercedes dominated the Friday of the GP from Emilia-Romagna, at the Ímola circuit in Italy, which receives the second stage of the 2021 season of Formula 1. After doubling up in the first free practice session in the morning (local time), he repeated the dose in the afternoon in the second activity of the day. And in the same order as his pilots: the Finnish Valtteri Bottas first and English Lewis Hamilton right behind. In the second free practice, Bottas returned to the position of fastest of the timesheet of the whole Friday when registering, with medium tires, 1min15s551. The Finn was 0s010 faster than the seven times world champion, who made his best mark (1min15s561) with soft compounds.
But who stole the show and shone was Pierre Gasly. With the AlphaTauri car, a team that runs at home this weekend, the Frenchman, also with soft tires, was just 0s078 of Bottas' time (1min15s629) and closed the Top 3 of the second free practice. Who had bad luck was Max Verstappen. A great candidate to be Hamilton's biggest opponent in the fight for the title this season, the Dutchman faced problems with the Red Bull car in the first minutes of the session and did not pass 14th place. Ferrari performed well this Friday in practice with Carlos Sainz Jr. and Charles Leclerc, fourth and fifth, respectively. The Monegasque, at the end of the session, hit the protection barrier of the Rivazza curve. He walked out of the car, without any major problems, but the race direction triggered the red flag, which, in practice, ended the activity.
Mexican Red Bull's Sergio Pérez, who escaped trouble-free in the afternoon, took the sixth best mark. Japanese Yuki Tsunoda, with the second AlphaTauri car, was the seventh, ahead of McLaren of the British Lando Norris. Italian Antonio Giovinazzi surprised by placing Alfa Romeo in ninth, while Canadian Lance Stroll closed the Top 10 with Aston Martin. Spaniard Fernando Alonso was 13th with Alpine, two positions ahead of Aston Martin of German Sebastian Vettel. Formula 1 returns to the track this Saturday with the third free practice session, also lasting 60 minutes, starting at 6 am (Brasília time), while the definition of the starting grid happens at 9 am.
* With information from Estadão Content