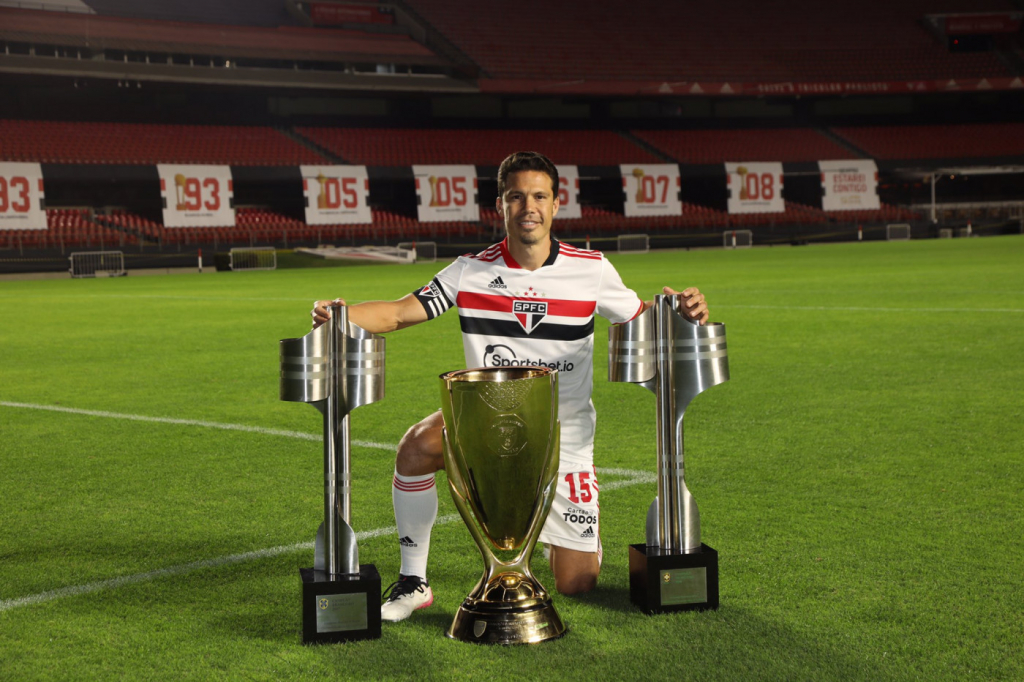 The midfielder spoke about his relationship with Hernán Crespo and warned that he wants to stay in Brazilian football
Reproduction/Twitter/São Paulo FC
Hernanes won the Brazilian Nationals twice and one Paulistão with the São Paulo shirt

Hernanes spoke last Monday night, 19th, for the first time after amicably terminating his contract with the Sao Paulo, which was valid until the end of this season. According to the midfielder, the decision to ask the São Paulo board for the end of the relationship has as its main reason the fact that he is not being used in matches by the coach. Hernan Crespo. In an interview with the program "Bem, Amigos", on SporTV, the Prophet stated that he still "has firewood to burn" that he seeks to be the protagonist in some team, something that did not happen in Tricolor. "That's a feeling, being helpful. We are here to serve through our work, and not be able to put our full potential out. I ended up taking this decision, because I believe I can be useful, I still really want to play football. They turned me into an idol, it's cool and all, but I want to be a football player again. It was the main reason for leaving São Paulo at this time. I want to play", said the veteran.
Two-time Brazilian champion (2007 and 2008) and main responsible for taking São Paulo out of the relegation zone in the 2017 national, Hernanes did not do well in his fourth time at the club, collecting injuries and having little following. In the player's understanding, the injuries and some tactical schemes harmed him in his last act in Tricolor. "Diniz was one of the best coaches I've had. But for my style of play it didn't fit what he proposed. I told him I was out and with good reason, that's how he plays and I don't fit. Not with Crespo, the system he plays in could fit me, but I didn't have much space either. I couldn't keep up, due to several factors. Injuries mainly, but tactical scheme, style of play, anyway… The injuries got in the way a lot. I've never had so many injuries like this, I've never been used to dealing with it. You don't have a following, and São Paulo is a very competitive club, kids from the base are always coming in, kids from outside. If you are not well, you will be left behind. The main problem was with injuries. Then came the pandemic situation, which stopped everything last year… Then the game scheme, which sometimes didn't benefit me. Then, finally, a sum of factors that made me not able to keep up with the rhythm", he analyzed.
Now, Hernanes hopes to have the continuity he wants so much in a club that is playing in the Brazilian Championship. Without revealing names, the athlete revealed that he has already received proposals. "Actually, I would really like to play in Brazil, I'm really looking forward to playing the Brasileirão. I stayed a few games on the bench, I was really looking forward to it. I've played several championships, Serie A in Italy, but Brasileirão has a cool magic. I would love to fit in a club here in Brazil. They have arrived (contacts), I am evaluating and thinking carefully. There are cities that only have one club (laughs)", added the player, who sees himself at a high level as long as he has "a safety net". "I learned to be more decisive when I played up front. In 2017 I was decisive when Jucilei, Petros and I played as third midfielder. My position is there, second midfielder, as long as we have three defenders behind. I need a safety net behind me, I cannot be the safety net", he concluded.