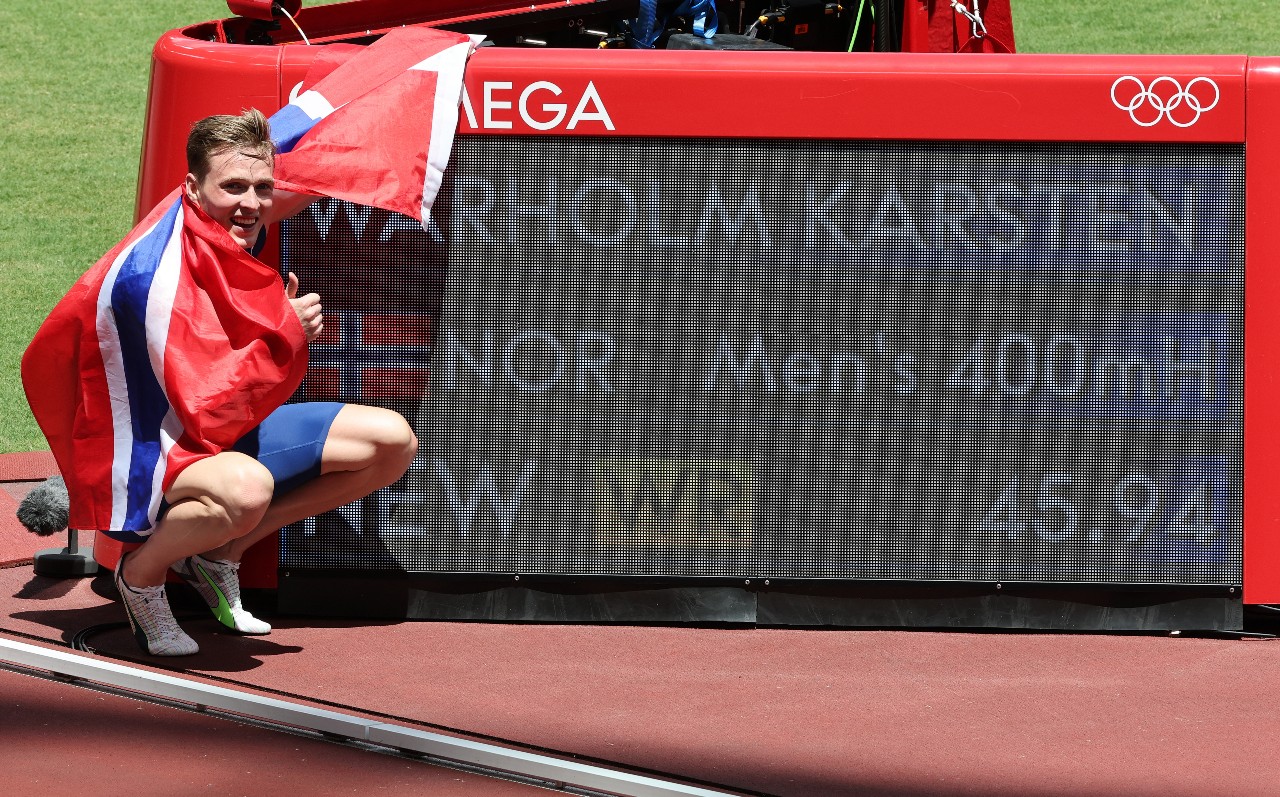 Adam Gemili starred in the most dramatic moment of the morning in Tokyo, but the highlight goes to the incredible world record in the 400 meters hurdles.
"Well, I don't believe this time! It's not possible! 45.94! It can not be! It can not be! It can not be! But it was" – the reaction of Luis Lopes, during the live broadcast on RTP1, says it all. the brand of Karsten Warholm in the Olympic final of 400 meters barriers enters the best ever in athletics.
The Norwegian broke the world record (which was already his), with the mark of 45.94 seconds, the first time anyone completed the 400 meters with barriers in less than 46 seconds – a record that, a few years ago, was said to be impossible.
the brazilian Alison dos Santos, who got the bronze medal, stood with his hands on his head in disbelief after passing the finish line. And it wasn't because of his third place; that's when he looked at the giant screen and saw the winner's time. "I thought I was on the wrong test," Alison said.
Just over a month ago, Warholm broke the world record that has persisted for almost 30 years, with the mark of 46.70 seconds. In this final, the Norwegian himself and the runner-up, Rai benjamin (46.17 seconds), broke this world record. And the third, Alison dos Santos, was very close: 46.72 seconds.
In fact, this "pure fiction" final, repeating the words of Luís Lopes, had incredible records in its global: world record, second best brand ever, North America record, South America record, six national records and a best personal record of the year. Among the eight participants, only the last classified did not break a record.
The comparison is complex but this it may have been the best final ever, with a place for the most unexpected world record ever. Not for the athlete, but for the time.
British unhappy
It was a morning with a lot to tell, at the Olympic Stadium in Tokyo. Athletics events, as usual, have multiplied and Nelson Évora, who got injured on his first jump, was not the only unfortunate one.
the highly regarded Man Ship, former European champion, was trying to be present in the semi-finals of the 200 meters in these Olympic Games. But he had the misfortune of, in the fourth round, if injure logo do not start.
He cried, he was devastated, but he reached the end of the race, on his number seven line. He walked the entire way, with a limp, but ended up with the unusual record of 1:58.58 minutes, almost two minutes.
The winner of their tie, Erriyon Knighton, achieved the 20.55-second mark.

Nuno Teixeira, ZAP //