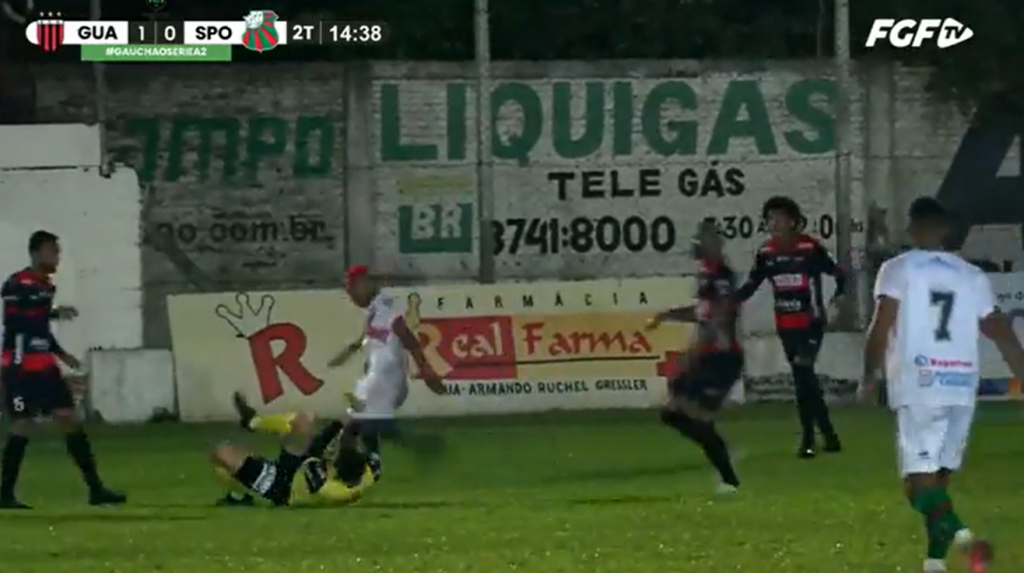 Athlete Willian Ribeiro was arrested in the act and will answer for attempted murder; judge recovers in hospital
Playback/ FGF TV
Willian appears in the image kicking the referee's head, who was down

Starting between Guarani-VA e São Paulo, by the access division of the Gaucho Championship, on the night of Monday, 4, caused indignation and revolt among football fans. In the second half of the game, after receiving a yellow card, player Willian Ribeiro, from São Paulo, knocked referee Rodrigo Crivellaro down and delivered a strong kick to the referee's head. He fell unconscious and the players on the field and the referee team despaired, triggering the local medical team. According to the president of the Gaucho Football Federation, Luciano Hocsman, the referee is aware. "I spoke with referee Rodrigo Crivellaro, who was cowardly attacked by a player from São Paulo, in the match against Guarani. He is being medicated at the Hospital and is happily recovering. The FGF is providing all the necessary assistance and it will be up to the TJD to evaluate the episode", he wrote on Twitter.
William Ribeiro's aggression on referee Rodrigo Crivelaro.

Apparently he had taken the card in some snag off the pitch. I was narrating in a tube, so I couldn't capture what actually happened.

Reproduction: FGF TV pic.twitter.com/HLag9dhaf8

— Lucas Fontes (@lucas_fontes) October 5, 2021
According to ESPN, Willian Ribeiro was caught in the act and will answer by trying to murder. The delegate Vinicius Lourenço de Assunção, responsible for the case, informed the website that the athlete took the risk of killing and could face between 12 and 30 years in prison. "The athlete was presented in flagrante delicto by the Military Police after attacking the referee, who fainted. He (referee) would have received a punch and then a kick, making him unconscious", explained the delegate. "According to the doctor, the referee presented a confused speech. He was at very serious risk of injury to the cervical spine and head. Because of this, I decided on the crime of attempted murder. When you kick someone's head lying down, you take the risk of killing them."
"(The player) Will be fined in Article 21, in addition to being a futile reason, it is not reasonable for someone to attack in this way on account of football, even more against the referee, who is in authority. You will be booked for attempted murder. He is with the Civil Police and will be sent to the local prison in Venâncio Aires", added Assunção in an interview with ESPN. The game was 1-0 for Guarani-VA and had to be stopped. The teams are in Group B of Serie A2, being São Paulo fifth with 15 points and Guarani sixth with 11 points.