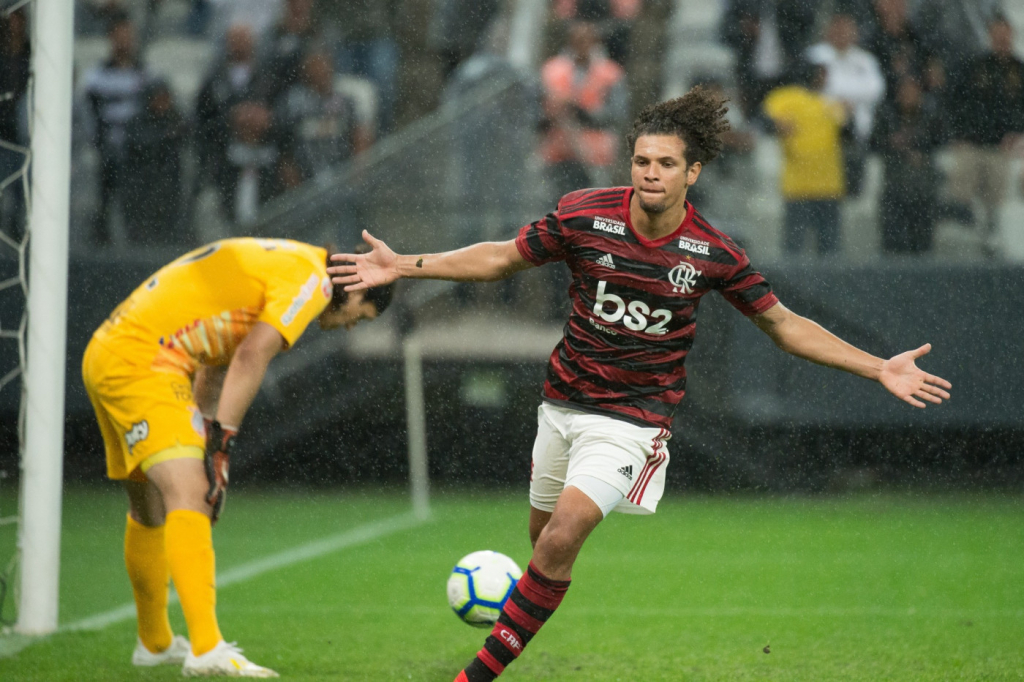 To honor his athlete with more time at home, Rubro-Negro prepared a video, with the participation of the Portuguese coach
Alexandre Vidal / Flamengo
Willian Arão has 300 official matches with the shirt of Rubro-Negro

Willian Arão completed the mark 300 official matches with the shirt of Flamengo in the 1-1 draw with the Fluminense, last Saturday, 15th, for the first final of the Carioca Championship. To honor his athlete with more time at home, Rubro-Negro prepared a video, with the participation of the coach Jorge Jesus, currently in the Benfica. In it, the Portuguese, multi-champion for the Rio club, praised the overcoming of the defensive midfielder, who in the current season turned defender, and highlighted his versatility. The athlete, on the other hand, ended up getting emotional right at the beginning and during the conversation he still remembered a childhood story to reinforce the pride of the feat.
"Arão was an ugly duckling, but after our arrival he became a very important player for what we thought Flamengo had to have as their first midfielder. When we left Flamengo, he was already an idol of the fans, because he has a way of playing that all fans of any team in the world like. He surrenders to the game, he is competitive, he is tactically intelligent ", he commented. "It is not normal for a player who was a second midfielder to become a first midfielder and now a defender. He is a very intelligent player, with special characteristics, which adapt to any position. That's all a coach wants. I want to congratulate him and I hope he continues to defend this shirt as he does, as Flamengo fans say, Manto. May you be very happy because Flamengo is very happy to have you too ", he added.
Aaron thanked the words of affection. Currently in a new position, he is a starter in the defense and a key player in the coach's scheme Rogerio Ceni. With shirt 5 at their disposal, Flamengo is preparing for the confrontation in front of the LDU, from Ecuador, this Wednesday, for the fifth round of the group stage of Liberators cup. The game will be held at the Maracanã stadium in Rio de Janeiro. "I am thrilled already, I even promised that I would not cry, but with those words… I always dedicated myself to this, mine was always a fight, always fighting and conquering my space, and being able to reach this mark of 300 games with the shirt Flamengo is a great pride, "said Willian Arão." The story came to mind, when I was seven or eight years old and I liked to play video games and football, imagining myself in the big stadiums. Today I live it, in a great team, helping my teammates, conquering and fighting. I feel very fulfilled, I feel like the happiest man in the world ", he concluded.
It's in the air, Nation! Check now, on FlaTV, the "Special Willian Arão 300 times Flamengo": https://t.co/pQbGgCzUPf#CRF pic.twitter.com/ZrnuyxxouD

– Flamengo (@Flamengo) May 18, 2021