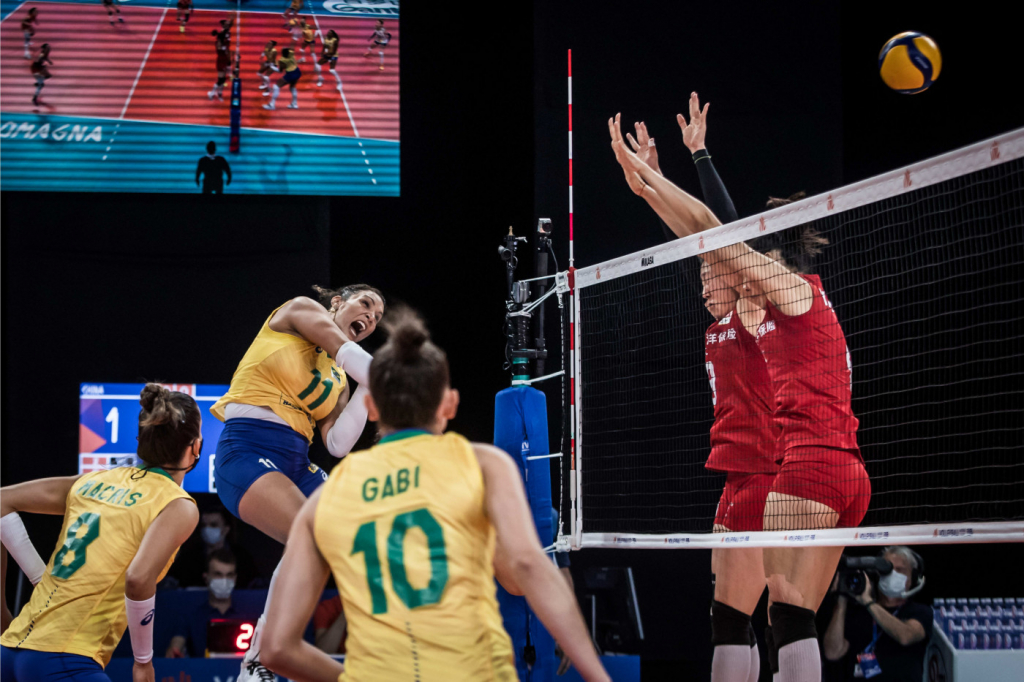 Brazil was in second place, but, with the setback, ended this stage of the tournament in third place, behind only the United States, who are undefeated, and Turkey
Reproduction/Twitter/CBV
The Brazilian women's volleyball team lost to China

A Brazilian women's volleyball team ended the third week of the League of Nations, played in Rimini, Italy, this Tuesday, 8. The team had been rocked by resounding victories over Serbia and Belgium, but was no match for the China, losing the balanced duel, played at a high level, by 3 sets to 2, with partials of 25/18, 22/25, 20/25, 25/14 and 12/15. Brazil was in second place, but, with the setback, ended this stage of the tournament in third place, behind only the USA, who are undefeated, and Turkey. The Brazilians have seven wins and two defeats in nine games. China is in ninth place. The top four teams go to the final stage of the tournament.
The team coached by José Roberto Guimaraes takes a break to rest and train and returns to the court next Saturday for the fourth week of the League of Nations qualifying round. The challenge will be against Poland, at 4 pm (GMT). On Sunday, the opponent will be Germany, at 4 pm, and on Monday, Thailand, at 2:30 pm. Despite the setback, the match was an excellent test for the Brazilian team, which is looking for game rhythm and wants to arrive at the Olympic Games in harmony and with chances to dispute the gold medal. The team had a good game, but China, even with an alternative team, was superior and had an inspired day by Zhang, the main protagonist of the match, with an impressive 36 points.
Tandara was the main highlight of the Brazilian team, with 26 points, but fell in production from the fourth set and in the tie-break opted for starts that ended up generating counterattacks for the Chinese. Carol Gattaz and Gabi, both with 19 points, and Camila Brait also played an important role on the court. Macris had a good performance in the distribution of plays and was at ease. Brazil needed a lot of patience to turn the balls, it was right at the back of the court, with Camila Brait and Gabi, who grew a lot in the last two sets, but couldn't stop Zhang and lacked power and concentration in the attack in decisive moments. The balance, however, is positive, since, despite the defeat and the oscillation, the team showed maturity, reaction power and a good volume of play.
#LeagueOfNations: It was a great game! Brazil fought a lot, but ended up being overtaken by China by 3 sets to 2 (18/25, 25/22, 25/20, 14/25 and 15/12) for the third week. The opposite Tandara was the highest scorer among the Brazilians, with 26 points. Thanks, Brazil, let's go to the next one! 💚 pic.twitter.com/ZI9cdPm8Uq

– CBV (@volei) June 8, 2021
*With information from Estadão Content