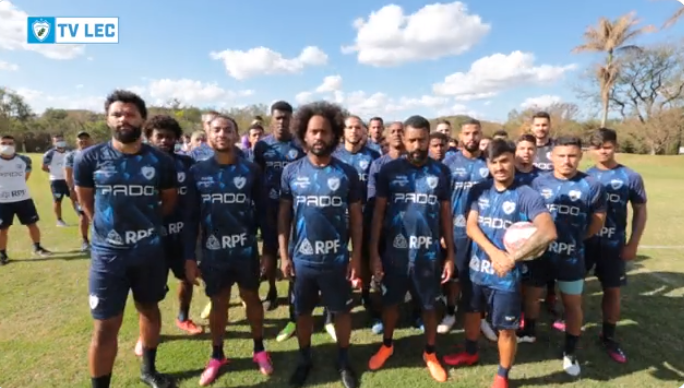 Midfielder was cursed by Brusque staff member during Serie B game over the weekend
Reproduction/ Twitter @LondrinaEC
Celsinho and Londrina players recorded a video against racism

The big topic of the weekend was the case of racism involving the midfielder of the Londoner, Celsinho, and the board of Brusque Football Club. Last Saturday, the 28th, in a departure valid by Brazilian Championship Series B, the player reported that he suffered racist insults from a person linked to Brusque, and that he watched the game in the stands of the Augusto Bauer stadium. That person would have said "go cut that hair, that bee curl". The speech was registered in the game's scoresheet by the referee. In a statement released on Sunday night, Brusque said that no name-calling occurred by his staff, accused Celsinho of being a 'repeat offender' (he has already reported racism on three other occasions) and said he would sue him for ' false imputation of crime'. The note made people talk on social networks and the club deleted the publication, but it won a response this Monday, 30, from Londrina.
Celsinho's team repudiated the insults and classified the note published by the opponent as 'inadmissible'. "It is regrettable, inadmissible, the attitude of Brusque Futebol Clube in this situation!! The fact occurred, it is true! There are several witnesses who witnessed the aforementioned racial injury! It is absurd that the aforementioned sports organization misrepresents the seriousness of the facts, still trying to outsource the responsibility to the victim", says the note. "Our soccer idols are black! Our country is mixed with the black population as the majority! We are all Brazilians! We're all the same! This fight will never be deconstructed, on the contrary, it will be fought daily", he adds.
Londrina also informed that it has added its legal department and will 'take appropriate measures' against the Santa Catarina team and the person responsible for racial slur. Hours after the publication of the note, Celsinho appeared in a video alongside his co-stars saying that the act of racism will not go unnoticed. "This crime will not go unpunished. I, we and you will never be silent", he said followed by a chorus of "no racism" from the other athletes. After Brusque's statement, some of the team's players came to the defense of Celsinho on social media.
NOT RACISM!!!

This crime will not go unpunished!! We will not be silent!! #RacismNo #ForMoreRespect #NoWe WillShut Up pic.twitter.com/c9N3MWlxK0

— Londrina EC (@LondrinaEC) August 30, 2021