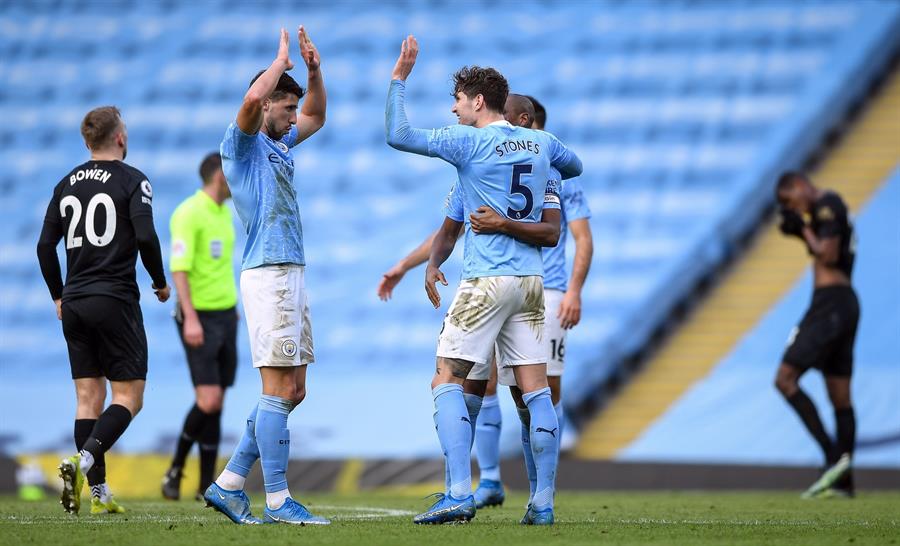 City thus win their seventh English title, the third with Pep Guardiola as coach
EFE / EPA / Gareth Copley
Manchester City were English champions 2020/21

Without having to enter the field, the Manchester City confirmed the title of English Premier League this Tuesday. The trophy was guaranteed thanks to the defeat of the rival Manchester United to Leicester City 2-1 at Old Trafford for the 35th round. With the result, United will no longer be able to reach City in their last three matches in the competition. The team led by the technician Ole Gunnar Solskjaer parked at 70 points, against 80 for the team led by Pep Guardiola. City thus won their seventh English title, the third with the Spanish coach. It was also the second trophy in the competition in three years and the fifth since 2011, already in the wake of the massive investments made by the Abu Dhabi United Group.
The UAE group bought the club in 2008, starting a new phase at the club. Before that, City were English champions only twice, in the distant seasons of 1936/37 and 1967/68. Consolidated as a new power in national football, City gains momentum with the new title to shine now at the continental level. For the first time, the team will play in the final of the Champions League, on the 29th, against also English Chelsea. In a championship of many leaders and many oscillations, City was slow to emerge in this edition of English. He saw all his rivals take the lead. Until, after half of the competition, he started to stand out, he emerged among the first and started to open wide advantage. He could have confirmed the title before, but he lost two of his last four games and ended up postponing the conquest.
This Tuesday, in the face of the stumbling block of Manchester rivals, the cry of champion became inevitable, due to the help of United. This Tuesday, Solskjaer sent a mixed team to the field, concerned with the wear of the season and the Europa League final – he will face Villarreal on the 26th. first half of English, but fell in production in the second half of the championship. This Tuesday's winner tries to confirm his place in the next Champions League. At the moment, he is in third place, with 66 points, two above Chelsea (64). West Ham have 58 and Liverpool have 57, in fifth and sixth places, respectively, and are also in this fight. Better over the 90 minutes, Leicester opened the scoring in the 10th minute, with a goal by Luke Thomas. Mason Greenwood equalized five minutes later. But defender Söyüncü decided the game and the championship, by table, by scoring the second goal of the visitors, in the 21st minute of the second half.
A season like no other 🏆
A team like no other 💙

🤝 @gatorade
🔷 #ManCity | https://t.co/axa0klD5re pic.twitter.com/BmYzRq3MYA

– Manchester City (@ManCity) May 11, 2021
Hung with pride! 💙🏆

🔷 #ManCity | https://t.co/axa0klD5re pic.twitter.com/3PSHtdWhnl

– Manchester City (@ManCity) May 11, 2021
* With information from Estadão Content