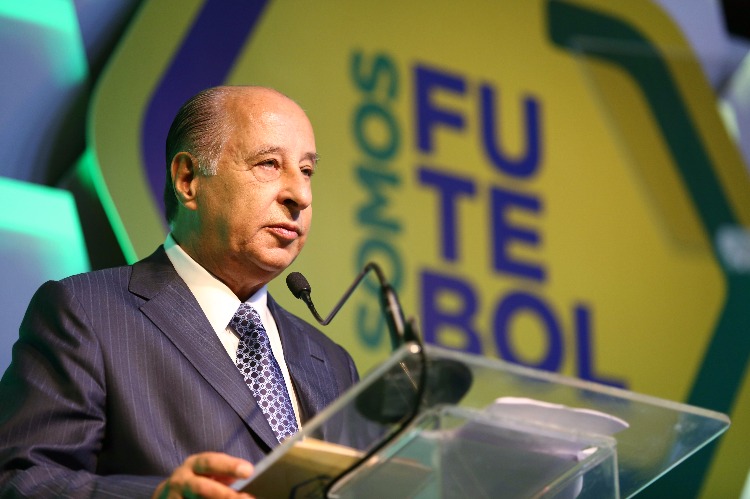 Banned in 2018, it was framed in five articles of the FIFA Code of Ethics: 21st (bribery and corruption), 20th (offering or accepting gifts or other benefits), 19th (conflicts of interest), 15th (loyalty) and 13th (rules general of conduct)
Lucas Figueiredo/CBF
Away from the CBF, Marco Polo Del Nero had his sentence reduced by CAS

Marco Polo Del Nero, former president of Brazilian Football Confederation (CBF), received good news on the morning of Thursday, 2. The former director of the entity that governs national football had his sentence reduced by Court of Arbitration for Sport (CAS). In exchange for the definitive ban from the backstage of the ball, the former representative will have a 20-year suspension. Thus, Del Nero will be able to resume roles in football in 2028, when he would be 97 years old. Banned in 2018, it was framed in five articles of the FIFA Code of Ethics: 21st (bribery and corruption), 20th (offering or accepting gifts or other benefits), 19th (conflicts of interest), 15th (loyalty) and 13th (rules general rules of conduct).
The change in the sentence comes after Del Nero appealed to CAS, which reaffirmed the initial decision of the Fifa, "as to the conclusions on the merits" of the matter, but decided to review the punishment applied. The CAS judgment, however, is only sporting and does not change the Brazilian's situation with the Justice of the USA, where he was indicted for fraud, money laundering and for being part of a criminal organization. At the time, in May 2015, he was a member of the then FIFA Executive Committee when the American justice carried out the famous operation of arresting football officials in a luxury hotel in Switzerland on suspicion of corruption, among others. Del Nero was at the scene but was not arrested. Still, he did not escape a US court indictment months later. He resigned from his duties at both FIFA and Conmebol. And he started to avoid leaving Brazil because of the risk of being arrested, as happened with other leaders.
US prosecutors allege that he received millions of dollars in kickbacks in trade agreements signed for the broadcasts of the America Cup, gives Liberators cup and yes Brazil's Cup. The case is still under investigation. At FIFA, he was punished by banishment and a fine of 1 million Swiss francs (about R$5.6 million at the current exchange rate). Away from the spotlight since he was banned from football, Del Nero has returned to the news in recent months due to the departure of his successor in charge of the CBF, Rogério Caboclo. The president removed from the organization faces a charge of moral and sexual harassment by a confederation official and attributes the case to a conspiracy allegedly created by Del Nero. According to Caboclo, his predecessor still has a strong influence on the entity and would be plotting to remove him from power. Caboclo had reached the presidency of the CBF with the support of Del Nero, but ended up breaking with his then friend and political ally and said he had come into conflict with him before the employee's complaints emerged.
*With information from Estadão Content