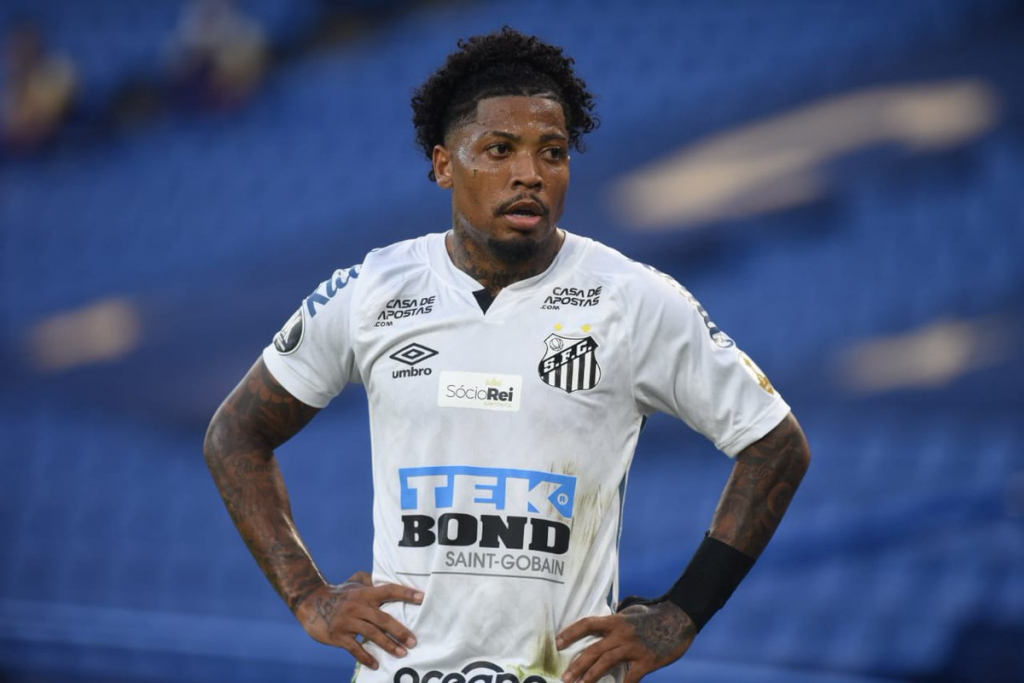 The striker entered a collision course with Peixe and also revealed that the Santos medical team made a mistake during surgery on his left leg.
Reproduction/Santos FC
Marinho entered a collision course with Santos after controversial statements

Marine entered the most commented topics on Twitter on Tuesday night, 7th, by denying an information from the Santos. According to the club's communications department, the striker, who is recovering from an injury, worked normally with his teammates. The 31-year-old, however, denied it. "I participated in the 1st part of the work, not normally as some people said. I am dedicating myself after a month of the surgical procedure. Participating with the group will only give me confidence to come back 100% and try to help", wrote the athlete on his Instagram account. "Sho, envy, big eyes and negative energy", he added. O Peixe, right after the publication, showed Marinho working on the CT King Pele.
Marinho's post, however, is just the tip of the iceberg of the tense situation with the club. Later, in live with journalist Ademir Quintino, he revealed that the Santos medical team made a mistake during surgery on his left leg. "Five stitches on my leg, I'll have to redo the tattoo. They opened my leg. When they ask me on the street, I take off the bandage and show it. I was cursed a lot during this period, they said I was a migue", said Marinho. "Yes, of course (it was a medical error). And they didn't back me up, they said I'd be back in 15 days. Today I went back to training with the group, I did a part of the work and I have a point that hasn't closed yet. I can't play 90 minutes (against Bahia). At first, I do pass work, some kick work. In a little while I'll be fine", he added.
Vice-champion of liberators last season, Marinho saw several teammates leave the club, such as Soteldo, Lucas Veríssimo, Luan Peres, among others. In the conversation with the journalist, he admitted that he would also have liked to leave Alvinegro Praiano. I always asked for a team to fight for the title. Soteldo, Luan Peres, Veríssimo, Alison, Pituca… I saw everyone leaving and I don't leave too? But now the situation is not good, so I will continue. I arrived through the front door, in the first division, and I'm going out with Santos in the first division. I'm closed until the end of the championship. And let the president think about it. I don't want to walk out the front door for free and breathe. I need. I'm still at Santos, even because the president refused all the proposals. I told the president that I'm happy, but I'm 31 years old and if it's good for Santos… Today I can't say I'm going to retire at Santos. I told the president that after the Brazilian Championship (2020) I would like to aim for things in my life leaving the door open. And today I see a boring atmosphere, as if I had done a lot of m… here", he evaluated.
"If they block me again, I'll stay, but I've never fought. I kept working. Right (Palmeiras and Atlético-MG). But they were refused. My contract is until the end of next year. Santos needs to stay in the first division and for me to breathe. I lacked the title. If the proposals were rejected, it is because the president did not see that it was time to leave. I will dedicate myself until the last day. And let's see about next year. If any situation arises, I hope the president will think too. I received a proposal to earn a lot of money. I could put the club in court and I didn't. It's not in my character, I respect the club. I didn't and I won't. But we didn't get paid for five months. I will never expose the institution because this is boring. I don't expose Santos here, but a situation. I needed support and I didn't," concluded Marinho.