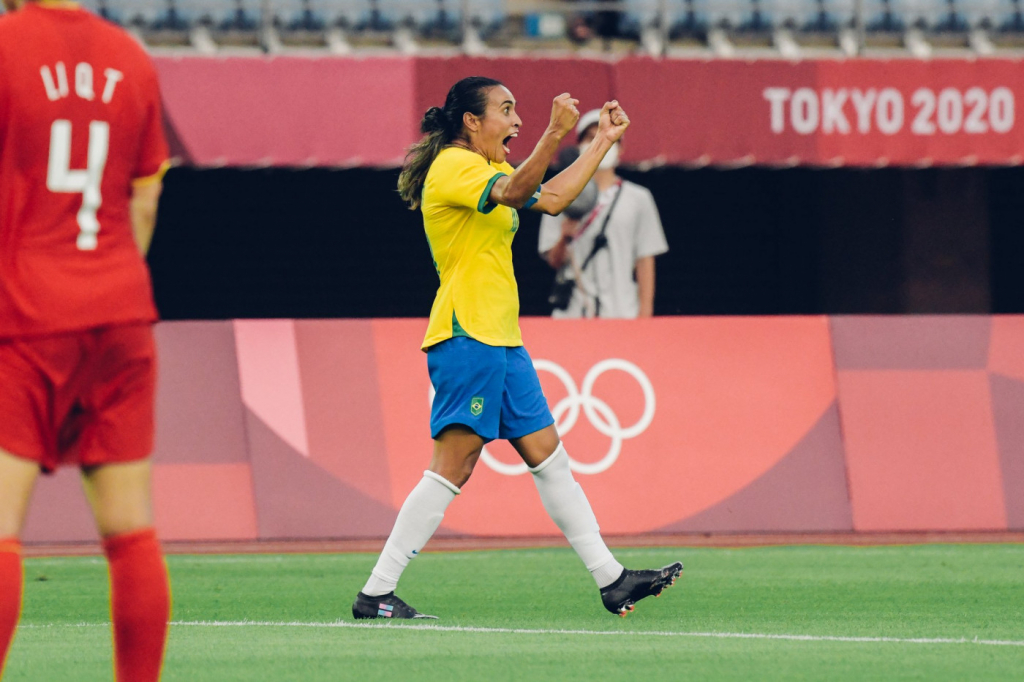 The shirt 10, captain of the canarinho team, was the author of two balls in the net, while Debinha, another highlight of the Olympic cycle, Andressa Alves and Bia Zaneratto also left their marks
Sam Robles / CBF
Marta scored twice in Brazil's victory over China at the Tokyo Games

O Brazil debuted in Tokyo Olympic Games in the morning (Brasilia time) of this Wednesday, 21, in grand style. Counting on the brilliance of Martha, voted the best in the world six times, the Brazilian women's team defeated China 5 to 0, in Miyagi, starting his trajectory in Group F with the right foot. The shirt 10, captain of the canarinho team, was the author of two balls in the net. Debinha, another highlight of the Olympic cycle, Andressa Alves e Bia Zaneratto they also left their marks. With the result, the team leading by Pia Sundhage goes to the leadership of the key, which also has Holland e Zambia.
The women's team started at full steam, advancing their marking and controlling the actions of the game. After 8 minutes, Debinha took advantage of Bia Zaneratto's cross and headed the crossbar. In a fight for the surplus, the ball fell to Marta, who completed it to the net – with the goal, the Queen achieved the unprecedented feat of scoring in five Olympics. Without taking the foot, Brazil expanded on 24 minutes with Debinha, who got a rebound from goalkeeper Peng Shimeng to put in. In the final moments, the Chinese even bothered with Miao Siwen. The midfielder ventured from outside the area, demanding an excellent defense from Barbara, who palmed it for corner.
On the return of the half-time, China showed more impetus, launched the attack and took the reins of the match. Wang Shanshan, at 2 minutes, almost cashed, but missed dribbling over Barbara's goalkeeper and missed a good chance. In the sequence, the attacker herself hit the Brazilian crossbar. The game, then, became unpredictable, with balls on the posts on both sides – Debinha hit the Brazilian side. At 28 minutes, however, Marta tried to give more tranquility, taking the leftovers inside the area and hitting the archer's corner. More comfortable in the duel, Brazil turned the triumph into a rout in the final minutes. With a penalty, Andressa Alves converted the charge. At 45, Debinha accelerated on the left and crossed from below to Bia Zaneratto, who only supported the net. Now, Pia Sundhage's team returns to the field next Saturday, when it faces the Netherlands, at 8 am (GMT).