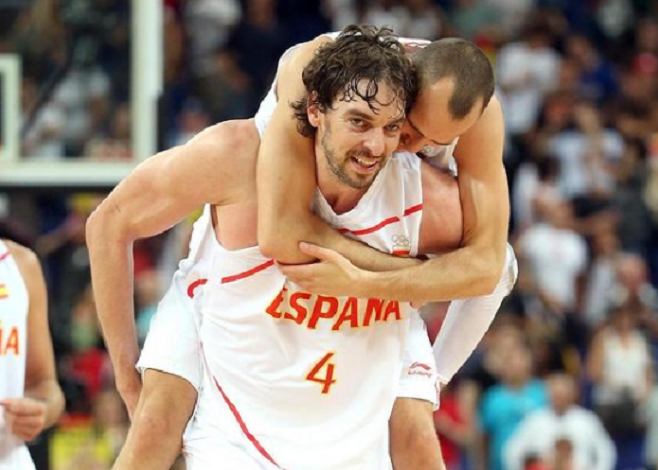 The 2.13-metre-tall pivot ends his professional career in basketball with two NBA titles, three Olympic medals and a world title for Spain's national team.
Reproduction/Instagram/@paugasol
Spaniard Pau Gasol, star of the NBA and national team, announced his retirement at 41

One of the main stars of NBA of the last two decades, the Spanish Pau Gasol announced this Tuesday, 5, his retirement, at 41 years old. The 2.13 meter high pivot ends his professional career in the basketball with two NBA titles, three olympic medals it is a World title, by the selection of Spain. "I'm going to retire from professional basketball. It's a difficult decision, after so many years, but it's a decision I thought a lot about", warned the now former athlete. The announcement is not surprising because Gasol has been showing signs of leaving the sport in recent years. He had already retired from the Spanish national team in August after losing to the United States in the quarter-finals of Tokyo Olympic Games.
In the Japanese capital, he played in his fifth career Olympics. He has two silver medals, in Beijing-2008 and London-2012, and a bronze, obtained in Rio-2016. Also on the national team of his country, he was one of the leaders of the team that was crowned world champion in 2006. And he participated in three European conquests, in 2009, 2011 and 2015. Gasol had been defending Barcelona since February this year. But his income was no longer the same. The pivot had been playing below expectations since suffering a stress fracture to his left foot. Recovery was slow and took him off the court for nearly two years, almost anticipating his retirement.
Dear basketball, thank you for everything.

Dear basketball, thank you for everything.

Dear basketball, thank you for everything.

❤️🏀 pic.twitter.com/I6TemPrA5T

– Pau Gasol (@paugasol) October 5, 2021
It was at Barcelona that Gasol turned professional in 1999. But he was best known for his great seasons in the NBA, especially with the Los Angeles Lakers shirt, the second team that defended the most in his career, between 2008 and 2014 – the first was Memphis Grizzlies, between 2001 and 2008. For the Lakers, the Spaniard was NBA champion twice, in 2009 and 2010. Afterwards, he defended the colors of the Chicago Bulls, San Antonio Spurs and Milwaukee Bucks. He even signed with the Portland Trail Blazers in 2019, but did not defend the team. Gasol ended his NBA career in 2019 averaging 17 points and 9.2 rebounds in 1,226 games. This year, he was elected to represent athletes for the next seven years on the International Olympic Committee (IOC). The high position places the former basketball player on the same level as members of royal families in Europe and the Middle East, sports entrepreneurs and business leaders around the world who have the same role at the IOC.
*With information from Estadão Content