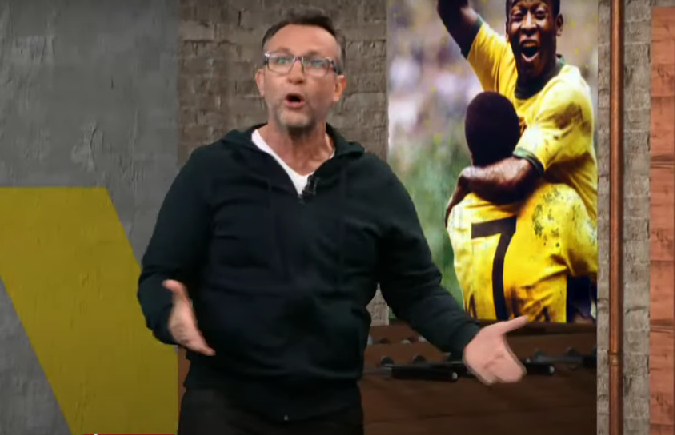 'Say that to me when you're with me indoors,' said the former soccer player, after saying that the presenter of RedeTV! apologized for the stampede of sponsors
Reproduction/YouTube/OS Owners of the Ball
Neto called Sikêra Júnior homophobic

The host grandchild, from the program "The Owners of the Ball", from TV Bandeirantes, detonated the position of Sikera Junior, from RedeTV!, which classified homosexuals as a "damn race" during the "National Alert", last Friday. Showing a lot of irritation with the apology of the professional colleague, the former soccer player stated on Wednesday, 30, that Sikêra is homophobic, threatened him and even congratulated the new campaign of the Burger King, in which children of different ages are interviewed and explain that it is normal to see men and women of the same sex together.
"This journalist, who is Sikêra Júnior, talks about what he said about homosexuals… oh Burger King, congratulations! You guys rocked! Then, the next day, the guy [Sikêra] apologize. Do you know why he apologized? Because the sponsors left the program. Either you think so or you don't. Isn't that your thinking? If so, I hope one day you won't find me. The day you find me, you'll see. Say that to me when you're with me indoors. You will see! Or even the owner of RedeTV! Anyone who thinks that way. Say it one-on-one! You're homophobic and I'm not afraid of you!", snapped Neto, recalling MRV, Tim, HapVida, Magazine Luiza, Nivea and Ford left the attraction after the controversy.
Exalted, Neto even criticized the former volleyball player Fernanda Venturini, who said he would disapprove of the immunizing agent against the coronavirus, but that it took to "travel the world". "Here, there is no such thing. It's just like this Fernanda Venturini, who said she would get the Covid-19 vaccine because she wanted to travel. No, no! You are going to get the vaccine because you want to live with your children, with your family. Then, the other day, she apologized. I don't apologize after making mistakes", said the presenter, before returning to the RedeTV! professional. "I wanted to find you, Sikêra. I don't know where you are going, but you have to learn from your mistakes", he added.
Craque Neto called Sikêra Jr. and the owners of RedeTV! to ass pic.twitter.com/xpNXoCLvHl

— Paulo Pacheco (@ppacheco1) June 30, 2021