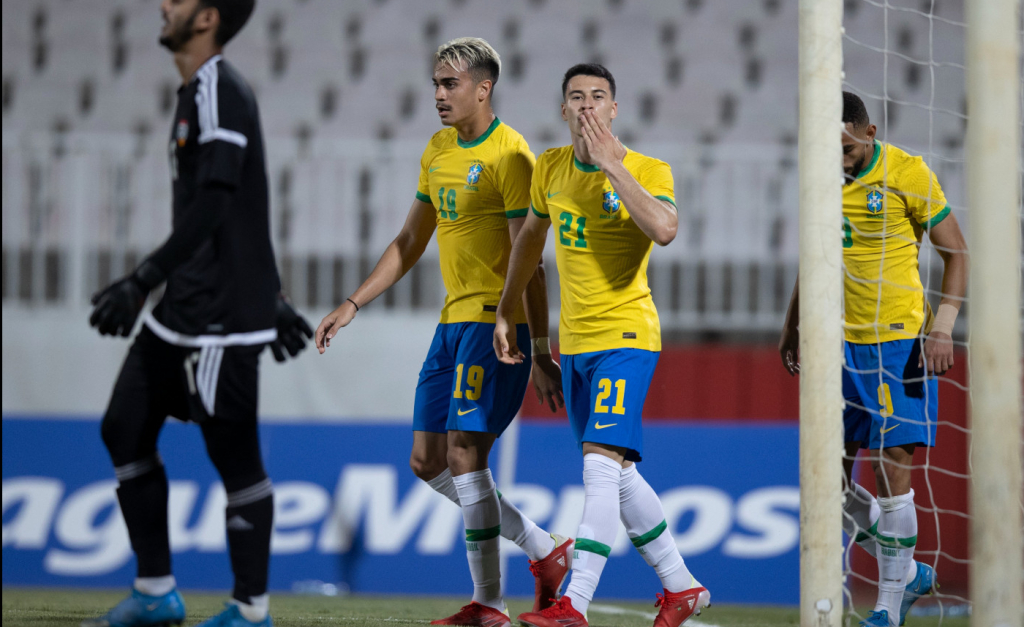 Selection didn't play well and only took off at the end; Diego Carlos, Matheus Cunha (2x), Martinelli and Reinier scored the goals
Lucas Figueiredo/CBF
Brazil didn't play well against the UAE

A Brazilian olympic team male won the UAE, by 5 to 2, this Thursday, 15, in Belgrade, Serbia, in the last friendly preparatory to the dispute of the Tokyo Olympics. Despite the victory, the coach's team André Jardine showed deficiencies, which make it difficult to repeat in Japan the gold medal won in Rio in 2016. André Jardine sent to the field as starting team: Santos; Dani Alves (captain), Nino, Diego Carlos and Arana; Gabriel Menino, Bruno Guimarães, Claudinho and Paulinho; Matheus Cunha and Antony. Ricardo, Gabriel Martinelli, Bruno Fuchs, Reinier, Matheus Henrique and Abner Vinícius entered the final stage. Brazil even dominated the match, but did poorly in the exchange of passes and marking, giving space and morale to the opponents. Despite the irregular football, Brazil added numerous scoring opportunities, facing a weak opponent, who had in the performance of Rakaan Waleed their salvation for the first 45 minutes.
Despite being short, the goalkeeper was the highlight with at least four good saves. Brazil really forced the plays on the right, with Daniel Alves and Antony. Claudinho and Paulinho did not appear in the creation, while Matheus Cunha and Antony were not successful in submissions. The United Arab Emirates, on the other hand, showed organization and a good touch on the ball. In one of his rare escapes to attack, Alkaabi Gabriel Menino gave a nice dribble and crossed. The ball hit Nino and entered: 1-0. The tie came in the 43rd minute, with Diego Carlos, who headed strong, after a corner kick by Antony's right. The start of the second half had the same panorama. Brazil dominated, pressured, lost goals and made mistakes in defense again. In this way, the Emirates took the opportunity to gain the upper hand once again. At 21 minutes, Abdalla Alnaqbi appeared in the middle of the defense to head off and make it 2-1.
The goal shook the team a little, to the point where the experienced Daniel Alves received a yellow card after a silly foul in midfield. But the opponent's weakness helped Brazil in the end. After so much attacking, the Arab defense began to show flaws and the goals came in sequence with Matheus Cunha (2), Martinelli e Reinier. The team returns to the field in the first phase of the Olympics on July 22, against the Germany at 8:30 am (Brasilia). On July 25th it will be time to face the Costa do Marfim, at 5:30 am and closes against the Saudi Arabia on the 28th of july at 5am.
*With information from Estadão Content