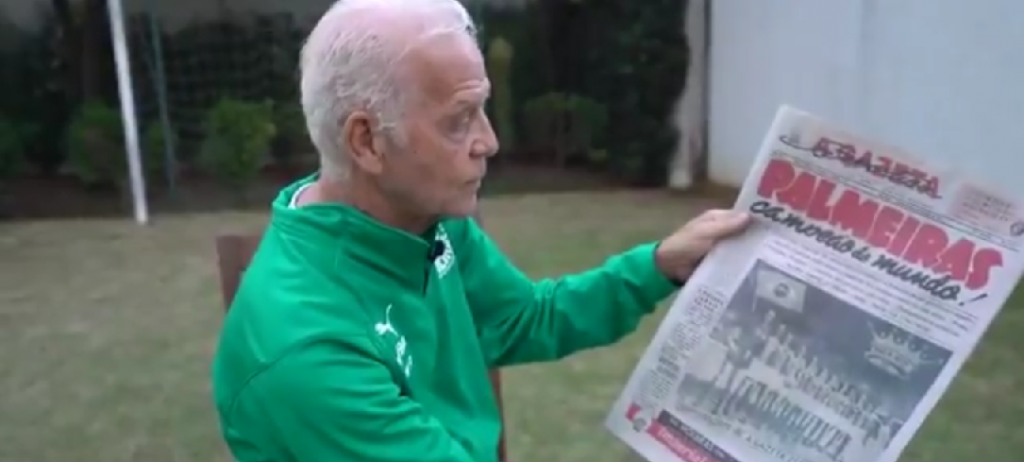 In a video, Verdão says that 'against facts, photos and covers, there are no arguments', recalling that the title about Juventus, from Italy, on that July 22, was treated by the Brazilian press as a world achievement
Reproduction/Twitter/@Palmeiras
Ademir da Guia holds a newspaper cover that says that Palmeiras is the 1951 world champion

O palm trees used their social networks this Thursday morning, 22, to celebrate the 70th anniversary of the achievement of Rio Cup 1951, treated by the club as its first and only title of Club World Cup. In a commemorative video, Verdão says that "against facts, photos and covers, there are no arguments", recalling that the title about the Juventus, from Italy, on that July 22nd, was treated by the Brazilian press as a global victory. "We were and will always be the first. After all, after the 'Maracanazo' of 50, it was the Alviverde glory that made us forget that 'zumzumzum'", says another passage. See the end of the article.
The 1951 Rio Cup was conceived by Mario Leite Rodrigues Filho, journalist who now names the Maracanã stadium, and had the support of Rio de Janeiro's city hall and Ottorino Barassi, then general secretary of FIFA and enthusiast of a world championship between teams. In Mário Filho's understanding, Brazil needed to take a turn after the selection lost the 1950 World Cup to Uruguay, right in the main stadium of the country, in the Rio de Janeiro, in the defeat that became known as "Maracanazo". The intention was to organize a tournament with 16 teams, but the logistical problems of the time defeated the idea. Even so, Juventus (Italian runner), Palmeiras (São Paulo champion), Basque (carioca champion), Austria Vienna (Austrian champion), Sporting (Portuguese champion), Red Star (three-time Yugoslavia Cup champion), National of Uruguay (Uruguayan champion) and Nice (French champion) were called up.
Thus, the eight teams were divided into two groups: Group A, with Vasco, Austria Viena, Nacional and Sporting; and Group B, which had Palmeiras, Juventus, Estrela Vermelha and Nice. In the semifinals, Verdão ended up getting the better of the Rio team by winning 2-1 in the first match and tying the other 0-0. The Old Lady, in turn, guaranteed the classification by eliminating the Austrian team. In the decision, Alviverde won the first match between the Italians 1-0 and tied the second by 2-2, winning the first intercontinental club title. Despite the importance of the cup, the president of the Fifa, or Italian Gianni Infantino, ruled out any equivalence of the tournament held in the Brazil with the traditional Mundial the last time he was asked about the topic.
Against facts, photos and covers, there are no arguments. We were and always will be the first! 🏆 ➤ https://t.co/n7UMh5JmDE#First World Champion #NextGym pic.twitter.com/bb3Y6skzas

— SE Palmeiras (@Palmeiras) July 22, 2021
Okay, it was in the newspaper: Palmeiras is the #First World Champion 🗞🏆#NextGym pic.twitter.com/JcYEoNRJjo

— SE Palmeiras (@Palmeiras) July 22, 2021