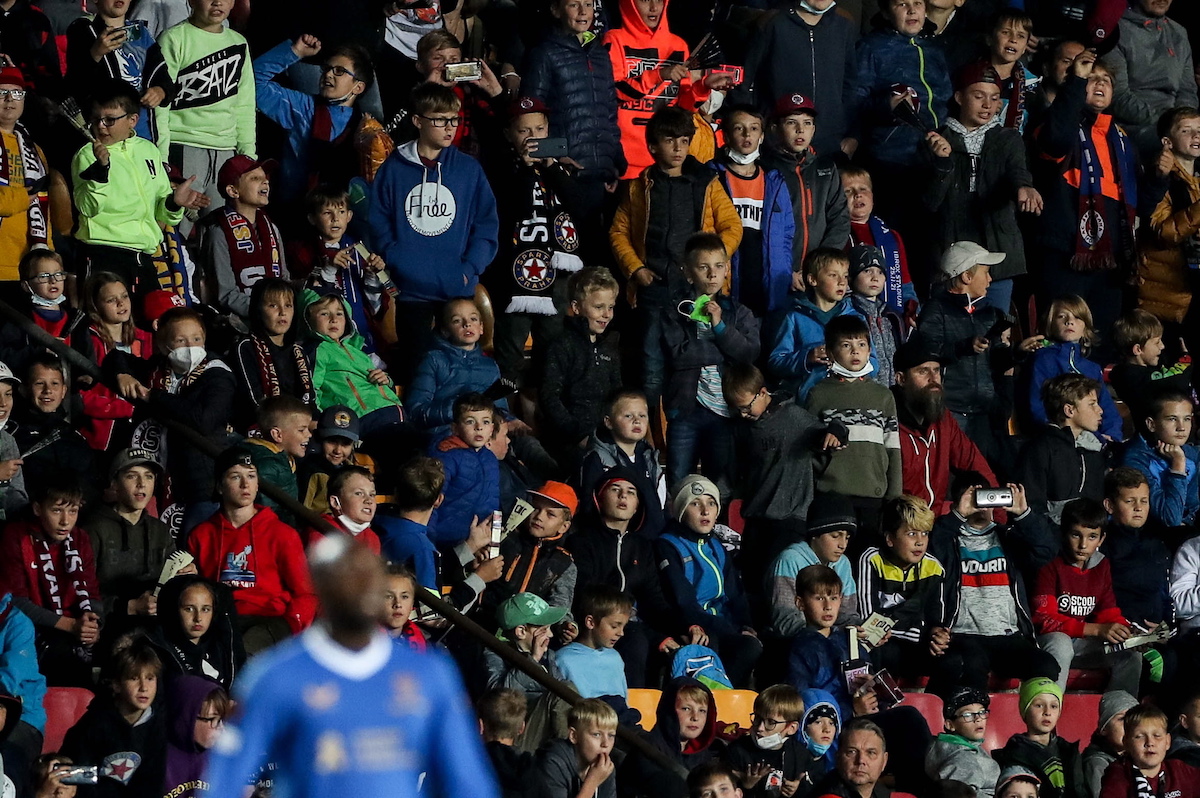 Only 10,000 children were allowed into the stadium for the game between Sparta Prague and Rangers. Glen Kamara was hooted every time he touched the ball.
In August, in the 3rd qualifying round for access to the Champions League, Sparta fans racially insulted Aurélien Tchouameni, Monaco player, throughout the game.
As such, UEFA has decreed that the game against Rangers, this Thursday, be played with the stands empty. However, it made an exception: 10,000 children under the age of 14 were allowed to enter, accompanied by tutors.
"Due to the punishment for the racist behavior of some of our supporters during the home match against Monaco, adults are not allowed to enter the stadium," the club announced in a statement.
What was not expected was that the children would follow the example of their elders. every time Glen Kamara, Finnish midfielder for the Rangers, he had the ball at his feet, the children hooted him. The situation was described by Jordan Campbell, journalist for the The Athletic.
Sparta Prague fans racially abused Monaco's Aurelien Tchouameni so faced a stadium closure tonight vs Rangers.

The only exception is that 10,000 local kids under 14 years are in but Glen Kamara, racially abused by Slavia's Ondrej Kudela, is now being booed with every touch.

— Jordan Campbell (@JordanC1107) September 30, 2021
Kamara had already been involved in an incident with a Czech team recently. In a game between Slavia from Prague and Rangers, Ondrej Kudela uttered racist insults to the footballer. The Czech player was, however, suspended for ten games.
Barry Anderson, journalist for The Scotsman e do Edinburgh News, who was present at the stadium, said he had never seen anything so regrettable in football.
"I can't remember a more pitiful sight/sound in European football lately than thousands of Czech kids booing every touch of Glen Kamara for the Rangers against Sparta Prague. Inside a stadium that was supposed to be closed by UEFA because of the racism of the supporters. Terrible," he wrote on his Twitter account.
Can't recall a more wretched sight/sound in European football lately than thousands of Czech children booing Glen Kamara's every touch for Rangers against Sparta Prague. Inside a stadium meant to be closed by UEFA because of fans' racism. Appalling.#NoToRacism #Europe

— Barry Anderson (@BarryAnderson_) September 30, 2021
The match ended early for Glen Kamara, who was expelled at 74 minutes after hitting an opponent with an elbow in the face.
"There has to be a certain degree of sympathy for Glen Kamara. Every ring tonight — and it could be a stadium full of kids, but that message comes from somewhere — and every ring tonight was booed," said the BT Sport commentator after the expulsion.
Aamer Anwar, attorney for Glen Kamara, considers "shameful" 10,000 children have been allowed into the stadium.
"I was hoping that when I heard about the crowd restriction at Sparta Prague's stadium, Glen and the other black players did not have to tolerate any abuse or racism and they could just play soccer," he began by saying, quoted by The Athletic.
🗣 "10,000 schoolchildren jeered and booed every time a black player from Rangers touched the ball… [UEFA] are a disgrace"

Glen Kamara's lawyer Aamer Anwar gives his views from Glasgow after claims that the midfielder was targeted by schoolchildren at Sparta Prague. pic.twitter.com/VWw1micWJ9

— Sky Sports News (@SkySportsNews) October 1, 2021
"More this afternoon should be a shame for the Czech team, that despite its supporters having been banned, it made little difference that the stadium had 10 thousand children", he added.
The lawyer also highlighted the "total class" of Glen Kamara and the Rangers players who had to face this.
The Rangers coach, Steven Gerrard he says he's disappointed, but that's not something that surprises him.
"I didn't realize [dos apupos] because I was focused on the game. if it actually happened I am extremely disappointed, although not surprised", said the former English international.

Daniel Costa, ZAP //