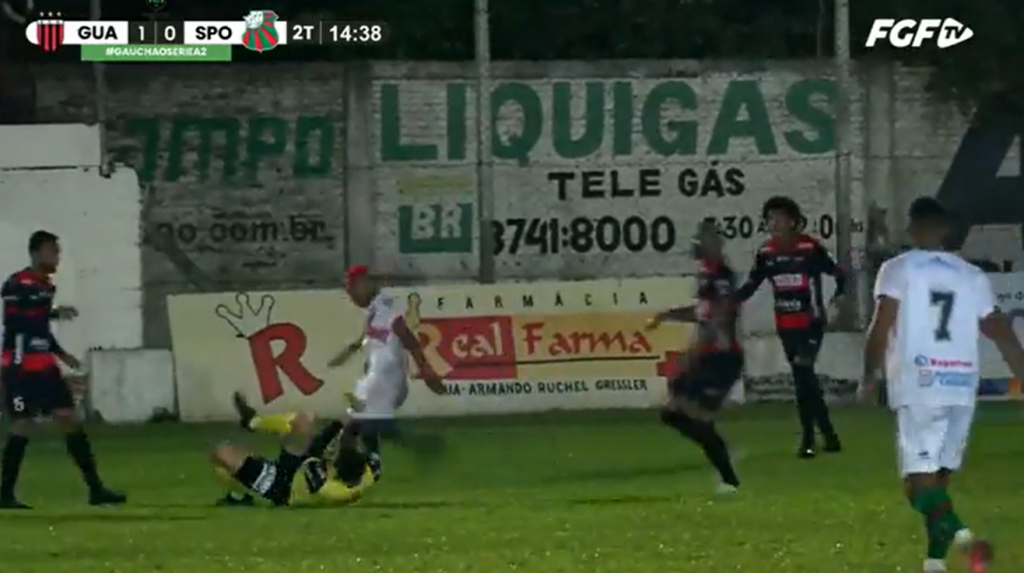 Judge was kicked in the head during Gauchão's Serie B game and needed to be hospitalized
Playback/ FGF TV
Rodrigo Crivellaro was attacked during the Serie B match of Gauchão

In response to the aggression suffered by the judge Rodrigo Crivellaro, the referees who will referee this weekend's matches of competitions organized by CBF will hold a protest before the games start. Last Monday, 4, Rodrigo was hospitalized after being kicked in the head region by the player Willian Ribeiro, during a match held by the second division of the Gaucho Championship. In a statement signed by the president of the CBF Arbitration Commission, Leonardo Gaciba, the category informed that, as a sign of support for Crivellaro and repudiation of the aggressor, the class of referees will follow a protocol of protests before the start of the clashes, which includes the performance of a minute of silence, and the request for the central referees , in addition to fourth and fifth referees and assistants, kneel on the lawn. Also according to the note, the measure, which will be passed on to the captains of both teams, had "full support from the president of the CBF".
Check, in full, the text of the Arbitration Committee:
"We were all completely shocked and appalled by the images that ran through the world of our colleague Rodrigo Crivellaro being cowardly and incomprehensibly attacked in a football game. As a sign of support for him, repudiation of the aggressor and alerting society, we believe that we need to show that there is no more space in Brazilian football for depressing scenes like these. With the full support of the president of CBF, we are joining the protest that will be held in RS. In all the games of this round in competitions coordinated by the CBF, we will show the union of our class, marking a firm position on all Brazilian lawns.
We will follow or suggested protocol:
1. Before the minute of silence the captains will be notified of the protest.
2. Right after the central minute of silence, fourth and fifth referees will be on their knees as shown in the attached illustration. Assistants do the same with their flags and video crews reflect the same action in the cabin.
3. Centrals will release the following text in summary: During the minute of silence, in the name of peace in football, the referee team protested against the aggression suffered by referee Rodrigo Crivellato.
We are a family! We are united and strong!
With my respect for the COURAGE and DEDICATION of the ladies and gentlemen
Leonardo Gaciba – President of the CBF Arbitration Commission"
*With information from Estadão Content