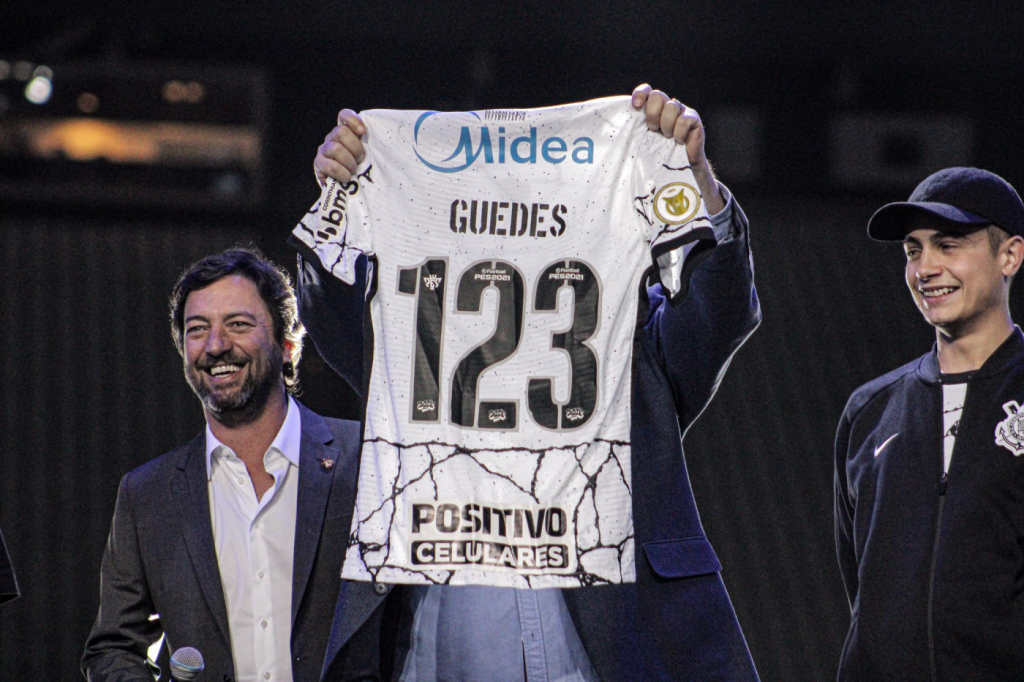 The athlete, who terminated his contract with Shandong Taishan, from China, also praised the Parque São Jorge club: 'It's the biggest in Brazil'
Reproduction/@FelipeSzpak/ Ag. Corinthians
Roger Guedes will wear the 123 shirt at Corinthians

O Corinthians presented Roger guedes on the night of last Wednesday, 1st, the day of the club's 111th anniversary. In live, the striker received the shirt 123 from Timão. The exotic number, right away, caught the fans' attention. The 24-year-old player, however, tried to explain that the digits refer to his son's birthday. "I've always used the 23, which is the day my son was born, but here we already have the Fagner, which has a history in the club. It's a different number. I want to create my own story with this number too, I think the fans will like it", he said.
Roger Guedes also stated that if he scores in front of the palm trees, will not be afraid to celebrate. Revealed by Criciúma, the striker played for Alviverde, Corinthians' rival, from 2016 to 2018. "Of course I'm going to celebrate. I always respect the teams I played for, but now I'm at Corinthians, I'm going to celebrate and get into the arms of the crowd", he commented. The athlete, who terminated his contract with the Shandong Taishan, from China, also praised the Parque São Jorge club. "It was a dream, I gave up a lot. When the negotiations started, it was crazy. I gained many followers, felt the heat through the networks. It's the biggest in Brazil for me today, I can't wait to feel it on the field. I gave up, but it's my dream to play here. Duilio knew that. It's my will. I had spoken with my wife", he added.
Roger Guedes is already training with the Corinthians squad, but he still doesn't have a date to debut. Without taking the field for an official match since last year, the striker is in the process of physical reconditioning. He is part of the Corinthians board of directors' hiring "package". It also includes Giuliano, Renato Augusto and Willian. "Willian is a great player, he made a career in the Premier League, we're going to help a lot and the other teams will have to take care of themselves a little bit", joked Guedes, laughing in conversation with the president of Alvinegro.