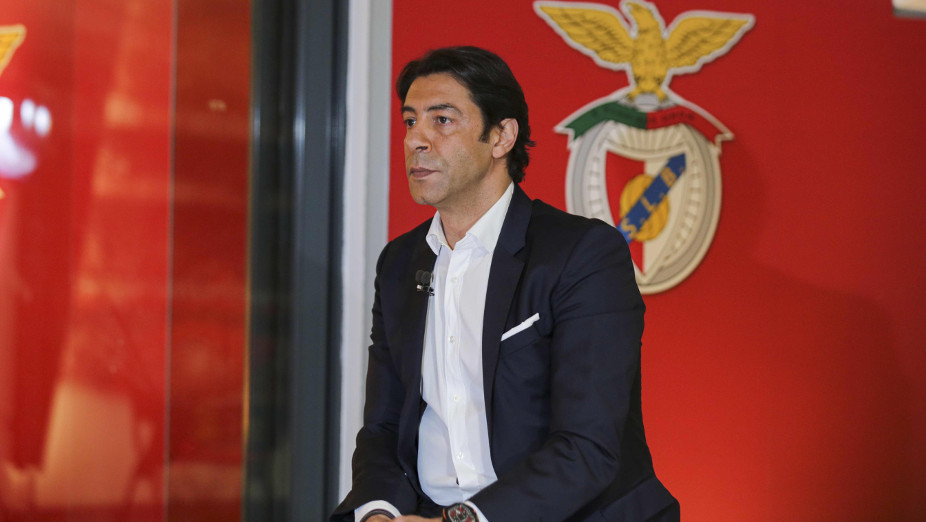 Rui Costa, 49, was elected this Saturday dawn as the 34th president in the history of Benfica, by winning Friday's early elections for the club's governing bodies, with 84.48% of the votes.
In what was the electoral act with the most voters ever, with 40 085, against the 38,102 who elected Luís Filipe Vieira in 2020, Rui Costa won a clear victory to manage Benfica's destinies in the 2021-2025 quadrennium, beating Francisco Benitez, leader of the Servir o Benfica movement, which had 12.24% of the votes.
In his first speech as Benfica's 34th president, Rui Costa promised commitment to "make Benfica win" and announced that with the end of the electoral process "a new cycle" in the life of the club begins.
"The big winner of these historic elections was Sport Lisboa e Benfica and their greatness. With 40,085 voting members, we had the biggest mobilization ever in elections for a club in Portugal. Therefore, I want to thank the thousands of people from Benfica who made a point of saying they were present, in an electoral process that took place with enormous dedication and civility and fills us all with pride", began by underlining Rui Costa.
The conductor, as he was known as a player, considered that "Benfica comes out much stronger from this electoral process", thanks to "a lively and democratic debate", and praised the opposition constituted by List B, led by Francisco Benitez. "I want to leave a word of praise, in the person of Francisco Benitez, to all the Benfica fans who have applied to the most diverse places in our club's governing bodies and who live up to their motto Serving Benfica, contributing to this historic election", he said.
Looking to the future, the new president of Benfica admitted that he feels a "increased responsibility" by being elected with the largest number of voters in history, but also made a mention of the recent past.
"I succeed Luís Filipe Vieira, whose work of recovery and consolidation of Benfica over 18 years deserves the best of recognition. But tomorrow, a new cycle begins, with redoubled ambition in the future. For this, we have to unite to be even stronger, respecting diversity, but united in action, because the cause that unites us is the glorious Sport Lisboa e Benfica", stressed Rui Costa
Finally, the new president recalled that started as catch balls and a fan of the bench, he said that Benfica was always his family and left a promise. "It is to this family that I express my commitment to do everything to honor this trust. Our objective is to win, to always win wherever we are present. That is the absolute priority and everything else will have to be done to make this happen. Let's do this and go to Benfica", he concluded.
After answering a few questions, Rui Costa admitted that this is the biggest challenge of his life. "It's the hardest game of my life. I take the biggest responsibility of my life. I know the responsibility I have on my shoulders. It's a day that I'm very proud of. It was on the 10th of the 10th, so it was destined. I will not be president of just one part, but of all Benfica fans. I liked everyone's support and I don't despise those who didn't vote for me. I liked reaching 40085 voters. It's extraordinary. Important for me, for Benitez and for this club. The big victory was that Benfica won by rout by having 40085 voters. Benfica is alive and very well alive", he said.
Benitez assumes defeat and says he will be a "vigilant" fan
Entrepreneur Francisco Benitez, candidate defeated in the Benfica elections, congratulated Rui Costa for the election as president and assumed that he will continue to be a vigilant supporter.
"We will know how to draw the necessary conclusions from the results of this electoral act, and we will continue what we have always been, an informed, vigilant and participative group of partners in the active life of Sport Lisboa e Benfica", said Benitez, a few minutes after the official results were known.
After being known, through the voice of the president of the General Assembly, António Pires de Andrade, the official figures, Benitez recalled that Rui Costa asked for union with the opposition in case he was elected, but wanted to remind the former player that "union is not required , but it is conquered".
The List B candidate also said that he would assume defeat, although he believes that there were small achievements.
"Servir o Benfica has always defended the physical vote and that elections take place on a non-working day. We cannot underestimate the contribution of these factors to the mobilization we are witnessing, together with the confidence of a process given by an electoral regulation", he stressed.