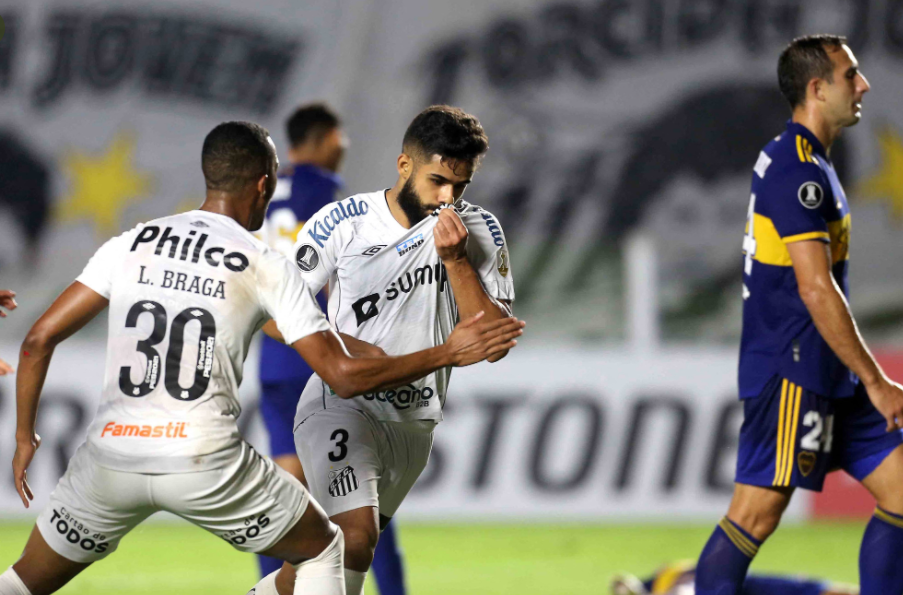 Nice goal by Felipe Jonatan put Peixe in second in Group C, three points behind Barcelona de Guayaquil
Playback / Twitter @Libertadores
Felipe Jonatan scored the only goal of the match

After a bad start in Liberators cup, O Santos recovered and won the second in a row. In Vila Belmiro, the Baixada Santista team received the Boca Juniors, direct opponent for the second position in the Group C, and surpassed the Argentines by the score of 1 to 0, with a beautiful goal by Felipe Jonatan. The result leaves the Fish second in the key, three points behind the Barcelona of Guayaquil. That was the first game of Fernando Diniz in charge of the team. On the field, the Brazilian team had the first minutes of pressure, but it was Boca that took the most danger. At 6, Pavon crossed on the right and Tevez, facing the goal, kicked over. Four minutes later, the Argentines arrived again kicking from outside the area. At 31, Santos had a free kick at the edge of the area, but Jean Mota hit the barrier. Ten minutes later the goal came. At 41, Felipe Jonatan made a good move on the left, dribbled two and kicked in the corner of Rossi opening the scoring.
The second half was confusing in terms of refereeing. In the opening minutes, the ball hit the hand of a Boca Juniors player inside the penalty area, but the referee was in a bad position and missed a penalty. Recalling that in the group phase there is no use of WHERE. Time passed and, with the score favorable to Brazilians, the game started to get hot and some confusion started. A wrong foul led to Diniz and Russo's double yellow card (Boca coach). Minutes later, the referee expelled the two coaches at once for complaint. On the pitch, the score did not change and the Brazilians emerged victorious. Next week, Santos will face the The Strongest on Tuesday, the 18th, at 7:15 pm.
Internacional takes Táchira's turn in Group B
Fur B Group, O International took the turn of the Deportivo Táchira and lost 2-1, the goal for the Colorados was scored by Thiago Galhardo in the seventh minute of the second half, from a penalty. At 32, Belorín tied the score and at 41, Maurice Cova decreed the turn in penalty kick. The result puts the Colorada team first in the bracket with six points, tied with Club Always Ready, which goes on the field against Olímpia on Thursday. Next Thursday, the 20th, the team travels to face Olímpia in Paraguay at 9:00 pm (Brasília time).