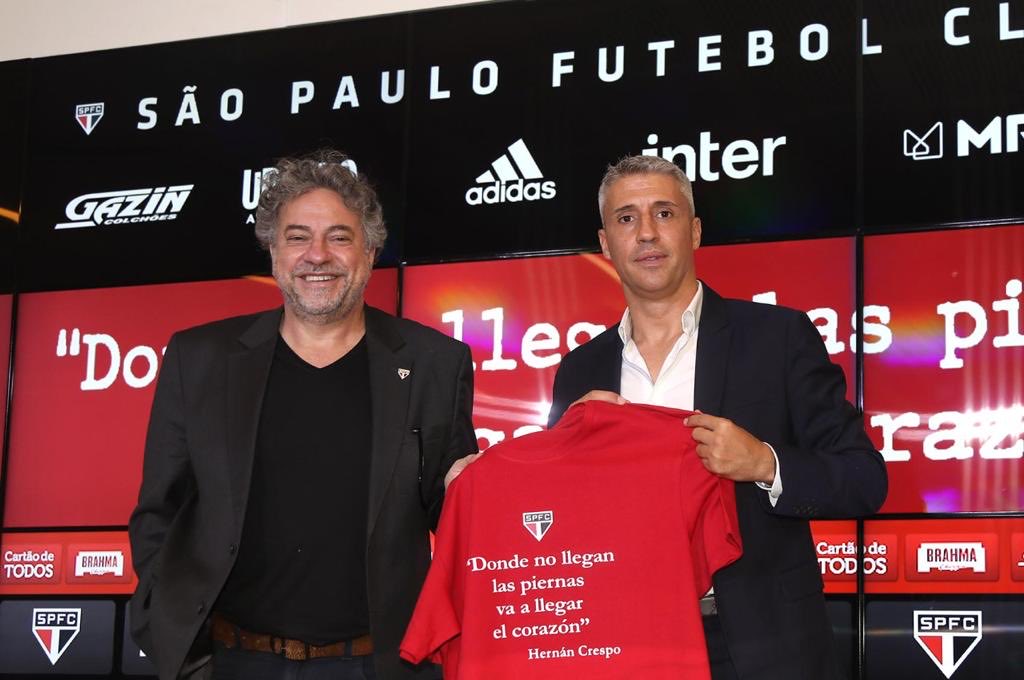 The Independente organized fans, the main Tricolor, asked for the departure of Daniel Alves, Pablo and Vitor Bueno, as well as changes in the board's posture, right after the defeat by 1-0 to Fortaleza
Reproduction/Twitter/@juliocasares_SP
Casares supported coach Crespo

the organized crowd Independent, a principal do Sao Paulo, asked for the departure of Daniel Alves, Pablo and Vitor Bueno, as well as changes in the board's posture, soon after the 1-0 defeat to Fortaleza, in Morumbi, in a match valid for the 12th round of the Brazilian championship, on Saturday. Yesterday, however, the president Julio Casares used their social networks to support the project and also the Hernan Crespo. "We are working to rebuild the club. Reorganizing and paying off terrible short-term debts. The planning continues with serenity and total support from the board to the competent technician Hernán Crespo", wrote the agent.
At a press conference, Crespo acknowledged that the moment is not calm and said that the club has no investment power. "We are building in a difficult situation to have a better São Paulo. I hope, because we all work together, I don't know if I'll be here to see this São Paulo, but I'm here to make São Paulo better. If we had money, it would be faster. Let's fight? Yes. We want to win, yes, be competitive, yes, but it's difficult", he commented after the setback. "You think I don't know we should get better? We have a lot to improve. We all know. And we are all here to improve for a better future and present, but the time is right. Without money, times are longer", he added.
In Brasileirão, São Paulo is only 15th in the table, with two points more than Cuiabá, the first in the relegation zone. Amid the bad moment at the national team, the São Paulo team is also concerned about the Copa Libertadores da América. This Tuesday, 20, the team returns to the field to face Racing, from Argentina, in Buenos Aires. In the first leg, the teams tied 1-1. Thus, to advance to the quarterfinals, Tricolor needs to win or get an equality by two or more goals.
We are working to rebuild the club. Reorganizing and PAYING off terrible short-term debts. The planning continues with serenity and full support from the board to the competent technician Hernan Crespo. pic.twitter.com/kXVO7EmDBJ

– Julio Casares (@juliocasares_SP) July 18, 2021