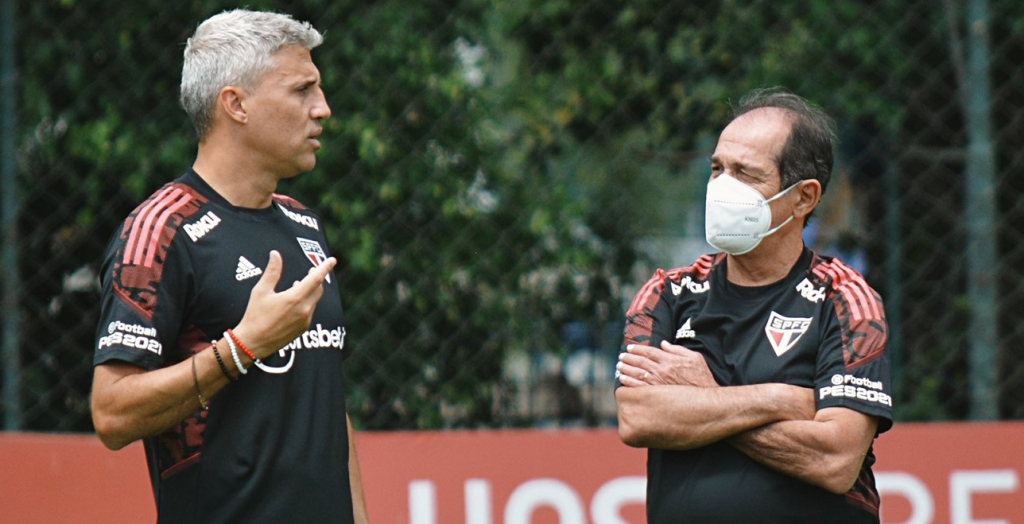 The coach has been facing some pressure in the position because of the recent results that dropped Tricolor to 14th place in the table, closer to the relegation zone than to the fight for vacancies in the next Copa Libertadores
Erico Leonan / saopaulofc
Hernán Crespo talks with Muricy Ramalho during an activity at São Paulo

The resubmission of the São Paulo after the tie against the Santos, this Friday morning, 8, had a conversation between the technician Hernan Crespo and the football coordinator of the club, Muricy Ramalho. The idol of the São Paulo fans has been one of the main supporters of the Argentine in the team in recent days. The coach has been facing some pressure in the position because of the recent results that dropped Tricolor to 14th place in the table, closer to the relegation zone than to the fight for vacancies in the next Liberators cup.
A defeat in the derby, the first with fans in São Paulo since the beginning of the pandemic, could raise the pressure for Crespo's departure even more. Muricy's visit and conversation, therefore, can be seen as another demonstration of support from the former coach to the current coach of the team. While the pair talked, the players were divided into two groups. Those who started on Thursday only did regenerative exercises in REFFIS and in the field. The others participated in a small field activity. It was the team's first preparation training session for the match against Cuiabá, on Monday, at Arena Pantanal, for the 25th round of the Brasileirão.
Curly should have Orejuela's backup on Monday. The full-back recovered from injury and trained with the group throughout the week, but stayed out of the derby as a precaution. Due to other casualties, the team was listed without an official right-back. And Igor Gomes ended up improvised in the position. The Colombian player has been out of action for two months and has already shown to be rehabilitated from a strain on his left thigh. However, if Crespo returns to opt for a more cautious posture for his return, he should cast Igor Gomes again on the side. On Thursday, the coach approved the player's performance in the derby.
*With information from Estadão Content